Zac Efron's Latest Instagram Post Has Fans Wildly Speculating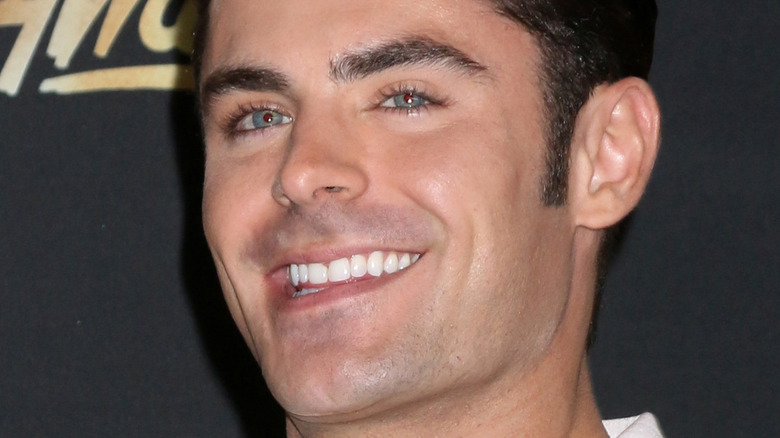 Kathy Hutchins/Shutterstock
Zac Efron was 18 years old when he stole the hearts of many young girls as Troy Bolton in "High School Musical," per Insider. As fans know, the Disney trilogy followed the characters through their junior year of high school, the summer between junior and senior year, and finally their last year of high school. Since the final movie released, there have been speculations about a "High School Musical 4," but nothing happened out of it.
On an E! News Instagram post posted in May, the question, "Would Zac Efron be interested in a High School Musical reboot," was asked. "Of course," the actor responded. "Having the opportunity in any form to back and work with that team would be so amazing. My heart's still there. That would be incredible. I hope it happens."
Disney created a spin-off series called "High School Musical the Musical: The Series" for the younger generations to be included in the fun. The original cast got together for a special 10-year reunion event, but Efron wasn't there due to a scheduling conflict with a project he was currently working on, per MTV. But now it seems that the "Baywatch" heartthrob may be teasing something related to where it all started.
Zac Efron and Vanessa Hudgens return to East High
According to Celeb magazine, Vanessa Hudgens and Zac Efron dated for five years and broke up. But Hudgens broke the hearts of many Zanessa shippers when she revealed to Access Hollywood that she and Zac Efron don't talk (via Us Weekly). "No, that's not a thing that happens," Hudgens said in 2017. "I completely lost contact with him."
Now, the exes are reminiscing on their time at East High, posting photos on Instagram in the same place, just one month apart. Hudgens posted a video on June 26 captioned, "Do you remember in kindergarten how you'd meet a kid and know nothing about them, then 10 seconds later you're playing like you're best friends because you didn't have to be anything but yourself?" which is a line from the first movie. Efron posted a photo in the same spot captioned, "Don't you... Forget about me," on July 22. His pose in the pic, and the caption, are a clear nod to another teen movie: "The Breakfast Club."
Fans are reacting in ways people would expect, with one person commenting, "Reunion? HSM4??? What does this mean?!!!" Some are speculating that both Efron and Hudgens will be making a guest appearance in the upcoming season of "High School Musical the Musical: The Series," per Hollywood Life. Other fans are still holding onto the possibility of a reboot of the original movies. Whatever these posts mean, we're eager to find out what's in store for the two actors.