Demi Moore's Daughter Scout Could Be Her Twin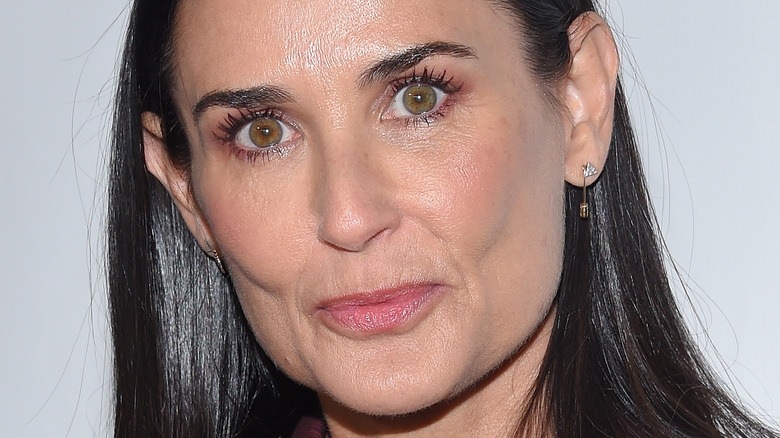 DFree/Shutterstock
Demi Moore has had many years of much-deserved success throughout her acting career. From her performances in "Ghost," "Striptease," and "GI Joe" to name a few, the A-list star has wowed the audiences for years. With her many achievements in her career, there is one role that tops her list — her role as a mother. Moore shares three children, Rumer, Tallulah, and Scout Willis, with her ex-husband, Bruce Willis. 
Moore has always been vocal about the tight bond that she shares with her children. However, on Mother's Day, she penned a special tribute to all mothers while giving an additional heartfelt message to her very own on Instagram. "Happy Mother's Day! So grateful to those who show us the way of true unconditional love and nurturing and for my daughters who light my path with their loving," she wrote.
From their hazel-green eyes to the picture-perfect smirk, there are many similarities between Moore and her tribe. In fact, Scout is the spitting image of her famous mother.
Scout Willis looks exactly like Demi Moore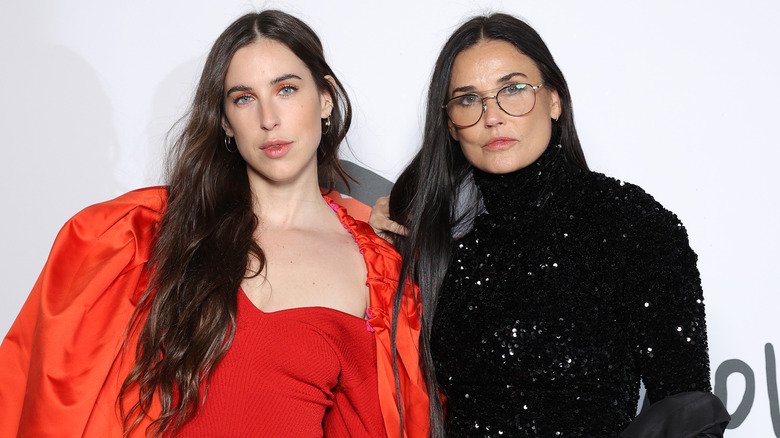 Victor Boyko/Getty Images
Scout Willis' resemblance to her mother Demi Moore is nowhere more evident than on social media, and the stunning duo have a solid fan base of admirers.
In October 2021, Willis took to Instagram to share a stylish pic of her twinning with her mega-famous mom Moore. In the cute snap, both were rocking their signature middle part for their cascading locks and looked just alike. Willis later posted another photoset with Moore with the cute caption, "The other day someone commented 'too much hair,' we say no such thing." 
In addition to their similar appearances, this mother-daughter duo is now close as can be after previous family struggles. In an interview with The New York Times in September 2021, Willis shared that she's proud of her mother for her achievements and for facing her struggles head-on, as detailed in Moore's memoir "Inside Out." Willis shared that she is specifically proud of Moore for "doing the internal work that she didn't have the time to do, for a long time, because she was just in survival mode."
Demi Moore's blended family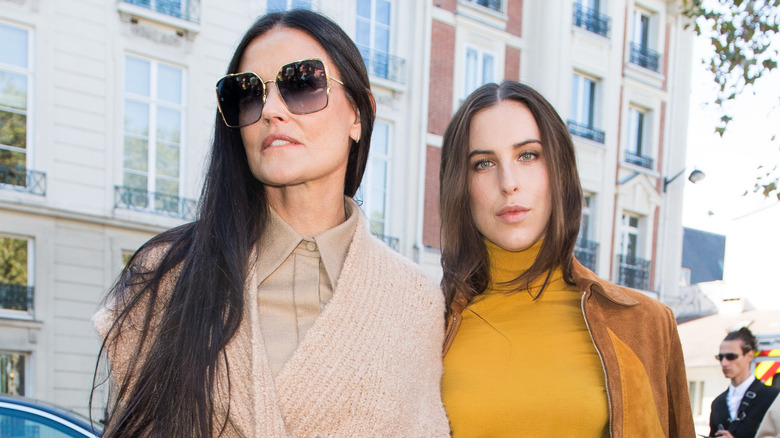 Jacopo Raule/Getty Images
Demi Moore has managed to co-parent Scout Willis, as well as her other two daughters, with Bruce Willis to the best of her ability. Bruce and Moore were married for 12 years, and have kept a great relationship even after their divorce was finalized. In her 2019 memoir "Inside Out," Moore explained how divorce liberated the couple as parents, writing (via Yahoo), "That Bruce was no longer my husband was irrelevant because he was the active father of my children; we felt more connected than we did before the divorce." 
The famous exes even quarantined together during the COVID-19 lockdown and put their family first. "They're both such nerdy, adorable, '90s parents in a small town where they chose to have their kids and not be in LA. It's been pretty cute," Scout Willis told the "Dopey" podcast of her parents' quarantine arrangement in April 2020. 
Scout isn't the only sibling that is thankful for their co-parenting skills; Rumer Willis gushed to People in October 2021 on her doting parents' ability to be cohesive. "I'm incredibly grateful that both of my parents have made such an effort my entire life that I never felt like I had to choose between them," Rumer shared. "I feel so grateful that my parents made it such a priority that we could be a family, even though it looked different." While their dynamic may look different, there's no doubt that Scout and her siblings resemble their family-focused mama.