Did Keanu Reeves And Rachel Weisz Ever Date?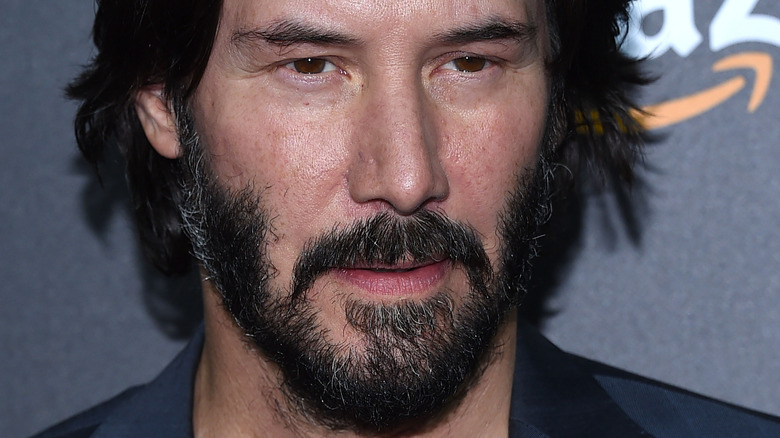 DFree/Shutterstock
Keanu Reeves and Rachel Weisz prefer to keep their private and professional lives separate. Neither is on social media and both have tried to keep relationships out of the spotlight. For his part, Reeves seems to have found steady love in artist Alexandra Grant, though when that romance started is unclear. Reeves and Grant's relationship became public knowledge in November 2019, when they made their red carpet debut, Vogue U.K. noted. However, the two have known each other since 2009 and have been collaborating on books for many years, according to The New York Times. Considering they'd been in each other's lives for at least a decade before going public, they could've crossed the line into romantic territory years ago — or not. It's hard to tell.
Weisz isn't that much more open about her romantic endeavors, but she too has settled down. After being engaged to and having a son with Darren Aronofsky in the aughts, Weisz married Daniel Craig in 2011. Staying true to her nature, Weisz kept the ceremony secret, HuffPost reported. The couple has been going strong ever since. In 2018, Weisz and Craig welcomed a daughter, according to Us Weekly.
While both Weisz and Reeves have left the speculation days in the past and are seemingly balancing privacy and work in the public eye just fine, they sure didn't escape the rumor mill in their youth. Having worked together on two separate occasions, Reeves and Weisz once sparked dating rumors. But were the secretive actors ever an item?
Keanu Reeves and Rachel Weisz apparently never left platonic territory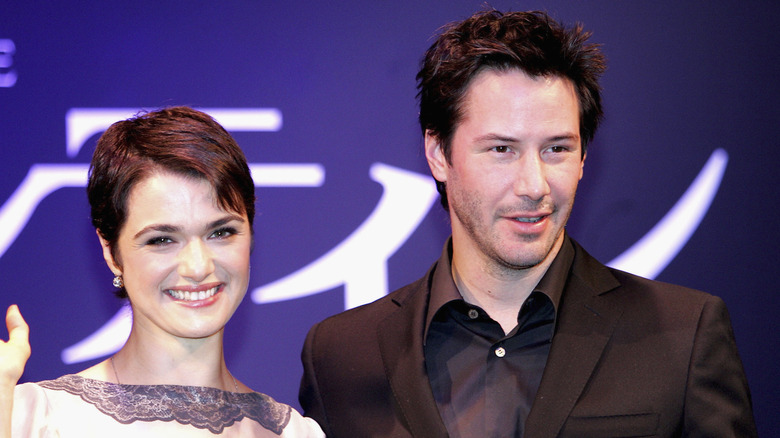 Koichi Kamoshida/Getty Images
Keanu Reeves and Rachel Weisz shared the screen both in 1996 — when they starred in the action thriller "Chain Reaction" — and then again a decade later in the 2005 DC Comics-inspired "Constantine." It was during the former that their relationship caught everyone's attention. Why? They attended the premiere of "Stealing Beauty" together in 1996, a film Weisz starred in and Reeves had involvement with. That's a pretty good indicator that at least something is going on, if you ask us.
But, apparently, walking down the red carpet side by side means nothing to them, as Weisz has denied they were ever romantic. "A love affair with Keanu? No way!" she told the U.K.'s Woman's Own in 1996 (via Whoa Is Not Me). "We were chasing round all over the place, trying to save our skins. ['Chain Reaction'] was very intense but there was no time for anything like that." That didn't keep others from making assumptions, though.
Even Reeves' fans were adamant Weisz was his plus-one at the time. "It was amazing," she described. "Girls would hand me baskets of fruit to give to him and I had to say: 'I'm not seeing him... I can't just turn up at his house.'" That's not to say there wasn't a spark there. Weisz herself has admitted as much. "It's not very hard to have chemistry with Keanu. I'm sure you can imagine that," she told Black Film in 2005, around the release of "Constantine."
Rachel Weisz has immense admiration for Keanu Reeves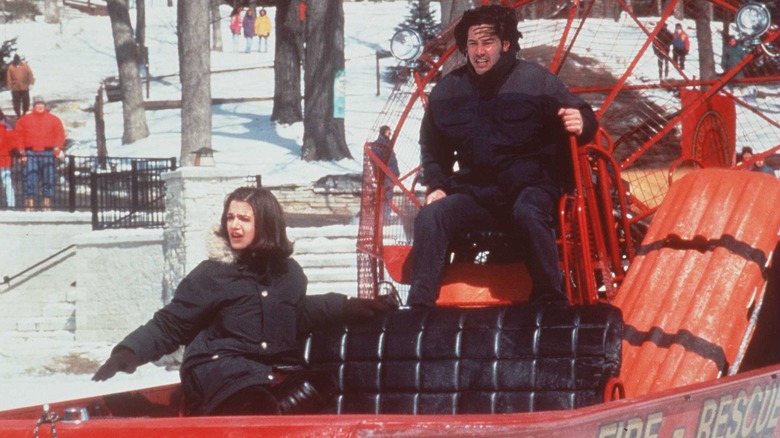 Getty Images/Getty Images
Keanu Reeves and Rachel Weisz may have never been an item, but the two certainly have a great working relationship. In the five months Weisz worked on "Chain Reaction," she saw firsthand how Reeves combines humility with talent, while maintaining his charm. "To play this physicist he put on lots of weight and grew his hair long and became incredibly unglamorous," she told Woman's Own (via Whoa Is Not Me). And he didn't care. "He's one of the most intelligent people I've ever met," she said. "He's extraordinary. People think he's forever on a motorbike with all these teenage girls in pursuit, but he's nothing like that. He's very profound."
When they reunited in the mid-2000s for "Constantine," Weisz expected the now ultra-famous star to be a bit different. But he wasn't. "The thing that I found the most surprising and the most beautiful was that, since 'Chain Reaction,' Keanu went on to do lots of movies, one of which was 'The Matrix' — 'Matrixes' — and he was completely unchanged by this stratospheric, huge global success," Weisz said in a 2005 press conference in Tokyo.
Reeves also seems to have enjoyed the experience. In fact, he attempted to make a sequel to "Constantine" happen, so far with no success. "I would love to play John Constantine again," he said on "The Late Show With Stephen Colbert" in December. Could a Weisz-Reeves 3.0 collaboration happen soon? With these two, it's hard to know much.