What Really Happened Between Cameron Diaz And Jared Leto?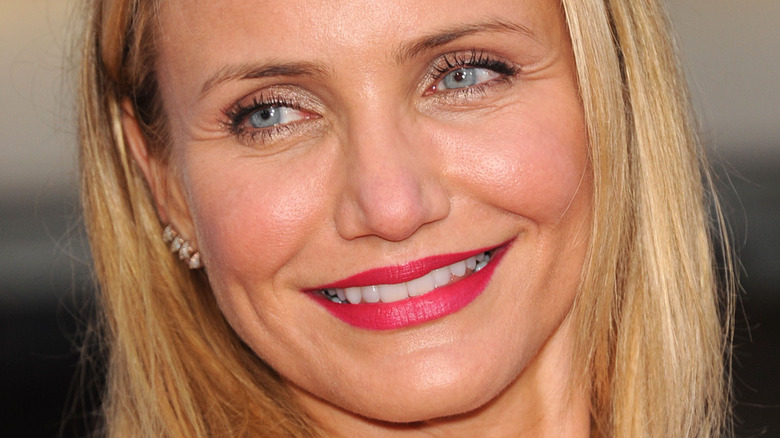 DFree/Shutterstock
Cameron Diaz has certainly had a lot of high-profile relationships while in the spotlight. In fact, there's been a lot of speculation about whether she's dated some of her co-stars, like Jude Law, and what really happened in her relationship with Alex Rodriguez. And while she's now happily married to Good Charlotte frontman Benji Madden, her comments about monogamy during an interview with InStyle back in 2014 certainly did raise some eyebrows. "A lot of people chase after it because they've been told, 'This equals happiness.' They chase it, they get it, and they find out, 'Why did I think this was going to make me happy? I'm miserable!" Diaz said (via E! News). "We all have the same instincts as animals. But we live in a society where it's been ingrained in us to do these things."
And while her relationship with others like Justin Timberlake have certainly gotten a lot of attention, too, per People, many can't help but wonder what happened between Diaz and another celebrity A-lister: Jared Leto. What initially started off as a rebound apparently turned into something more. 
Jared Leto and Cameron Diaz kept things under the radar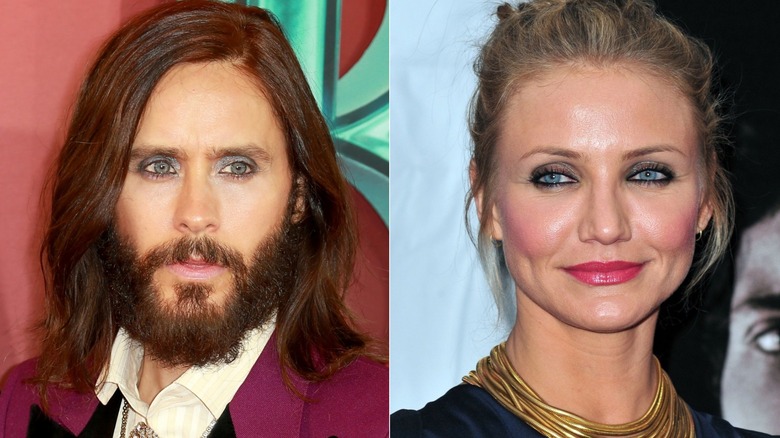 Cubankite & Everett Collection/Shutterstock
Before Cameron Diaz began getting up close and personal with Jared Leto, she and actor Edward Norton of "Fight Club" fame went on a few dates together. According to Page Six, the two of them met at a Super Bowl party but things ended pretty quickly when Leto slipped Diaz his number back in 1999 (and way before DMs were even a thing). And while Leto's dating history sure has needed a full explanation, he and Diaz managed to keep their relationship under the radar so much so that some media outlets even complained about it. Back in 2002, The Telegraph even wrote that Leto and Diaz were "Hollywood's most photogenic, but least photographed couples [sic]." In fact, when asked about his romance with Diaz, he told the publication, "That's something I would rather not talk about." 
Even though Leto did his best to "not talk about it," the press reported on his romance with Diaz anyway. In 2003, People suggested that Leto and Diaz were engaged all because she was spotted wearing a $15,000 ring on her all-important finger at the Golden Globes that year. However, Diaz was the one who eventually pulled the plug on their relationship — and apparently she had a good reason for it, too.
Jared Leto and Cameron Diaz had one of the quietest breakups ever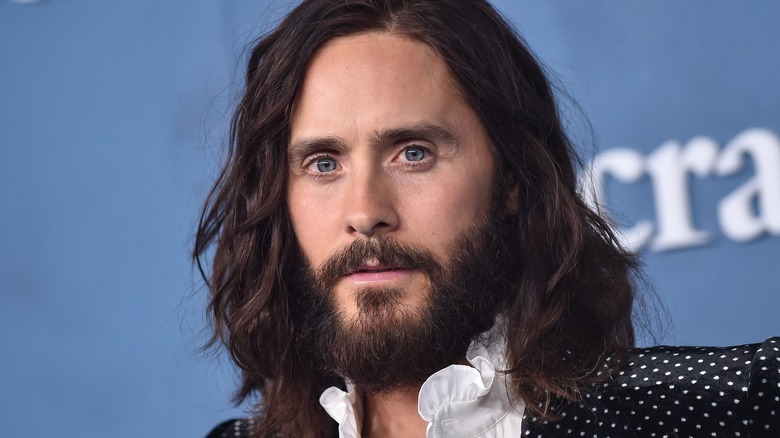 DFree/Shutterstock
According to Cinema.com, Cameron Diaz didn't see herself as the future Mrs. Jared Leto, especially while he was filming "Requiem for a Dream." The site said that Leto had supposedly made himself comfortable at a monastery in Portugal to prepare for the film, but didn't bother telling his girlfriend about it. That, and he also gave up sex to prepare for his role, which would have been a relationship killer for just about anyone. And while there's no doubt that Leto takes his craft very seriously, some of his critics believe that he takes his method acting a little too far, according to the Daily Beast. In preparation for his role for "House of Gucci," Leto even told i-D, "I was snorting lines of arrabbiata sauce by the middle of this movie. I had olive oil for blood. If you took a biopsy of my skin, it would come back as Parmesan cheese!" Yikes.
Both Leto and Diaz have never spoken about their relationship, but there was some speculation that Leto wrote the 30 Seconds to Mars song "Attack" about Diaz, though that's never been confirmed. However, Diaz did say that she's a huge fan of parmesan cheese, per Us Weekly, so there's that.