Why Did Marilyn Manson And Dita Von Teese Get Divorced?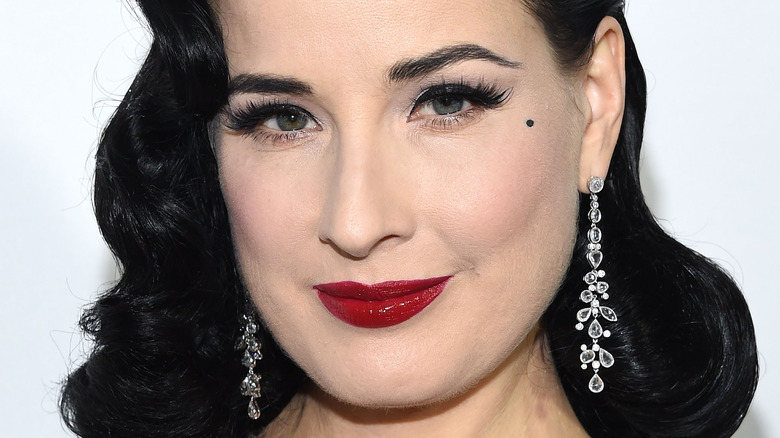 DFree/Shutterstock
This article contains discussion and details of sexual assault allegations.
Shock-rocker Marilyn Manson has garnered a reputation of late as a pretty toxic person to be dating. According to his former fiancee, actor Evan Rachel Wood, he allegedly groomed her from a young age and was physically abusive during their courtship. The "Westworld" star first explicitly called out the "Beautiful People" rocker on her official Instagram in February 2021, where she claimed he "brainwashed" and "manipulated [her] into submission." In January, she expanded upon those allegations in her documentary "Phoenix Rising," claiming that he "essentially raped" her during the filming of his 2007 music video "Heart Shaped Glasses," per People. 
Fifteen women have thusly come forward and accused Manson of assault, per Daily Mail, including model Ashley Morgan Smithline and "Game Of Thrones" star Esme Bianco. The "Dope Show" rocker, whose real name is Brian Warner, has denied all allegations, and in March, filed a defamation suit against Wood, per The Guardian.
However, with his reputation being what it is, fans are taking a second look at his short-lived marriage to glamour and pin-up model Dita Von Teese, as well as the reasons behind the divorce.
Dita Von Teese reveals why her marriage to Marilyn Manson failed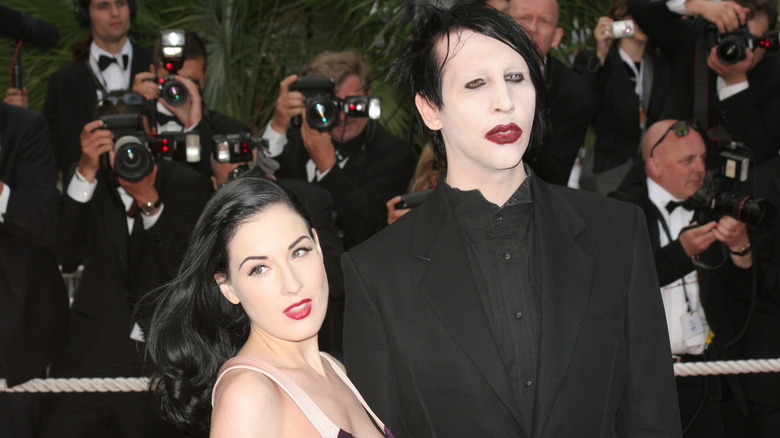 Denis Makarenko/Shutterstock
In February 2021, when Evan Rachel Wood named ex-partner Marilyn Manson as her abuser, former wife Dita Von Teese took to Instagram in a now-deleted post to reveal the real reason she and Manson divorced in 2007 after one year of marriage and seven years together in total. "Please know that the details made public do not match my personal experience during our 7 years together as a couple. Had they, I would not have married him," she wrote, per The Cut, adding their marriage failed "due to infidelity and drug abuse." She also added, "Abuse of any kind has no place in any relationship."
This account matches what Von Teese told the Telegraph in 2007, where she commented on his hard-partying ways and infidelity by saying, "It was difficult, because I was trying to get him help for his problems, and eventually I realised that he didn't want help. I wasn't supportive about his partying or his relationship with another girl, and as much as I loved him I wasn't going to be part of that."
For his part, Manson told Spin that year that yes, Von Teese had threatened to leave if he didn't stop with the drug use, but he painted himself as a victim, telling the outlet, "I was no longer supposed to be a rock star ... I came out of this naked, a featherless bird." He then tellingly added that Wood supposedly told him she would die for him, which made him "want to live."
Marilyn Manson shoots his shot with Madonna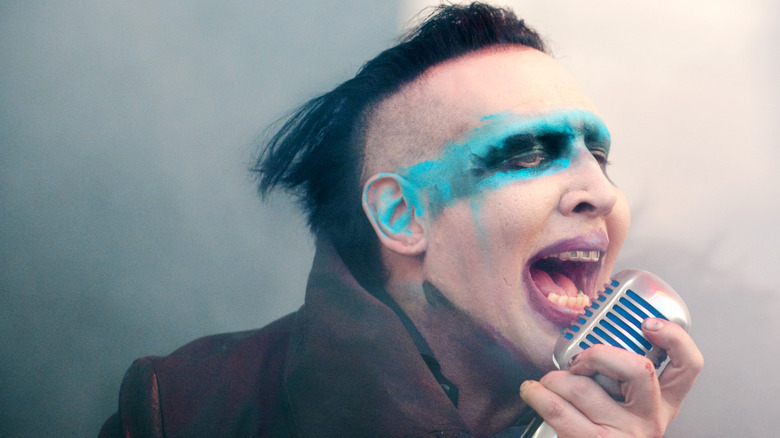 Jack Fordyce/Shutterstock
In 2016, pin-up glamour model Dita Von Teese told Khloé Kardashian during an episode of her show "Kocktails with Khloé," that being in a relationship with shock-rocker Marilyn Manson seems so foreign to her now. "I think about the person I was with, you know, 15 years ago, I can't imagine being with now," she explained. She said this in context of how people can "evolve and grow," but it also came on the heels of Manson publicly trying to shoot his shot with none other than the Queen of Pop, Madonna.
Speaking with i-D in 2015, he told the outlet, "I'd also like to let it be known that I still have a crush on Madonna and I would definitely fornicate with her." Madonna, for her part, may or may not have been flattered privately, but publicly, she rolled her eyes. Taking to her official Instagram, she includes a photo of Manson with his quote overlaid on the image, and she captioned the pic, "Um.........thanks!" C'mon, Madge! You could have been Madonna Manson.
If you or anyone you know is struggling with addiction issues, help is available. Visit the Substance Abuse and Mental Health Services Administration website or contact SAMHSA's National Helpline at 1-800-662-HELP (4357).
If you or anyone you know has been a victim of sexual assault, help is available. Visit the Rape, Abuse & Incest National Network website or contact RAINN's National Helpline at 1-800-656-HOPE (4673).