How Tall Is Daniel Radcliffe?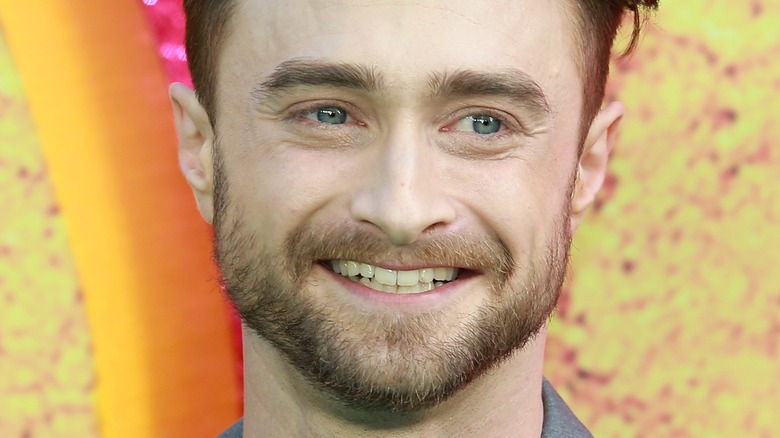 Cubankite/Shutterstock
Daniel Radcliffe has been the face of the widely successful "Harry Potter" franchise since he was 12 years old. Although the movie series has wrapped up and he's since taken on many other movie roles, his performance in the eight magical movies will likely always remain his most iconic.
Although Radcliffe recently told The New York Times that he's not interested in reprising his role as Harry anytime soon (if ever), his face is still synonymous with Harry's upon any reread or rewatch of the stories. This is true for many fans despite many key differences between the book character's appearance and that of the actor.
For one, Harry's green eyes were a staple in the book series, while Radcliffe's eyes are blue. According to an interview with the BBC, the actor attempted to wear colored contacts during the filming of the first movie, "Harry Potter And The Sorcerer's Stone", but had a painful reaction. Perhaps most notably, Harry is frequently described as tall and lanky, while Radcliffe in reality is quite the opposite.
Daniel Radcliffe is indeed a short king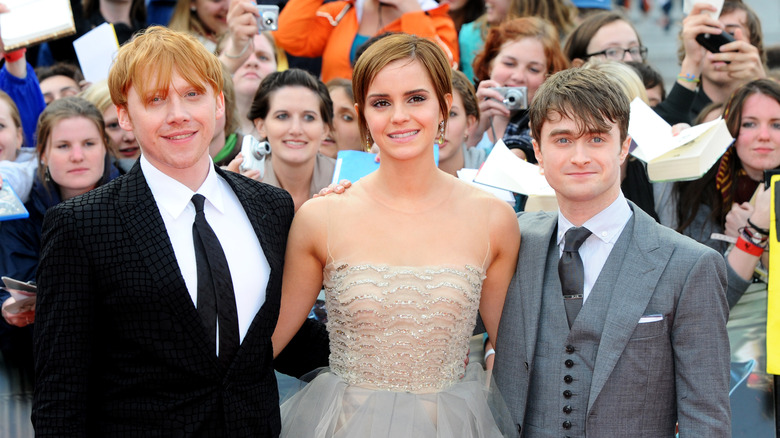 Anthony Harvey/Getty Images
At their very first red carpet, the actors making up the "Harry Potter" series' iconic friend group were all pretty small. Daniel Radcliffe, Rupert Grint, and Emma Watson all joined the cast before they had even hit their teens. By the 2011 premiere of "Harry Potter and the Deathly Hallows: Part 2," they had all grown up — some more than others. In pictures of the trio obtained by E! News, it appears that both Watson and Grint had surpassed the star in height.
According to USA Today, the "Lost City" actor stands at around 5'5". In fairness, this is also the reported height of Watson, so she may have the advantage of heels on red carpets. Regardless, Radcliffe's smaller stature doesn't seem to bother him.
In an interview with Playboy, he was asked if his height prevents him from obtaining certain roles. "I don't think so," he said. Radcliffe noted that Tom Cruise is a similar height to him. "I could play a soldier. The minimum height for a marine is five feet, and I'm well above that. If you're asking, 'Can you play a really (expletive) tall person?' No, obviously not."
Fans celebrate Radcliffe's smaller stature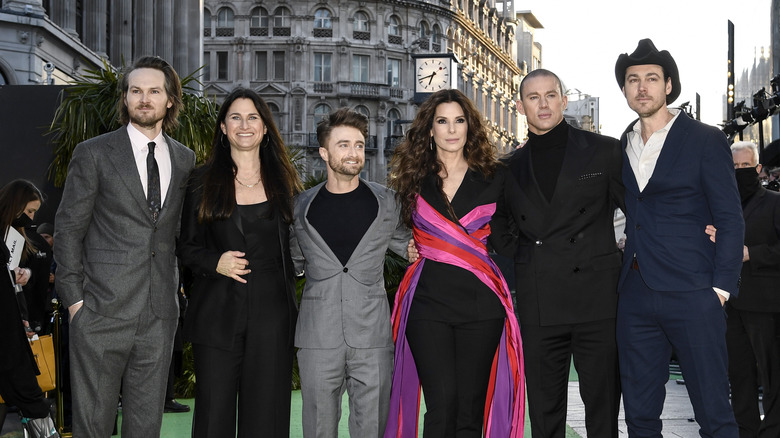 Gareth Cattermole/Getty Images
Daniel Radcliffe's fans also seem to have no issues with his height. In 2020, after Radcliffe spoke out against J.K. Rowling's transphobic tweets through the Trevor Project, one fan tweeted, "WE STAN DANIEL RADCLIFFE OUR SHORT KING."
Some even believe that the actor's height makes him uniquely qualified for certain roles. As Marvel looks to cast their next Wolverine film, many are calling for the ex-wizard to get the part. In response to a tweet asking, "Who Should Be The Next Wolverine?" one person wrote, "Daniel Radcliffe, I will die on this hill. He'd be perfect ... he's short enough to play a more comic-accurate Wolvie."
Notably, Radcliffe has addressed the calls and clarified that, so far, he's not been asked to seriously consider the role. "I think it's people going like, 'Who's a short actor?' Him! He can maybe play him," the star told Jimmy Fallon. "I mean, anything that implies that fleetingest similarity to Hugh Jackman is incredibly flattering."