What Happened To Jade Sotomayor After RuPaul's Drag Race?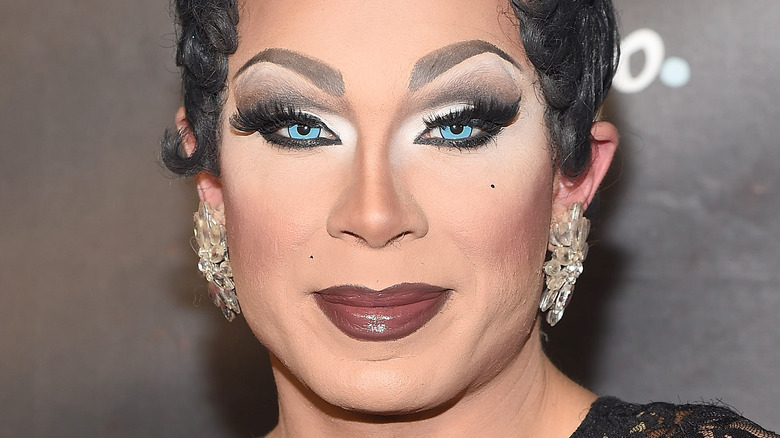 Gary Gershoff/Getty Images
Jade Sotomayor was one of the queens who helped "RuPaul's Drag Race" find its footing during Season 1, and while the trailblazing contestants who first competed for drag supremacy didn't achieve the level of fame that many of their successors did, Sotomayor was not forgotten by fans of the show; her rivalry with ex-drag queen Rebecca Glasscock became the stuff of legends among the reality competition's earliest fans, who were still discussing it on Reddit more than a decade later.
"At that time there were still a lot of people that were blind, that didn't understand drag. And so we were really excited to be pioneers in this movement to try and educate," Sotomayor told Paper. In her audition tape, Sotomayor revealed that she's a pageant queen and a huge Jennifer Lopez stan with a supportive mom. "I'm a professional dancer as well, and being able to create a new persona and just perform for an audience has always been a love of mine," she said when introducing herself to "Drag Race" viewers.
"RuPaul's Drag Race" has come a long way since its 2009 test run, when Sotomayor had to sashay away after losing a lip sync battle with Glasscock. "I'm proud to (have been on) season one, but damn these girls got it so good now — from production value to cash prizes," Sotomayor told GoPride in 2019. Years later, the "OG Fish" found that she could completely ditch all the glitz and thrive in much different waters.
Jade Sotomayor kept performing and pursued a new career
After "RuPaul's Drag Race," Jade Sotomayor continued to book gigs in her hometown of Chicago. In 2019, she told GoPride that she had stayed in touch with most of her fellow Season 1 queens, but her strongest bond with a contestant from the show was seemingly her long-standing friendship with Season 5 cast member Monica Beverly Hillz. The pals co-hosted events at Hamburger Mary's, where they were joined by Season 4's Dida Ritz. "I look forward to every month to work with my Ru Sisters for all the fans. We play games, (do) trivia, contests and more ... it is so much fun," Sotomayor said. She and Beverly Hillz also teamed up to whip up some beef empanadas for a 2019 episode of "Cooking with Drag Queens."
The queen, whose real name is David Sotomayor, has performed out of drag under the cheeky stage name Trade Sotomayor. She wore full drag when she landed a role on "Proven Innocent" in 2019, but rocked a suit and some facial scruff for a 2020 appearance on "Empire." Of the latter, Sotomayor wrote on Instagram, "[It] was truly an amazing experience filming in the finale and do my last scene with Taraji P. Henson and Terence Howard together! They had me cracking up."
The entertainer later added a new outfit to her glamorous collection: nurses' scrubs. "When covid hit I began studying/working in healthcare! Currently working both careers now," Sotomayor tweeted in March 2021.
Jade Sotomayor denied being transphobic
In 2017, patrons of the popular Chicago gay bar Charlie's accused Jade Sotomayor of engaging in transphobic behavior. In a post on the Trans Liberation Collective Facebook page, the writer claimed Sotomayor had harassed a group of friends while one of them was using a gender-neutral restroom with a single stall. The stall had no door, so the other members of the group were trying to give the occupant some privacy by standing in front of it. Sotomayor was accused of getting confrontational when informed of the situation. "Jade used transphobic rhetoric throughout this encounter stating that 'there are actual women waiting in line,' and insisted that they 'prove' that their friend was a 'man or a woman and actually trans!'" the post read.
Sotomayor shared her side of the story with Gay Star News. "All I said was they need to hurry up because the stall was the only option for my friend," she explained. "They thought I was being transphobic because I was dressed in a coat and a baseball cap." She spoke about the incident again in a 2018 interview for the "Bad Gay" podcast. According to Sotomayor, she addressed the bathroom occupant as "ma'am," which upset them because they use gender-neutral pronouns. Sotomayor argued that this mistake doesn't make her transphobic, pointing to her close friendships with Monica Beverly Hillz and Gia Gunn as evidence of her support for the trans community. However, she confessed, "I'm still learning these pronouns."