The Truth About Paul Sorvino's Children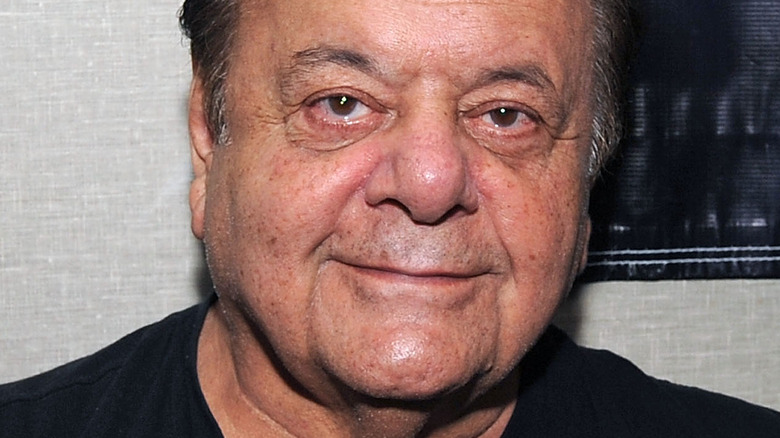 Bobby Bank/Getty Images
The tragic death of "Goodfellas" actor Paul Sorvino sent shockwaves through Hollywood. Although he "Law & Order" star looked like a tough guy, he had a heart of gold — and a passion for rescuing horses. The actor was a big softie when it came to his children, too. Paul cried hard when his daughter Mira Sorvino won an Oscar for Best Supporting Actress for her performance in "Mighty Aphrodite" in 1996. The New York Times reported that Mira credited her father in her acceptance speech, saying that he "taught me everything I know about acting." After Mira won, Paul told the Los Angeles Times (via The Washington Post) that he couldn't find the right words to capture his emotions. "They don't exist in any language that I've ever heard — well, maybe Italian," he quipped.
Paul is survived by his third wife, Dee Sorvino; his three children, Mira, Amanda, and Michael; and five grandchildren. Of course, Mira might be the most famous of his offspring, but his other children have also dabbled in showbiz.
Paul Sorvino's three children have all dabble in the arts
GIO_LE/Shutterstock
Paul Sorvino's children are all from his first marriage to Lorraine Davis, according to Page Six. Paul and Lorraine shared three children, daughters Mira and Amanda, and son Michael. Mira, the oldest, was 54 at the time of Paul's death, while middle child Amanda was 51, and Michael, the youngest, was 44. Paul was a protective papa. When he learned Harvey Weinstein had sexually harassed Mira, he told TMZ (via The Washington Post) that Weinstein "[w]ould not be walking. He'd be in a wheelchair" if he had known. Mira's the most well-known of the children, but the other Sorvino kids have found success in their own right.
Video gamers might recognize Michael's voice as Tommy from the game "Mafia: The City of Lost Heaven," per IMDb. According to the New York Daily News, the "Goodfellas" star directed a play written by Amanda, "The Trouble With Cali." The outlet reported that Paul and Michael acted in the play. Amanda told the Daily News about her family, "My mother has become a drama therapist ... But I don't think she would have ever fallen into it if my dad hadn't left."
While Paul's oldest daughter credits her father for her acting career, Mira credits her mother for moral inspiration. In 2017, Mira tweeted, "Happy Birthday to my beautiful mother, Lorraine Davis Sorvino. She marched on Washington w/Dr. Martin Luther King. Gave me my moral compass." Our thoughts are with the entire Sorvino family.