The Real Story Behind Taika Waititi's Name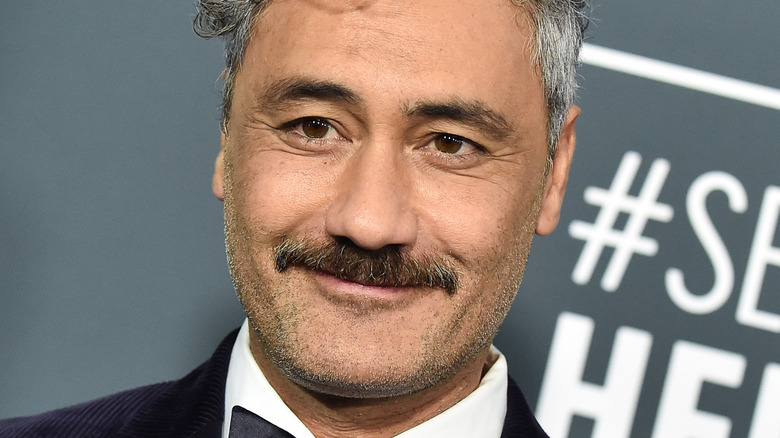 DFree/Shutterstock
We may receive a commission on purchases made from links.
It's safe to say that in 2022, Taika Waititi is a household name. The director first saw recognition for earlier works like "What We Do in the Shadows," "Boy" and "The Hunt for the Wilderpeople," before exploding onto the scene with "Thor: Ragnarok." Following his commercial success with Marvel Studios, Waititi saw critical success with 2019's "Jojo Rabbit," for which he received an Academy Award.
Since then, Waititi was listed among the most influential people of 2022 by TIME. Recently, he directed an additional Marvel film, "Thor: Love and Thunder." In his personal life, the director is father to two daughters, and he is reportedly engaged to Rita Ora.
While pretty much everyone knows who he is now, some fans might not be as familiar with Waititi's background and childhood. Waititi is a native of New Zealand and his mom, Robin Cohen, is Jewish, while his father, also named Taika Waititi, is of the Māori indigenous people. His parents divorced when he was young, so the director grew up split between two very different worlds, which ultimately led to the name the public knows him by professionally. 
Where did Taika Waititi's name come from?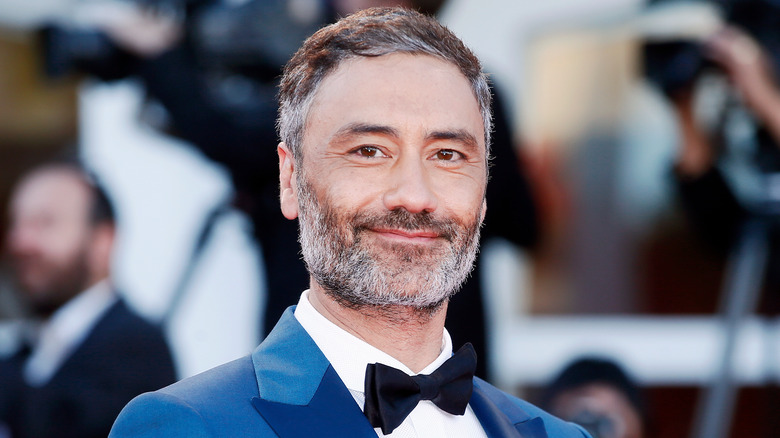 Andrea Raffin/Shutterstock
Taiki Waititi opened up to New Zealand's Cultural Daily in about his beginnings, revealing, "My mother is a writer and a schoolteacher; my father is a painter," he explained. "Growing up I was doing a lot of acting and stuff." He then shared how he used the name of whichever parent he was with at the time. Because of this, he developed slightly different identities associated with both his father and mother's names, Waititi and Cohen, respectively.
"As a painter, I often felt like that was more the Waititi side of myself; I would be Taika Waititi as the painter," he added. "And then, because I made my first short film in that area where I was known as Waititi, that was the name that was put on the film. And that film did really well and suddenly I had a career as a filmmaker, and now everyone knows me as Waititi." He clarified, "It's not like I'm running away from Cohen or anything, it just happened." Waititi also shares his first name with his paternal grandfather, as he revealed on Instagram.
Though Waititi uses his father's surname, he still keeps his mother's name in his private life, including his birth certificate. The name is important to Waititi, as Cohen dedicated her life to him as a single mom. "I didn't realize until I had my own children that she would've done anything for me, and she did," he said in 2019, according to the Los Angeles Times.
Taika Waititi honors his past
Some of Taika Waititi's work has ties to his past like 2010's "Boy," which loosely followed a character similar to his father. While he wrote about his father, Waititi also revealed his mother's Jewish heritage was a huge factor in his most successful film to date: "Jojo Rabbit," adapted from the novel "Caging Skies," which tells the story of a boy in Hitler Youth who discovers his parents are hiding a Jewish girl in their home.
"My mother and her family's story, still today, is fascinating to me, because they escaped the pogroms in Russia and then they ended up in England and eventually, somehow, through some mad turn of events, ended up in New Zealand, of all places," Waititi told The Jewish Chronicle. "Even that story was a story of resilience and determination, so I basically come from two cultures who share those traits." The director then clarified that his mother introduced him to "Caging Skies," leading him to becoming "fascinated with how kids perceive war."
While he may use his father's name, Waititi incorporates the legacy of both his mother and father into his work. Undoubtedly, his mother is proud to be the inspiration behind his Oscar, regardless of whether it was presented to Taika Waititi or Taika Cohen.