The View Has Reportedly Picked The Show's New Permanent Co-Host
Roy Rochlin/Getty Images
Ever since Meghan McCain departed and left a conservative-shaped hole where her hairdos used to sit, we've been dying to know who would take over McCain's seat on "The View" permanently. Fan and viewer predictions ranged from the highly logical (Ana Navarro, S.E. Cupp, Megyn Kelly) to the long, long, long shots (Candace Owens, Caitlyn Jenner, Cameran Eubanks). Well, friends, the wait is over because "The View" may have finally named McCain's successor. 
McCain announced her departure on-air back in 2021, saying, "I am here to tell all of you, my wonderful co-hosts and the viewers at home, that this is going to be my last season here at 'The View.'" She continued, "This was not an easy decision. It took a lot of thought and counsel and prayer and talking to my family and my close friends." During her time on the show, clips of McCain's hot takes regularly went viral on social media, which may have contributed to her decision to leave. And while fans have been speculating for nearly a year about who would step into McCain's shoes, it seems we finally have an answer. 
The next co-host on 'The View' will be Alyssa Farah Griffin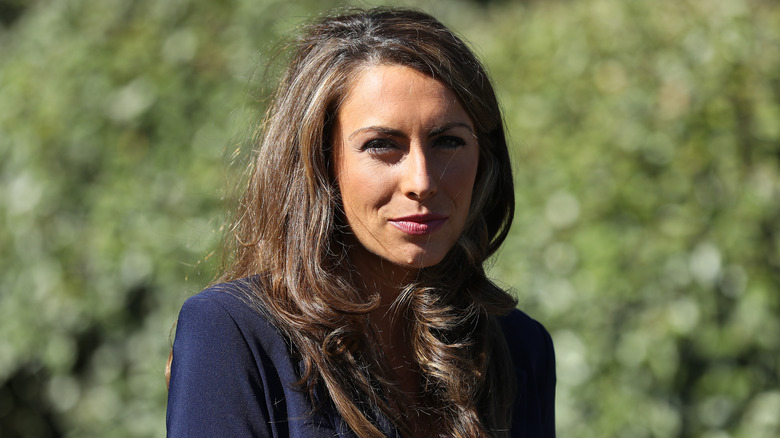 Chip Somodevilla/Getty Images
The next co-host of "The View" will be... Alyssa Farah Griffin, according to People. Though the mag also notes that a spokesperson for "The View" said in a statement that they had not made any official announcement yet. 
If the name sounds familiar, Griffin is a former White House communications director and aide to former President Donald Trump. More recently, she's been making media appearances as a guest host on "The View" and political commentary on networks like CNN. It was on one of these CNN spots that she revealed that she was the one who encouraged Cassidy Hutchinson to provide that bombshell testimony to the January 6 Committee. 
After Hutchinson's testimony, Griffin tweeted, "Cassidy Hutchinson is my friend. I knew her testimony would be damning. I had no idea it'd be this damning. I am so grateful for her courage and integrity." Griffin's tweet also defended Hutchinson from certain folks on the right who accused the former Mark Meadows aide of lying. "To anyone who would try to impugn her character, I'd be glad to put you in touch with [the January 6 Committee] to appear under oath." We're sure she'll come prepared with plenty more bombshells and takedowns during her tenure on "The View."