Candace Cameron Bure Sets The Record Straight About JoJo Siwa's Rude Claims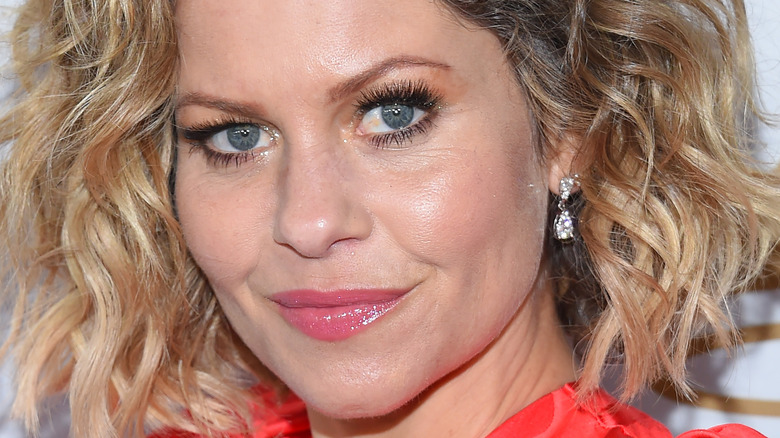 DFree/Shutterstock
Joining in a viral trend, JoJo Siwa stirred up a new controversy recently when she shared in a TikTok clip that the "rudest celebrity I've met" was "Fuller House" star Candace Cameron Bure. Garnering over 14 million views, the vid also features Siwa answering the prompts of "celebrity crush" and "nicest celebrity I've met" by flashing the images of Zendaya and Miley Cyrus respectively. Fans were unsurprised by the stars Siwa complimented, but the Bure revelation had many asking for more. "Storytime on candance???," one follower wrote. Another fan answered the former, and shared her own allegedly unpleasant encounter with Bure. "We brought our notebooks up to her and asked her an autograph and smiled and looked at us right and the eye and said no," the user named "Rachel" wrote. 
With Siwa's whopping 42.4 million TikTok followers, the video obviously made more than a few headlines. Bure didn't immediately respond to Siwa's claims, sharing a cryptic Instagram Story a day later as she quoted the Isaiah 26:4 Bible verse, "Trust the lord always," per Cosmopolitan. On July 26, however, the actor finally addressed the allegations with a video of her own. 
Candace Cameron Bure spilled the tea on her and JoJo Siwa
It's "all good" between Candance Cameron Bure and JoJo Siwa now. In a July 26 Instagram video, a smiling Bure revealed that she and Siwa "had a great conversation" that morning, clearing the air over Siwa's labeling of Bure as "rude." Initially "shocked" to hear this, Bure claimed she "immediately" reached out to the Nickelodeon star via mutual friends, publicists, and DMs.
According to Bure, Siwa reportedly brushed her video off as only a "silly TikTok trend." When Bure asked what she had done to upset Siwa in the past ("'I only remember that we met at 'The Kelly Clarkson Show,' and that went really great,'" Bure recalls telling Siwa), the latter came clean. "I met you at the 'Fuller House' premiere when I was 11 years old," Siwa reportedly recounted. "I had come up to you and said, 'Can I have a picture with you?" and you said to me, 'Not right now.' And then proceeded to do what you were doing and take pictures with other people." With Bure reportedly replying, "I feel crummy. JoJo, I'm so sorry," "the "Full House" alum added a reminder to Instagram followers that "even a 10-second trending TikTok video can do damage because our words matter." 
Bure's followers were heavily accepting of her apology, with one commenting that she ran into Bure "in NYC years ago" and recalled Bure being "one of the absolute KINDEST people I have ever met."