The True Story Behind How Kobe And Vanessa Bryant Met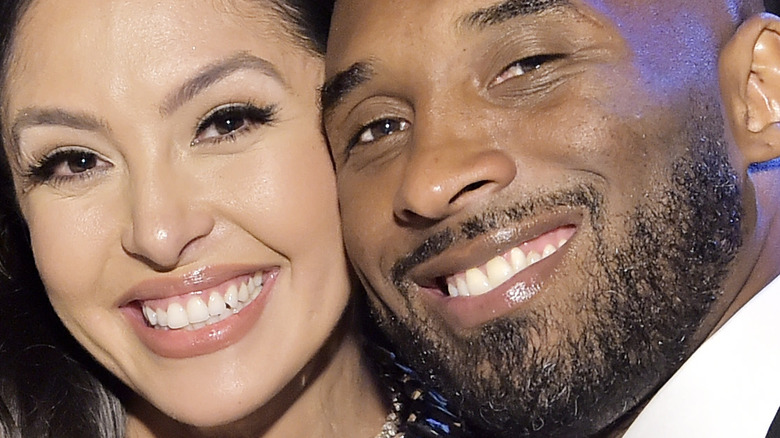 Stefanie Keenan/Getty Images
NBA star Kobe Bryant and his daughter, Gianna "Gigi" Bryant, tragically passed away in 2020. His wife and Gianna's mother, Vanessa Bryant, spoke of her late husband and daughter at their celebration of life. During the speech, Vanessa described Kobe as her "soulmate" and expressed her joy in having him as her life partner. "[Kobe] was the most amazing husband. Kobe loved me more than I could ever express or put into words," Vanessa said, via the LA Lakers YouTube channel, "We balanced each other out."
In a 2013 Instagram post, Kobe shared a throwback image of himself and Vanessa as they celebrated their 12-year wedding anniversary. "This pic is the day I asked [Vanessa] for her number 11/28/99. Thru the ups and downs she has been my love and best friend," Kobe wrote. He said it was "a true honor and a blessing" to have Vanessa in his life. Kobe and Vanessa Bryant met in a chance encounter when they were both very young.
Kobe and Vanessa Bryant met on a music video set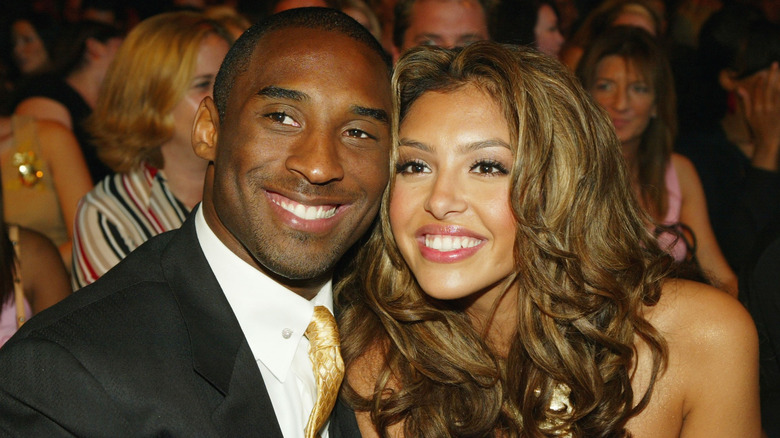 Kevin Winter/Getty Images
The love story of Kobe and Vanessa Bryant started when they met on a music video set over two decades ago. As the Los Angeles Times wrote, Vanessa Laine was at the time still a teenager attending Marina High School and appearing in music videos after class. Kobe Bryant had just moved to Los Angeles and the future NBA superstar was also exploring a music career off the basketball court. The pair struck up a whirlwind romance, which was met with skepticism from Vanessa's fellow high school students. "She'd bring pictures of Kobe to school and we'd be like 'Omygod,'" Monica Squadrilli, who was a classmate of Vannesa's, said to the Los Angeles Times in 2005. "Even then, a lot of people didn't believe her."
In a clip from Kobe's 2015 documentary, "Kobe Bryant's Muse," he talked about meeting Vanessa for the first time while recording a music video. "It was a two-day video shoot, and I was always looking for [Vanessa], like I wanted to know where she was," Kobe said, per 9Honey. "I would finish a take and go to my trailer, but I would wonder where she was the entire time." Vanessa ended up writing her number down for Kobe, who called her the following day. From there, they "literally did everything together," Kobe said, which set the foundation for their enduring union.
Kobe and Vanessa Bryant started a loving family together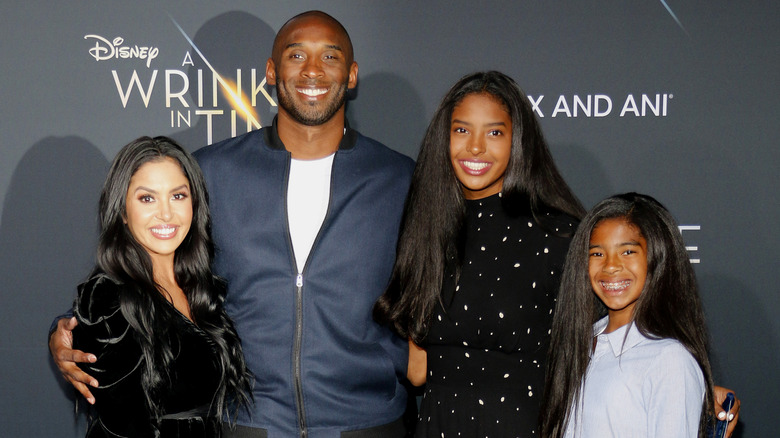 Tinseltown/Shutterstock
The spark between Kobe and Vanessa Bryant was immediate and mutual when they met on a music video set in the late '90s. In a November 2020 Instagram post, Vanessa shared a picture of her and Kobe hugging at Disneyland to mark the 21st anniversary of their meeting. "Love at first sight 11/27/99 #21," Vanessa captioned the picture. The pair became engaged quickly after their first date; Vanessa was still a senior in high school, via Us Weekly. Following their 2001 nuptials in Dana Point, California, they went on to have four daughters: Natalia, Gianna "Gigi," Bianka, and Capri.
In 2019, just months prior to Kobe's and Gigi's sudden deaths in a devastating 2020 helicopter crash, Kobe opened up about his love for the family he'd started with Vanessa."I love having girls ... they're awesome," Kobe said on "Jimmy Kimmel Live!" In 2022, via Bad Culture TV, Vanessa talked at the Sports Power Brunch event and expressed her desire "to provide young girls with opportunities to showcase their talents and to dominate in their fields." She added, "It was important to Kobe, it was exemplified by Gigi and it is something for which Natalia, Bianka, Capri, and I will always fight for." Best wishes to Vanessa and her family members as they continue to carry on the legacies of Kobe and Gigi.