Why Becoming A Mother Was So Important To Kehlani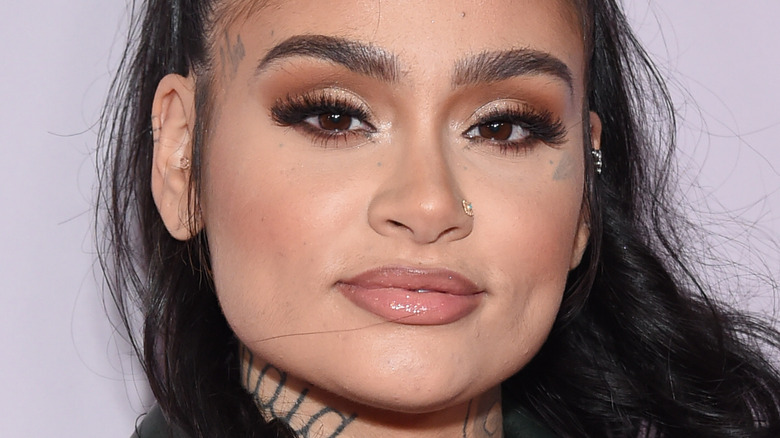 DFree/Shutterstock
In October 2018, Kehlani surprised their fans with the news that she was pregnant with a baby girl. "If you know me, you know i've dreamt about motherhood since i was very young," the R&B sensation shared in a since-deleted Instagram post (via People). "When asked what my goals are, it's always the idea of a big healthy happy family & whatever comes along is a plus." Shortly after the announcement, Kehlani, who's known for their fluid sexuality, disclosed on Nicki Minaj's "Queen Radio" (via Essence) that their daughter's father was her guitarist Javaughn Young-White. "He really understands my queerness and my fluidity," she said.
The journey was not easy. While documenting their pregnancy on Instagram, she opened up about the difficulties along the way. "I've been getting lots of preggie folx saying i been making it look easy ... i will say this: the internet makes everything look lovely and wonderful," she wrote (via E! News). Kehlani explained she had actually been suffering from prenatal depression, a mood disorder that affects people during pregnancy, unlike postpartum depression, according to Cleveland Clinic. "This has been the hardest thing ever," she shared.
Kehlani welcomed Adeya Nomi at home in March 2019, she shared (via USA Today). Despite the struggles she faced during pregnancy, Kehlani doesn't hide how strongly she feels about motherhood. "You're the best thing I've ever done," she noted on Instagram. For them, the importance of being a mother stems from Kehlani's need to heal her own childhood experience. 
Kehlani hopes to heal generational trauma
Kehlani was just 23 years old when she got pregnant with Adeya, but that was exactly what she wanted. In 2018, the artist calculated the dates she wouldn't be touring and planned the best time to conceive. "So we had a short time frame of having to actually have sex every day," Kehlani said on "Queen Radio" (via Essence). "And we were excited that it didn't start feeling like a chore." Becoming a mother was always a priority.
Through their efforts in raising Adeya, Kehlani hopes to mend their own family wounds. "Trauma skips generations until it reaches someone able to heal it," Kehlani wrote on Instagram (via Undelete) in February 2019, a month before she gave birth. "And when they do... they heal 7 generations back & 7 generations forward." Kehlani has plenty of reasons to focus on healing, as their life has been marked by hardship since she was in the womb.
Kehlani's mother went into labor while running from the police, she told The Guardian in 2020. She had no assistance, aside from Kehlani's father, who talked to her from the prison phone. "I was hella premature because she was on drugs," Kehlani said. Their mother was arrested shortly after, and her father died about a year later, she said on "Nessa On Air" in 2014. After spending some time in foster care, Kehlani's aunt took them in and raised them. "I was really lucky to have somebody to step up," she said.
If you or anyone you know is struggling with addiction issues, help is available. Visit the Substance Abuse and Mental Health Services Administration website or contact SAMHSA's National Helpline at 1-800-662-HELP (4357).
Kehlani is raising Adeya in a 'loudly queer' environment
Kehlani wants a completely different childhood for their daughter. As a queer woman, the "It Was Good Until It Wasn't" singer hopes to raise Adeya in an inclusive and diverse environment that allows her to always remain true to herself. "I just want my daughter to know that it's OK to feel you don't agree with any of that and it's OK to march to the beat of your own drum," Kehlani told Advocate in 2021.
To ensure Adeya receives that experience from an early age, Kehlani surrounds her with people who get these concepts and are on the same page. "All my friends, all her aunties, uncles, her godparents, everybody is just loudly queer ... So, I don't think that she's going to even think about it as, 'This is different from normal,'" she said. And Kehlani's aspirations have the seal of approval of Adeya's father, Javaughn Young-White, who is also non-straight. "I was lucky to find a partner who was a bisexual male," she said on "Queen Radio" (via Essence).
Even though Kehlani and Young-White are no longer a couple, they continue to have a positive relationship. "Me and her dad are like really, really close friends, and the decision to start a family was really easy for us because we both believed in each other's ability to be good parents," Kehlani said on the June 2021 Facebook Watch special "Pride On! Kehlani & Larray's Excellent Pride Ride" (via HollywoodLife).