What Tayshia Adams Did For A Living Before The Bachelor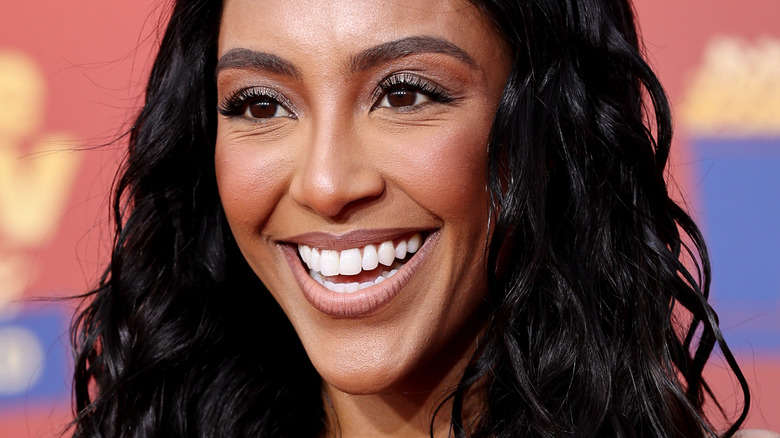 Amy Sussman/Getty Images
By now, it's something of a running joke that "Bachelor" and "Bachelorette" contestants don't always have the most conventional jobs. From "aspiring dolphin trainer" Alexis Waters, to Kamil Nicalek, who took his social media scrolling very, very seriously, it feels like producers come up with more ridiculous job titles every season. In some cases, these jobs are just creative ways of saying someone is unemployed.
Who could forget "the sloth" (aka Alex Dillon) from Colton Underwood's season of "The Bachelor"? "I heard you take things slow," she said in her limo introduction, while dressed as (what else?) a sloth. Another standout has to be Lucas "Whaboom" Yancey, who told The Hollywood Reporter that he'd trademarked his signature catchphrase years before going on Rachel Lindsay's season of "The Bachelorette." In fact, Yancey, whose job title on the show simply read "Whaboom," has since parlayed whatever "Whaboom" is into an entire franchise.
But among all the nonsensical job titles, there are also those who worked corporate jobs before their time on the show — for example, Tayshia Adams. The Orange, California native broke onto the scene on Colton Underwood's season of "The Bachelor," before appearing on "Bachelor in Paradise," starring on "The Bachelorette," and even co-hosting the show following Chris Harrison's exit. But because love didn't work out for Adams, who split with Zac Clark in late 2021, fans are wondering whether she'll be taking a back seat in Bachelor Nation. Maybe she might even return to her original day job?
Tayshia Adams was a phlebotomist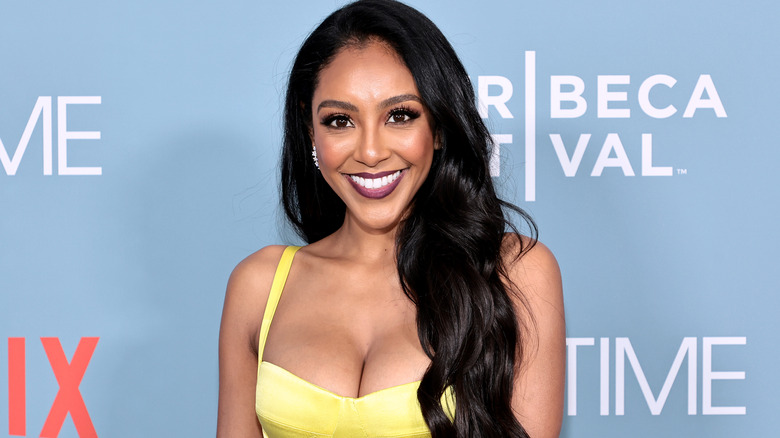 Jamie Mccarthy/Getty Images
Tayshia Adams' job title — phlebotomist — immediately set her apart from the other women on Colton Underwood's season of "The Bachelor." According to WebMD, phlebotomists draw samples of people's blood for testing purposes, research, and donations. To become a phlebotomist, you must complete a non-degree phlebotomy program, and The U.S. Sun reports that Adams completed hers at Concordia University. "Hi, I'm Tayshia," she told fans in her intro video. "I'm a phlebotomist, so I actually love to poke people's veins and draw their blood. So I'm probably looking at your veins when I first meet you." In addition to her day job as a phlebotomist, Adams briefly spent time as a fitness instructor at SoulCycle, per ScreenRant.
As of 2019, however, Adams had moved on to bigger and better things. "I'm not practicing phlebotomy anymore. I don't know if I'll go back into medicine," "The Bachelorette" lead told Vulture. "As much as I love it and went to school for it, my passion has always been in real estate, development, interior design and architecture. I think I'm going to gravitate toward that. I'm currently working at an interior design firm." 
It's unclear which design firm Adams worked for at the time, but since then, she has stepped into other lines of work. As with others from Bachelor Nation, her time with the franchise opened doors for influencer work, and her high follower count means she can charge a good amount for sponsored posts.
Tayshia Adams has kept busy with a roster of projects in entertainment
Rich Polk/Getty Images
Despite professing her love for interior design, Tayshia Adams won't be following in the footsteps of fellow "Bachelorette" alum Joelle Fletcher and starring in her own home renovation show anytime soon. Instead, Adams is currently keeping busy with a slew of other entertainment projects. In 2020, Life & Style reported that she signed on to host the "Click Bait" podcast with fellow "Bachelor" alums Joe Amabile and Hannah Ann Sluss. According to its website, the show centers on Bachelor Nation, featuring "the juiciest news, hottest gossip, and the real story of what it means to live in the spotlight." During Michelle Young's season, Adams took a break from "Click Bait" to co-host "Bachelor Happy Hour" with Becca Kufrin; upon her return, the former phlebotomist announced she was quitting "Click Bait." This may have been related to her breakup with Zac Clark. "I was really anticipating and looking forward to coming back to 'Click Bait,' but it just seems to be that time for me to work on myself and the many things I have coming down the pipeline," Adams told Us Weekly.
But, since leaving Bachelor Nation, the fan favorite hasn't slowed her roll. In March, she briefly served as a guest co-host on E!'s "The Daily Pop." She was also hired to host the 2022 MTV Movie & TV Awards: Unscripted special on June 5. As for what Adams will do next? The world is her oyster.