The Truth About Chloe Bailey And Gunna's Relationship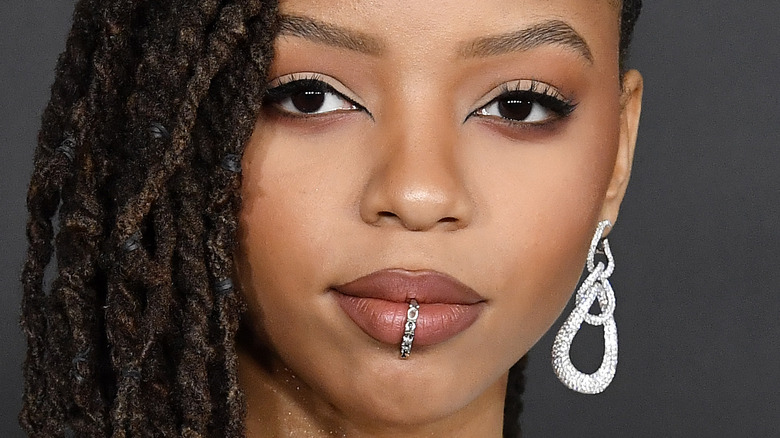 Frazer Harrison/Getty Images
Chlöe Bailey drips sex appeal in her music videos and live performances, but that is just part of her artistry and public persona. In no way, shape, or form does it define how she sees herself or how she expresses her sexuality off-camera. "I'm a bubbly, corny, clumsy person," she told Allure in July. "But when the lights turn on, something just happens." Music allows her to dive into another side she had always been scared to explore. "The Chlöe onstage? I'm fearless. I feel sexy. I feel strong. I feel like nothing can hold me back," she added. "When I'm off the stage, it's the complete opposite."
The "Have Mercy" singer's more subtle personality reflects the way she approaches men and matters of the heart. Chlöe and her sister Halle Bailey's parents opted to homeschool her starting in the seventh grade, meaning she lacked the social exposure normally experienced during high school years. "I'm getting into that world and learning the ways of men right now," she told the outlet. "I present myself in my music videos as this really sensual girl, but when it comes to love and relationships, that's not how I am."
Because of this background, Chlöe prefers to keep her personal life out of the spotlight. But fans don't like that. As HotNewHipHop noted, she was first linked to rapper and her collaborator Gunna in 2021 — and Chlöe has been badgered with questions ever since.
Chloe Bailey and Gunna never confirmed relationship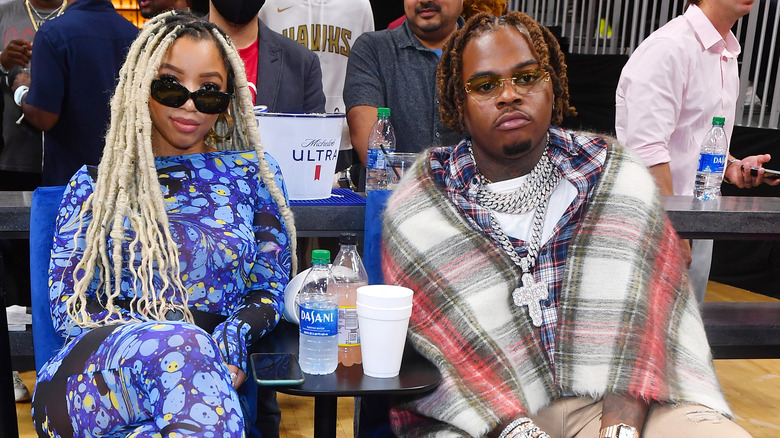 Paras Griffin/Getty Images
Chlöe Bailey and Gunna lit up the rumor mills when the two Georgia artists attended the Atlanta Hawks vs. Dallas Mavericks game in October 2021, HotNewHipHop reported. The date seemed innocuous enough. Chlöe and Gunna sat in each other's company courtside, with a small table putting distance between them. But the timing didn't escape those who had been paying attention. Just a month earlier, Gunna showed interest in Chlöe by sharing a snap of the artist licking the mic during her much-talked-about VMA performance (via The Shade Room). "It's the [tongue] for me," he wrote over the screengrab on Instagram Story.
Following the NBA game, Gunna downplayed the nature of their relationship. "We're not dating, that was just, like, a date though, where you just go to the game and catch a vibe," he told Billboard, highlighting their friendship and collabs. But they continued to show affection publicly. In January, Chlöe and Gunna reportedly attended the Los Angeles Lakers vs. Sacramento Kings game together, according to The Shade Room. A month later, they were seen holding while shopping in West Hollywood. HollywoodLife reported.
Still, they had no interest in addressing it. "We're really close friends," Gunna said on "The Breakfast Club" in January. Chlöe opted to dodge the matter. "I feel like everybody wants to know about my love life. My love life is music, darling," she said during an Instagram Live (via The Shade Room).
Chloe Bailey is reportedly standing by Gunna following arrest
The public speculation about the relationship status of Chlöe Bailey and Gunna subsided since February, but hasn't completely died down. The rapper was back in the headlines in May — though for reasons completely unrelated to Chlöe. Gunna was arrested in Atlanta after being named alongside dozen others associated with YSL Records, including fellow Georgia rapper Young Thug, in a wide-ranging RICO case, TMZ reported. Gunna denied any involvement. "I don't have my freedom. But I am innocent," he said in June (via XXL).
Though the news had nothing to do with Chlöe, social media users were quick to bring her into the conversation. "They saying Chloe ... [is] working with the feds," one Twitter user wrote. Chlöe hasn't publicly addressed Gunna's legal troubles, but a source reportedly told Media Take Out that she's standing by him. "Chloe is going to hold [Gunna] down until he gets home," the insider said.
However, there is little evidence Gunna and Chlöe's relationship evolved in the months leading up to his arrest. In fact, she has hinted on social media she is not involved with anyone. In April, she responded to a Twitter question about her relationship status with the word "single." And in June, she indicated her love life isn't in the best of shape. "I'm tired of men... honestly," she tweeted. It sounds like whatever happened between Chlöe and Gunna fizzled out for now.