Are Chloe And Halle Bailey Twins?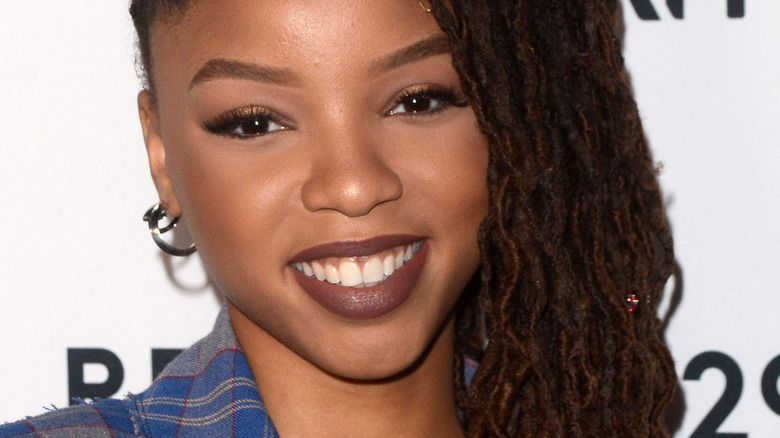 Kathy Hutchins/Shutterstock
R&B stars Chloe x Halle, a.k.a. Chloe and Halle Bailey, are a self-taught musical duo who also happen to be sisters. As previously reported by Teen Vogue, the "Do It" hitmakers were discovered by none other than Beyoncé, who signed them to her label Parkwood in 2013 for $1 million. Chloe x Halle has gone on to release two studio albums, and one mixtape. They've also received four Grammy nominations.
It is well known to their fans that Chloe and Halle have a unique bond. For Chloe's birthday in 2021, Halle chose to honor her sister on Instagram with a heartfelt caption. "I absolutely couldn't be prouder of you, and everything you're accomplishing," she wrote, adding, "You inspire me and so many others to always speak up for yourself and never apologize for being unapologetically you." 
In return, Chloe offered Halle a loving 2022 birthday message on Instagram, saying, "I love you to the moon and back. you are strong, brilliant, effortlessly graceful and I am SO PROUD OF YOU. Thank you for being my sister and partner in this life You deserve the entire world and more." Per Us Weekly, Chloe referred to Halle as her "best friend" who she cannot live without.
But wait a minute–they have separate birthdays? Aren't Chloe and Halle Bailey twins? The answer may not be the one you'd expect.
Chloe and Halle Bailey are not twins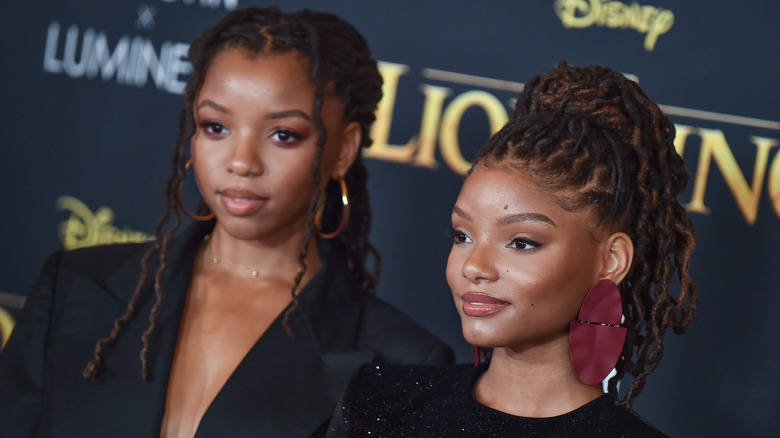 DFree/Shutterstock
If you've been listening to "Ungodly Hour" on repeat for years, thinking that Chloe x Halle are twin sisters, we can't say we blame you. After all, they've played twins on TV, and they're rocking twinning black dresses paired with angel wings on the cover of their hit 2020 album (via Discog). But the truth is, Chloe and Halle are not twins in real life. Born on July 1, 1998, Chloe is the 24-year-old big sister, and Halle, born on March 27, 2000, is 22 years old. 
They've played twin sisters and aspiring Olympic athletes Jazz and Sky Forster on Freeform's hit series, "Grown-ish," for three seasons, per IMDb. While talking to Entertainment Weekly (via Just Jared Jr.) in 2017, Halle admitted that she and Chloe feel like twin sisters "all the time," adding, "Sometimes we forget that I'm the younger sister. She's my best friend, and we just were really channeling ourselves for the characters, though it's also our alter egos with their sassiness and attitude."
The Bailey sisters also come from a close, supportive family. The duo also share a younger brother, Branson Bailey, whom they've often shouted out on their Facebook page over the years. "Happy 12th birthday to our amazing baby brother Branson!!!" they wrote. "We love you so much, thank you for blessing us with your love every day! we're always going to be here to protect you."
Chloe and Halle support each other's solo ventures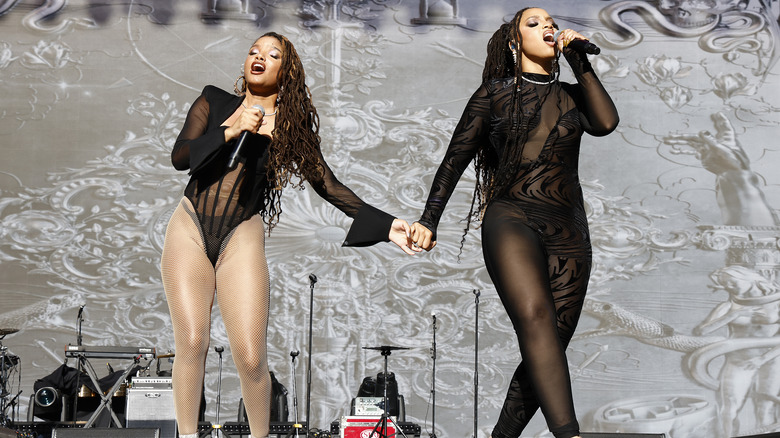 Paul Morigi/Getty Images
Although they're well-known for their close bond, Chloe and Halle Bailey have also grown as individual artists over the years. Chloe has embarked on a solo music career while Halle has taken on more acting roles by herself. They've also got separate Instagram accounts (via People), after nearly a decade of sharing one account. 
In a 2021 interview with BuzzFeed, Chloe opened up about their solo work. "It's been the coolest thing. And I love it, because we're both so strong together as a group, and also individually, and I'm just so proud of her and all the solo endeavors that she's been going on," the "Treat Me" hitmaker said, adding, "I feel the same love and support from her. I can't wait to continue to support each other as we both continue to grow." 
In May 2023, Halle will appear on the big screen as Ariel in Disney's upcoming live-action version of "The Little Mermaid," as per The Hollywood Reporter. While shooting the film overseas in London, Cosmopolitan revealed that Chloe chose to stay with Halle to "help ease her younger sister into being away from home."