How Much Money Does Lisa Vanderpump Make From Vanderpump Rules?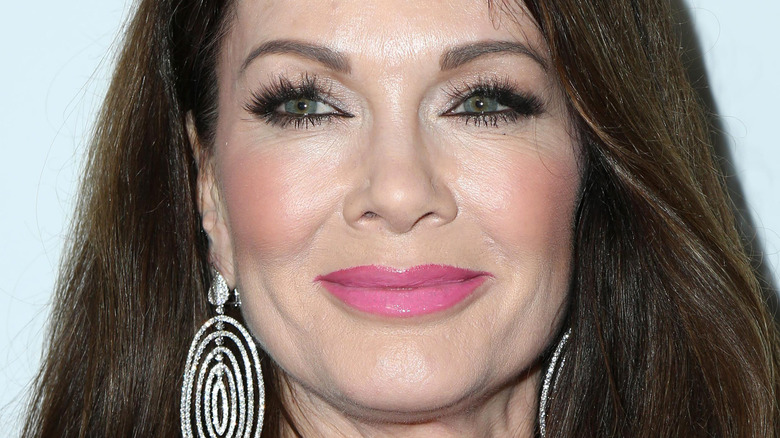 Kathy Hutchins/Shutterstock
Lisa Vanderpump was named as "Woman of the Year" in 2015 by the California State Assembly for her stellar business acumen, per CBS. Vanderpump now owns a string of establishments, including PUMP, TomTom, SUR, Vanderpump Cocktail Garden, and Vanderpump à Paris, according to People. And with her decades of experience in the industry, per her bio, she was able to recognize talent and pay it forward.
The "Real Housewives of Beverly Hills" alum hired current star Garcelle Beauvais' son, Oliver Saunders, to work in her Las Vegas eatery, Vanderpump à Paris. Although she was initially hesitant about offering him a job, she told Entertainment Tonight that Saunders "turned out to be a gift." Vanderpump continued, "He's been great and so I put him in the space of my restaurant, you know, in Caesars Palace, and he has moved to Paris [Las Vegas]. And he's great." It seems as if Saunders has proved his worth to Vanderpump and is moving on up.
Vanderpump seems to have a knack for combining what she loves and making money from it. After all, she once told Bravo that her advice for other entrepreneurs is the old adage, "Find something you love to do and you'll never have to work a day in your life." So, even though the philanthropist quit "RHOBH" in 2019, she still continues to star in the spinoff series "Vanderpump Rules" that follows the antics of her SUR employees. Unsurprisingly, Vanderpump is paid a pretty penny for her time on the show.
Lisa Vanderpump pockets a hefty salary from Vanderpump Rules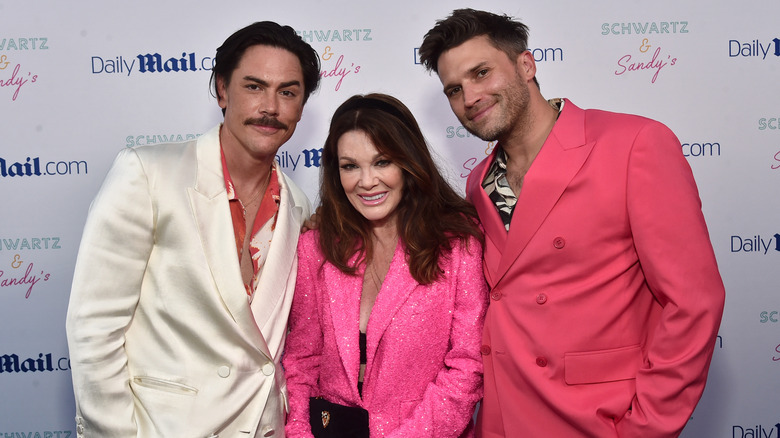 Alberto E. Rodriguez/Getty Images
Lisa Vanderpump is one of the executive producers of "Vanderpump Rules." The Bravolebrity told Entertainment Tonight that Season 10 will deal with "more mature issues." She explained, "I'm pleased to say we're not making the same show we were 10 years ago," adding, "So there's a kind of evolution so to speak." At the end of the day, "Vanderpump Rules" has "always been about a group of people who love each other."
It seems there are plenty of feelings and money to keep Vanderpump happy. Celebrity Net Worth reports that she is paid a hefty salary as one of the stars of the show. She reportedly makes $500.000 per season of the reality show. Per InTouch Weekly, Vanderpump earns significantly more than the rest of the cast, with salaries averaging between $10,000 to $25,000 per episode.
Those who follow the series know that "Vanderpump Rules" mostly centers on SUR. Vanderpump and her restaurant partners also cash in $1 to 2.5 million annually from the eatery, per Bustle. Yes, Mama Vanderpump pockets all this revenue from just one of her restaurants. Then again, Vanderpump is the one who saw potential in the small restaurant back in 2005. Per Wehoville, she told Guillermo Zapata that she had "the money inside her purse right here on the patio." And for a reported initial investment of $300,000 Vanderpump and her husband, Ken Todd, have been cashing in on their investment for years.
Lisa Vanderpump was financially independent from a young age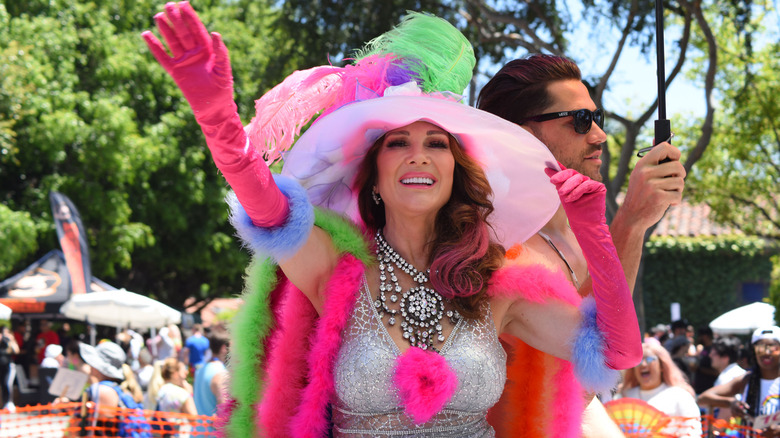 Michael Mattes/Shutterstock
Lisa Vanderpump is rolling in the dough, and then some. Per Celebrity Net Worth, the reality star commands a net worth of $90 million. Besides numerous dining establishments, bars, and clubs, she is also an author and philanthropist, per her bio. She's the founder of The Vanderpump Dog Foundation and often advocates for pooches on her Instagram page. However, Vanderpump once pointed out, "Money is freedom," per Bravo, and she is therefore able to support the causes that she's passionate about. 
The entrepreneur also told the outlet that she made her own money from a young age. Besides being a waiter, Vanderpump was also an actor when she was younger, per IMDb. Her hard work paid off and Vanderpump told Bravo that she bought her own home at the age of 19 with "not one penny from a man or my parents." After marrying Ken Todd at the age of 21, she and her husband went on to open many restaurants and eateries.
Although she admitted that she has spent too much on certain things, she admitted to Bravo, "I don't even have a credit card." Vanderpump continued, "I have a debit card, and it comes out of my account." She added, "I like to know where I stand." In the money, Lisa, that's where you stand. Slay, Pinky!