The Strange Way Bryan Cranston Proposed To His Wife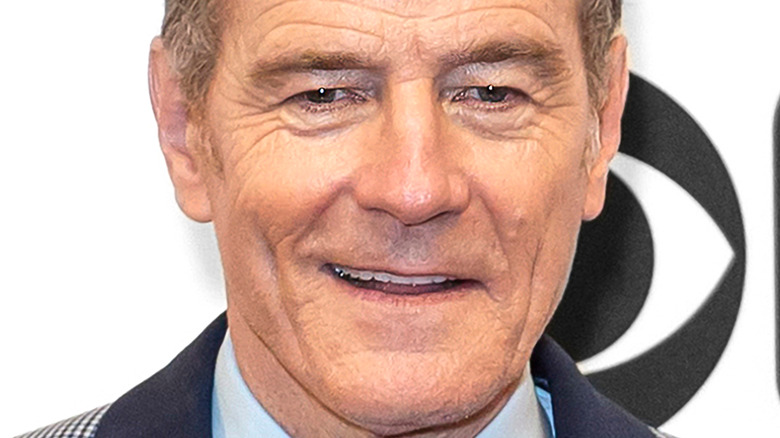 Ovidiu Hrubaru/Shutterstock
"Breaking Bad" star Bryan Cranston may not be your first thought when you think of romance, especially when he's dropping the mic after joking about getting freaky with a fan's mom. But the man who proudly proclaimed he is the one who knocks has, in reality, a penchant for grand romantic gestures. However you wouldn't know it from how he met his wife, Robin Dearden, because as they both recall, they fell in love as he was holding a gun to her head. You read that right.
Of course, it wasn't a real gun, and the scenario unfolded on the set of the '80s military helicopter action show (with the wicked theme song) "Airwolf." Dearden told People in 2016, "He actually had a gun to my head ... I thought that he was the funniest man that I had ever met. I said, 'He's kind of cute, he's got a gun.'" Speaking with Rolling Stone in 2013, he added, "We were guest stars. I was the bad guy and she was the victim of the week."
While they didn't start dating right away, the couple told People that a year later, they ran into each other and shared a kiss that couldn't be described a purely platonic. "We were both like, 'Wait that was too long, wasn't it?!' " he told the outlet. "And that is really what happened." So naturally, when it came to popping the question, the Golden Globe winner had to do it in epic fashion.
Bryan Cranston proposed to his wife with the ring on his toe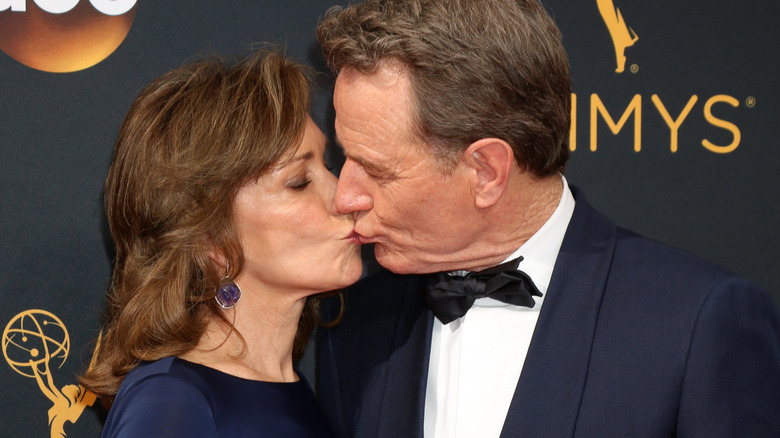 Kathy Hutchins/Shutterstock
"Malcolm in the Middle" star Bryan Cranston had been dating Robin Dearden for two and a half years when he decided to pop the question, but Cranston being Cranston, he had to do it with epic thespian flair. Speaking with Page Six in 2016, he revealed the dramatic (and somewhat cringeworthy) way he proposed marriage. And in this scenario, there was no room to get down on one knee.
"I needed to propose but didn't quite know how. I thought, taking a bath together we could straddle each other, but I was busy changing the music and candles. My problem was, I didn't know where to put the ring," he told the outlet. "I decided to put it on my big toe. Then we cuddled. Then I got her to ask for the ring. She started to turn around, and I'm looking at the back of her neck and whatever happened with our positions I had to take the ring off my toe."
Speaking to "60 Minutes" in 2017, they both added to the story that Cranston needed a little help getting the ring off his toe. "Here's your ring. But I can't reach it. Take the ring off my toe," he recalled saying. "It was so romantic," Dearden quipped. But the so-called "romance" was not to end there. Oh no. If you think you know the Cranstons, just wait until you hear about their honeymoon. 
Bryan Cranston and his wife were caught in flagrante on their honeymoon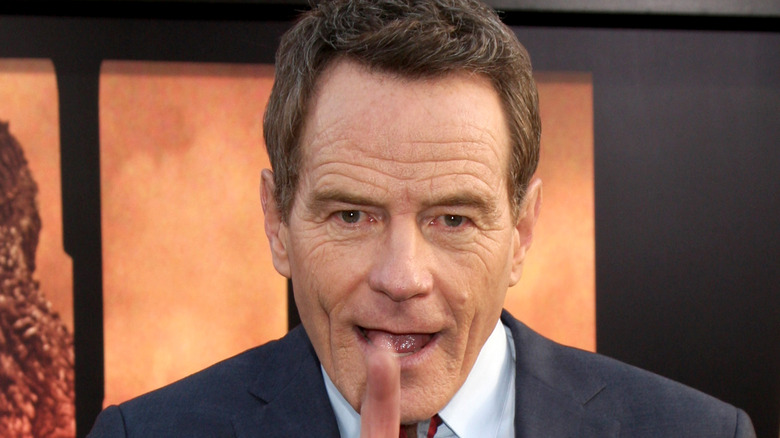 Kathy Hutchins/Shutterstock
In 2017, Bryan Cranston told a wild story during an appearance on "The Graham Norton Show" about the time he and his new bride Robin Dearden were caught "in flagrante" in a rental car parked on a train going through the Swiss Alps. Explaining that a travel agent told them the tunnels through the alps would last around 50 minutes (perfect for honeymooners *wink wink*), he giddily recalled, "We wait until it's absolutely pitch dark, here we go! ... So we are inflagrante, as they say!"
He continued, "I can see her, her pretty face, and it's great. The eyes weren't getting used to total pitch black. What happened is we were coming to a station! Boom! Sunlight! My wife says those three words to me that every husband wants to hear: 'Get off me!'" Cranston also told this story on "Conan," and Conan O'Brien asked the question we all are thinking now, "What happened to the 50 minutes?"