Natalia Dyer Has An Unexpected Connection To Hannah Montana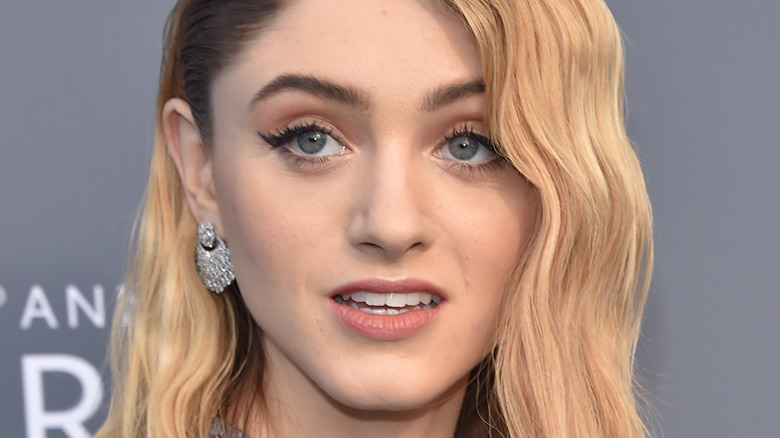 DFree/Shutterstock
"Stranger Things" and "Hannah Montana" could both be described as shows about girls who appear ordinary, but are actually capable of something extraordinary. The Netflix series and the Disney Channel sitcom don't have much in common beyond having young female leads who possess talents that profoundly affect their lives, but there are some links between "Hannah Montana" and a few "Stranger Things" stars – Millie Bobby Brown and Natalia Dyer included — that might just flay fans' minds.
Brown is British, so she had to perfect an American accent to portray Hawkins' resident superhero Eleven. While speaking to Miley Cyrus for her "Bright Minded" Instagram series, Brown revealed that she learned how to sound like she was ready to party in the USA by watching episodes of "Hannah Montana." She was also a big fan. "I didn't know how to get your job, but I was like, 'I want to be like Hannah Montana," Brown told Cyrus. Jamie Campbell Bower, who plays the villainous Vecna, also greatly admires Cyrus. He told ET Canada that "Party in the USA" is the song that would break him free from his character's deadly spell, and he wasn't just being goofy — in a 2011 Teen Vogue interview, he listed it as the tune that gets the most play on his iPod. 
Dyer must be the envy of both Brown and Bower, as she actually got to work with Cyrus. But Dyer is the biggest critic of her "Hannah Montana" moment.
Natalia Dyer changed her voice for the Hannah Montana movie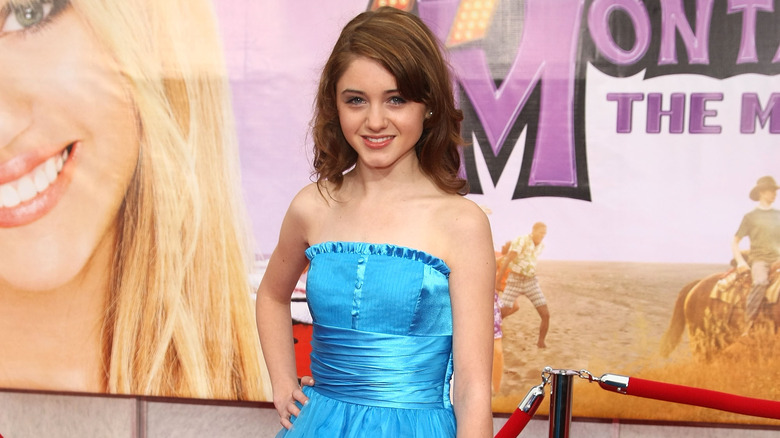 Kristian Dowling/Getty Images
Natalia Dyer did a lot of screaming for her first acting role in 2009, but it wasn't because she was being stalked by a demogorgon. In "Hannah Montana: The Movie," she played a hardcore Hannah Montana fan named Clarissa Granger. Unbeknownst to Clarissa, her idol witnesses her freaking out over a free concert ticket, and when Clarissa becomes aware of Hannah's presence, she becomes downright hysterical.
Dyer spoke about the role in a video interview with Cosmopolitan. Like Cyrus, the actor is a Tennessee native, so she jumped on the rare opportunity to audition for a major production that was being filmed in Nashville. "When this came through, it was the talk of the town," she said. But shooting the movie wasn't exactly a pleasant experience for the then-14-year-old Dyer, who recalled it being miserably hot. Her character was supposed to be British, so she also had to scream with an accent. "I don't think I did the accent justice, but then I don't know if I can do a great British accent now," she confessed to Cosmopolitan UK.
The experience didn't make Dyer swear off roles that require her to play a non-American. "I'm always interested in any role that you have to learn something outside of yourself for, whether it's a skill or an accent," she told NME. Luckily, Dyer's British boyfriend Charlie Heaton can help her improve her fake accent if she's ever cast as a Brit again. 
Natalia Dyer's acting career began with an injury
Natalia Dyer's "Stranger Things" character, Nancy Wheeler, has had quite the trajectory from a mild-mannered high school student whose biggest concerns are her grades and her boyfriend to a monster slayer with a sawed-off shotgun. Nancy is also a reporter for her school newspaper, and Dyer told Cosmopolitan UK that she was once interested in pursuing a journalism career herself — then the opportunity to audition for "Stranger Things" came along. At the time, she was attending college at New York University, per Into the Gloss, but put her schooling on hold to film the show.
Dyer had landed a handful of movie roles before "Stranger Things" sent her acting career into a whole different stratosphere, but when she first discovered her love of entertaining, she was just an 8-year-old attending sports camp, per WWD. She quickly discovered that sports were not her thing. "I sprained my ankle, like, the first day, so they put me in the drama camp where my leg made a remarkable improvement," she told InStyle.
Dyer's parents encouraged her to pursue her newfound passion, and she soon landed a starring role as Scout in a community theater performance of "To Kill a Mockingbird." Fast-forward to today, and Dyer has achieved a level of fame not unlike that of Hannah Montana. However, she can still empathize with Clarissa Granger. "It's always an interesting experience on the other side, but I definitely can be a fangirl too," she told W magazine.