The Truth About Natalia Dyer And Charlie Heaton's Relationship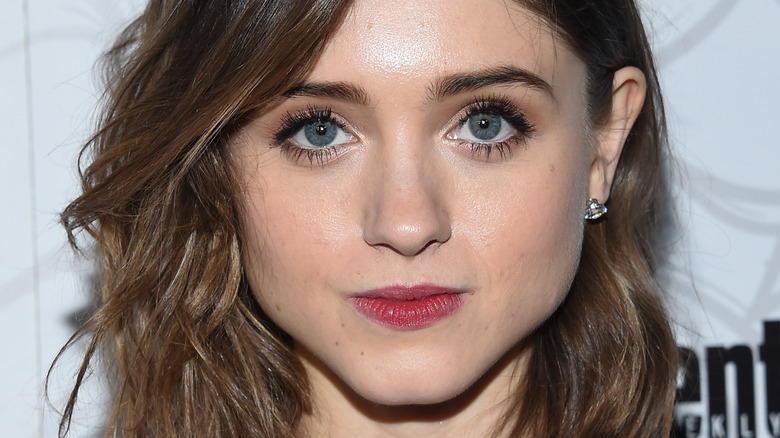 DFree/Shutterstock
She was the popular girl. He was a nerd with an interest in photography whose younger brother was sucked into a mysterious underworld. That's when they fell in love. We're talking about Nancy Wheeler and Jonathan Byers on Season 1 of "Stranger Things," of course. That's why when the actors playing Nancy and Jonathan, Natalia Dyer and Charlie Heaton, started dating after meeting on set, we wouldn't exactly call it life imitating art, but we could maybe call it a classic love story. 
These two have been together for quite a while — especially in Hollywood terms — so we did a little bit of a deep dive into the truth of Dyer and Heaton's relationship. How it began, how it's going, and what may be next for these two "Stranger Things" lovebirds. Luckily, they've both been open about their love for each other on social media over the years, so we have plenty of first-hand info. 
Charlie Heaton and Natalia Dyer first started dating in 2016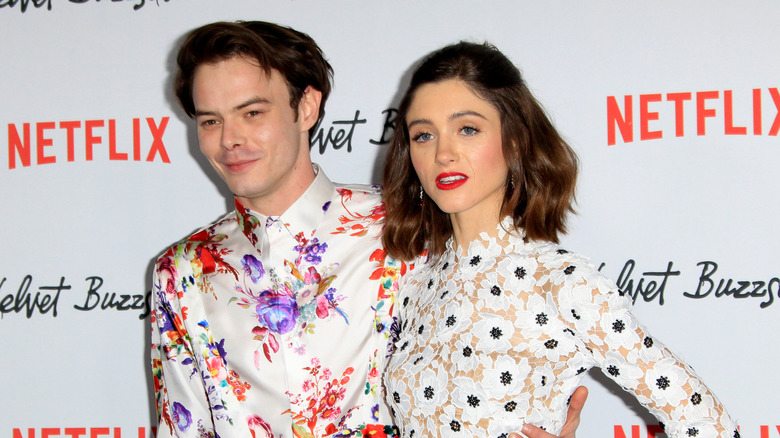 Kathy Hutchins/Shutterstock
After meeting on the set of "Stranger Things," Charlie Heaton and Natalia Dyer first start appearing on each other's Instagram accounts after Season 1. In September 2016, Heaton posted a picture with Dyer in Spain, captioned, "Amigos!" Dyer then posted a picture of Heaton, covered in birds for some reason, with the joking caption, "Wow congrats [Charlie Heaton] on his new one man show Stranger Wings!! Sure gonna miss you s2 but happy you're doing what you love."
A few more posts and some paparazzi shots later, and the rumor mill was working in full gear with speculation that Heaton and Dyer were an item, with an unnamed source confirming the romance to Life & Style in 2017. They finally made their official red carpet debut as a couple in December 2017, according to Cosmopolitan. In the five years that followed, Heaton and Dyer have posted about each other only occasionally, and haven't spent a lot of time talking about their personal life.
Natalia Dyer and Charlie Heaton keep their relationship private
Charlie Heaton explained in a 2020 interview with GQ that he and Natalia Dyer weren't necessarily trying to be super-secretive about their relationship, they were just feeling things out at first. "We didn't really know what the relationship was," he shared. Now, all these years later, we have to assume that they have the labels part figured out, but they still tend to keep to themselves. 
When asked why, Dyer told Cosmopolitan UK, "The weirdest thing about [our relationship] is other people's perception and reaction to it. Everything else just feels very human." According to Dyer, even though she understands why people would want to know more about the actors they watch on screen, she and her boyfriend are really just normal people. "It sounds so cliché, but I'm just a person, too," she said. "Some people are very good about being open and sharing, and other people feel a little more comfortable holding some things for themselves."
Now the couple is back on screen together on the newly released "Stranger Things" Season 4, where things are definitely a little less than normal for their characters.