What Were Elvis Presley's Last Words?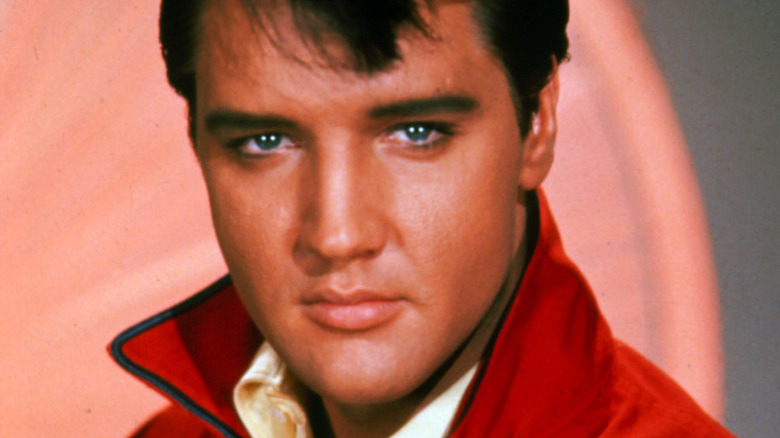 Getty Images/Getty Images
Though he famously married Priscilla Beaulieu, Elvis Presley had many loves in his lifetime. In fact, shortly before his death, the musician became engaged to Ginger Alden, an actor and model. At the time, she was only 20, and he was 42. According to Alden, their relationship was a whirlwind.
"Our relationship had been so intense as if he wanted me to know almost everything about him in a short time," Alden wrote in her 2014 memoir, "Elvis & Ginger" (via The Mirror). "I knew I had fallen in love and couldn't imagine not being with him."
Though she intended for their relationship to be his last, she didn't realize their time together would be so short-lived. The couple was together less than a year before he died in 1977. According to Alden, they began their last day with "excitement and hope" as they planned their wedding, but ended on "heartbreak and disbelief" as her fiancé had died. Decades later, in her memoir, she would recount her lost love's final words.
Ginger Alden reveals Elvis Presley's last words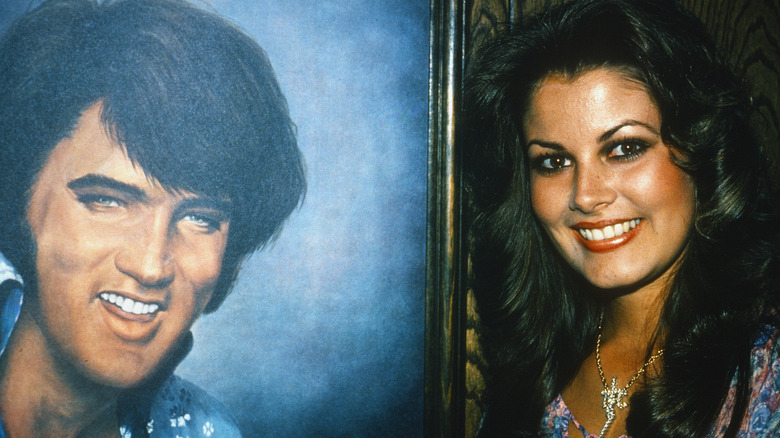 Anwar Hussein/Getty Images
During their last conversation, as revealed in "Elvis & Ginger," Elvis Presley told Ginger Alden he was going to the bathroom to read as he was restless that night, to which she teasingly told him not to fall asleep in there. Presley, as Alden recounted in her book (via Inside Edition), promised, "OK, I won't," before disappearing into the bathroom. Alden herself fell asleep for several hours, discovering Elvis upon waking up.
"Elvis looked as if his entire body had completely frozen in a seated position while using the toilet and then had fallen forward, in that fixed position, directly in front of it," Alden explained in her memoir. "It was clear that, from the time whatever hit him to the moment he had landed on the floor, Elvis hadn't moved."
The experience was traumatic for Alden; she was alienated by Elvis' inner circle of friends and family. All when she was a 20 year-old woman coping with losing the man she loved. Decades later, Alden did, however, reclaim her story through writing about the relationship. Additionally, she married Ronald Leyser and had one son, details that are often omitted when her name comes up in relation to Elvis.
Elvis Presley's exes share how they learned he died
While Ginger Alden had a front row seat to the tragedy, Elvis Presley's other former flames found out he passed in a variety of ways.
Linda Thompson, who later went on to marry Caitlyn Jenner, found out about her ex-boyfriend's passing from his daughter, Lisa-Marie Presley. She was so "stunned and paralyzed" she didn't initially believe Lisa-Marie, as she told Larry King in a 2002 interview, but the girl's repeating of "my daddy is dead" brought her to her senses. As heartbreaking as Thompson's story is, Ann-Margret's is uncanny. Though the two never officially dated, Margret claims they fell in love as costars on 1964's "Viva Las Vegas," despite his engagement to Priscilla Ann Presley at the time. They remained close, as every time Margret starred in a new show, the King always sent her "guitar-shaped flowers" on her opening night, per the actor's memoir, "My Story". Every opening night that is, except August 15, 1977. Knowing he'd never forget, she called Graceland, learning Elvis had died.
When someone touches as many lives as Elvis Presley, their death is bound to leave as profound an impact.