The Truth About Robert Redford And Brad Pitt's Relationship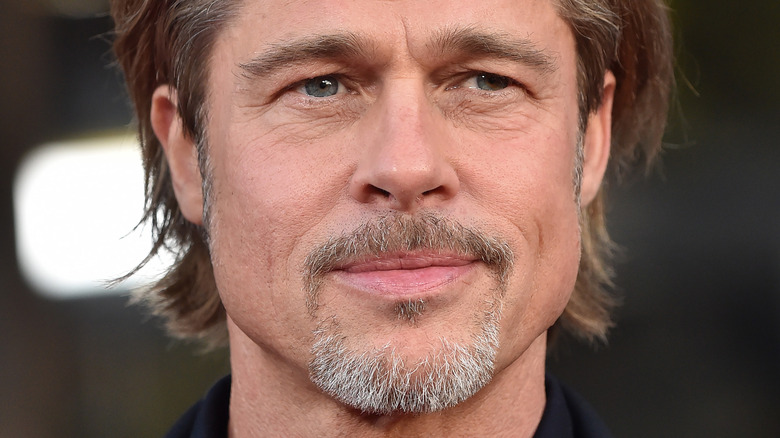 DFree/Shutterstock
From his iconic collabs with Paul Newman in "Butch Cassidy and the Sundance Kid" and "The Sting," to showing off his romantic side with Barbra Streisand in "The Way We Were" and tackling one of America's most notorious political crimes in "All the President's Men," Robert Redford defined a generation. Hardly anyone who lived through the late 1960s and 1970s was untouched by Redford's magic. And that included Brad Pitt, who was inspired by Redford from an early age. "Redford was one of my heroes, growing up ... He and Newman, and these guys, were really big in my house," Pitt told Collider in 2020.
Pitt's journey from small-town boy to one of Hollywood's most recognizable stars was an unlikely one. Raised along the Mason-Dixon line in a conservative, blue-collar environment, Pitt didn't grow up aspiring to be an actor. But he loved movies, a passion that prompted him to enroll in the journalism program at the University of Missouri in hopes of finding art directing work in advertising, Pitt told Parade in 2007. But, the urge to try his luck was overpowering. 
"Films were a portal into different worlds for me," he said. Two weeks before graduation, Pitt packed up his belongings and moved to Los Angeles. "I always liked those moments of epiphany," he explained in a 2009 NPR interview. It took Pitt some years — and a lot perseverance — but he finally got his breakthrough in 1992, a milestone that happened under the guidance of his childhood icon. 
Robert Redford directed Brad Pitt in his most pivotal role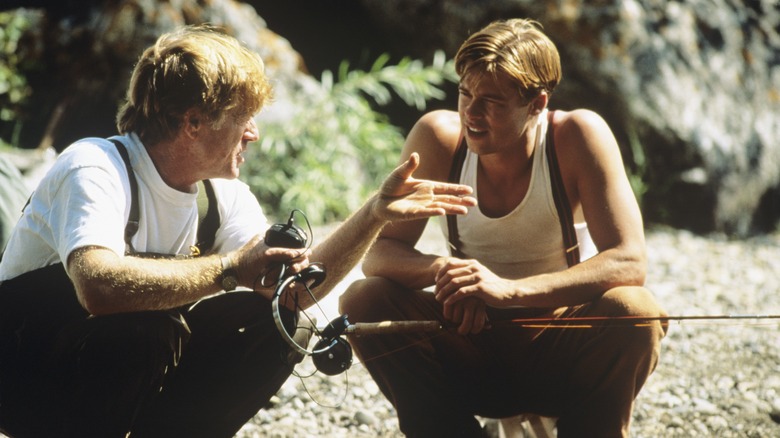 John Kelly/Getty Images
After arriving in Hollywood in 1986, Brad Pitt started getting uncredited parts right off the bat, Fox News noted. But those paychecks weren't paying the rent, meaning Pitt had to work menial jobs as he chased his dream. In 1990, he landed the role of sexy-but-conniving cowboy J.D. in Ridley Scott's "Thelma & Louise," a part that he got because Billy Baldwin (and then another actor) dropped out, per Vanity Fair. But Pitt's big break didn't come until the following year, when he landed his first lead role in "A River Runs Through It," the coming-of-age drama directed by Robert Redford.
At 27, Pitt was finally garnering critical acclaim. But he wasn't satisfied with the work he put out, something he partly attributes to being star-struck by Redford. "Maybe it was the pressure of the part, and playing someone who was a real person — and the family was around occasionally — and not wanting to let Redford down," he told Entertainment Weekly in 2011. In fact, he thinks he may have neglected the character somewhat as a result. "I'm sure I was more trying to impress him, each day. I should've been focused more on the part, itself," Pitt told Collider.
Pitt might believe his performance was underwhelming, but Redford was impressed from the moment he saw him. "When he first came in, he had a look about him," Redford told Closer Weekly in 2020. "I said, 'Yeah, he's going to succeed.'"
Brad Pitt and Robert Redford worked together again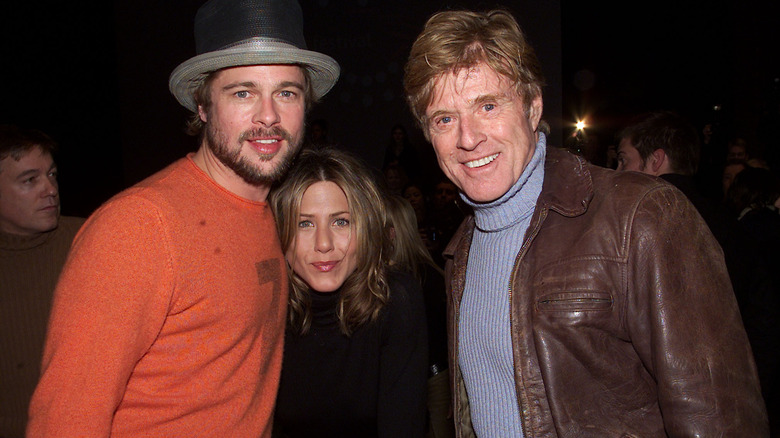 Evan Agostini/Getty Images
Brad Pitt had another opportunity to work with Robert Redford as an established actor. In 2001, the actors teamed up for the Cold War thriller "Spy Game," marking the first time Redford and Pitt co-starred in a movie. All these years later, Pitt believes his formative experience with Redford played a role in how they helped shape Tony Scott's project. "We had, as a matter of fact, a sort of mentor-protégé relationship," Pitt told Closer Weekly. "Interestingly, this kind of relationship helped us with 'Spy Game.'" 
Pitt learned invaluable lessons from Redford during "A River Runs Through It," many of which he continued to apply throughout his career. That included getting rid of an old habit — sighing during scenes. "He said, 'Don't do that. When you do that, you let the power out. You let the water out of the scene.' That's always stuck with me," Pitt told Collider.
Redford recalled having meaningful conversations with Pitt on the set of the 1992 film, which allowed him to understand Pitt's journey a decade later. "I could see himself groping, trying to find himself," Redford told Closer Weekly. "We spent a lot of time talking about the future." The bond forged then was strong enough to last a lifetime, even if their lives took them in the different directions. "Whenever I see Brad, whatever has happened in between doesn't exist," Redford said. "It's just like a remember from the very beginning."