Chris Pratt And Katherine Schwarzenegger Have A Bigger Age Gap Than You Thought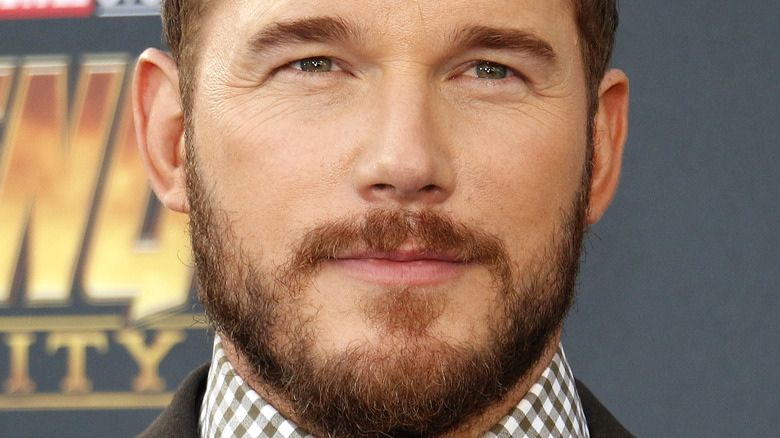 Tinseltown/Shutterstock
Chris Pratt and Katherine Schwarzenegger have proved age is nothing but a number. The two love birds have a fairytale romance complete with honesty, a shared bond over their faith, emotional maturity, and a buzzing family that keeps them young at heart.
The "Parks and Recreation" alum met Schwarzenegger at church in 2018, and shared with Extra the specifics of their encounter. "It was a lot of kismet, and a lot of connections, but that was where we met." After months of speculation, the two love birds went Instagram official in December 2018 and got engaged in January 2019, and the rest is history.
Since they've been an item, the pair has showered each other with love and affection on social media. Pratt in particular has made it clear that he is "so grateful" to have found a lifelong partner in his wife, Schwarzenegger. "Aww, man, I'm lucky," he gushed to Entertainment Tonight in August 2019. "God is good. I feel really good, really blessed. Everything is great." Their relationship is true love, however, many may wonder how the two can see eye to eye with the differences in their age. Pratt and Schwarzenegger's age gap may be a surprise to some, but the doting pair has a lot more in common than you think.
They have an age gap of 11 years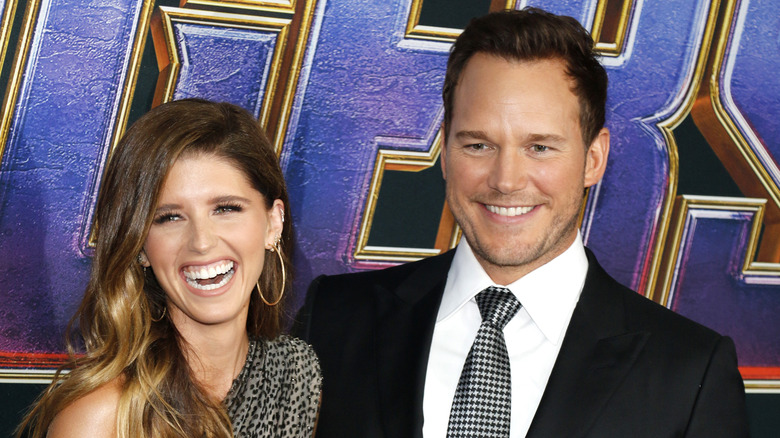 Tinseltown/Shutterstock
In a low-key ceremony in June 2019, Katherine Schwarzenegger, then 29, married 40-year-old "Avengers: Endgame" star Chris Pratt, per Insider. The two took to their Instagram accounts to share a shared special message after their "intimate" wedding ceremony. Both called it "the best day of [their] lives" and said they felt "nothing but blessed."
Their age difference is not a concerning aspect of their relationship. In fact, the couple is beaming with positivity, and has also given fans a glimpse into what works for them.
"The Gift of Forgiveness" author opened up about her and Pratt's experience with "premarital counseling" before their big day, calling it "the most amazing gift" they could have asked for. "I know not everybody does [it], of course, because ... if they don't tell you [that] you have to, then why would you?" she said on the "Meaning Full Living" podcast in July 2021 (via E! News). "Talking about things that maybe we wouldn't necessarily have talked about before getting married, [talking] about things that couples of 10 or 15 years still don't like to talk about with one another. Being prompted to talk about those things is also a really helpful thing to do early on." The pair celebrated their third wedding anniversary in 2022, and appeared happier than ever. Per an Instagram tribute for the occasion, it's apparent that their support of each other is the key to their successful relationship — regardless of age. 
Chris and Katherine are in it for the long haul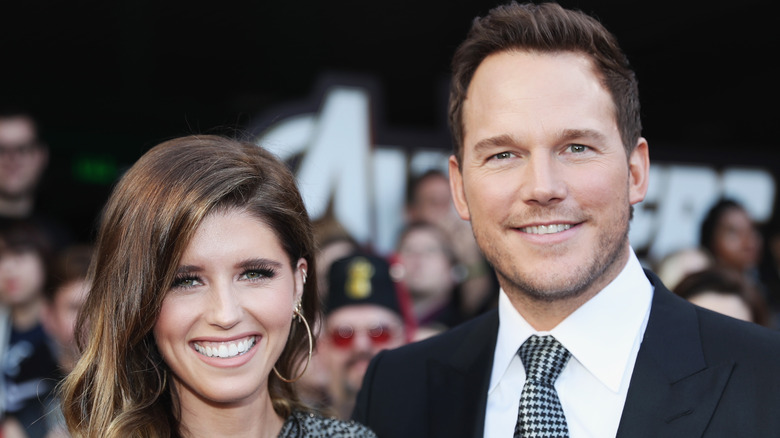 Rich Polk/Getty Images
Chris Pratt and Katherine Schwarzenegger may have an age gap, however, there is one aspect of their relationship that is non-negotiable: communication.
"I'm a big communicator...Communication constantly is, like, really the most amazing gift you can have, I think, in a partnership and in a relationship," the "Rock What You've Got" author told Us Weekly and other reporters during a virtual fireside chat in April 2020. "You're a team and you want to make sure that team is a strong one." The pair has a special way of maintaining their connection no matter how busy their day-to-day may be and make time for each other.
Pratt and Schwarzenegger may have demanding careers, however, the doting pair makes time for their loved ones, including their two young children, Lyla Marie and Eloise Christina Schwarzenegger Pratt who keep them young at heart. "Kids have an amazing way of making you slow down and appreciate little," Pratt shared with Entertainment Tonight in June 2022. "My daughter, Lyla, is 22 months now, and I've kind of spent a lot more time with her now that mama is with new baby Eloise." Pratt also co-parents his son, Jack, with ex-wife Anna Faris. All things considered, their age gap is the last thing on their minds, as the pair has a love that remains unmatched.