The Rare Medical Condition Jennifer Garner Lives With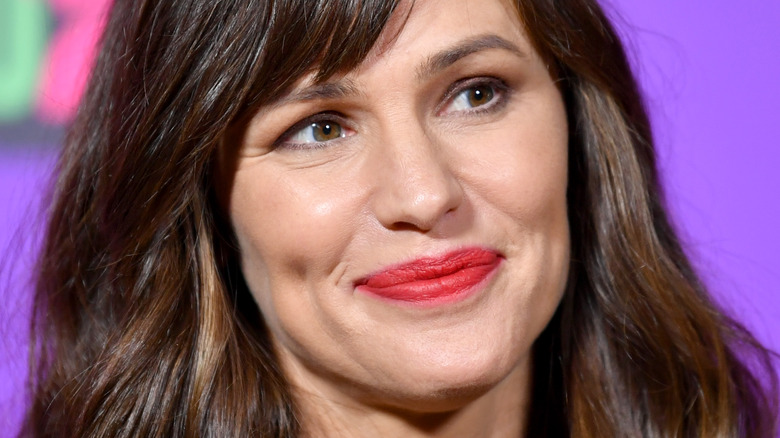 Amy Sussman/kca2021/Getty Images
Jennifer Garner has undergone quite the transformation throughout her career. At the same time, she seems to have held fast to the words of wisdom that were passed down to her from her mother when it comes to her body. In May 2021, the star told Glamour, "She said as you get older, the temptation is to stare into the mirror and focus on what's changing, and here's the secret: Don't look! Just care less, be grateful that you're getting older, and use the time you have to be leaving the world a little bit better instead of staring at yourself in the mirror and worrying."
That kind of attitude is also perhaps why Garner is able to accept the changes that her body went through as a result of having children. During an interview on "The Ellen DeGeneres Show" (via E! News) in October 2014, she referenced her son and two daughters, whom she shares with her ex, Ben Affleck, while also addressing rumors that she might've been expecting a fourth child. "I am not pregnant, but I have had three kids and there is a bump. From now on ladies, I will have a bump. And it will be my baby bump. And let's just all settle in and get used to it. It's not going anywhere. I have a bump. Its name is Violet, Sam, Sera."
Beyond that, Garner doesn't hide another aspect of her body that happens to be the result of a rare medical condition.
One of Jennifer Garner's toes isn't like the others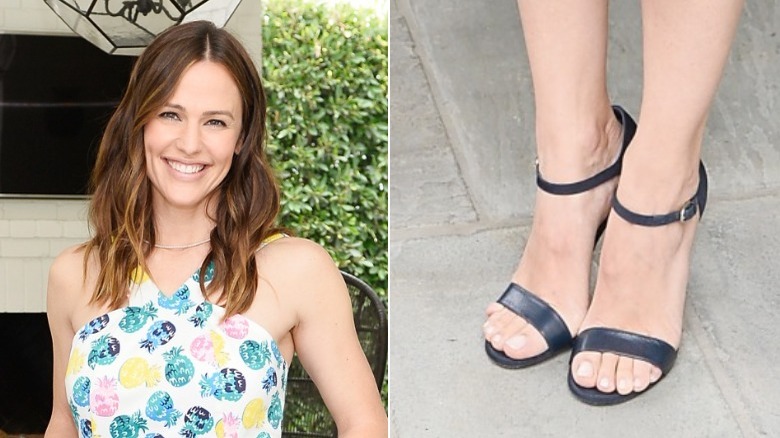 Stefanie Keenan/Getty Images
Back in January 2013, Jennifer Garner was spotted walking around Brentwood, according to the Daily Mail. If the slight smile on the star's face was any indication, she was enjoying herself, as she spent the day in a casual outfit that included a long-sleeved shirt, a puffy vest, distressed capri jeans, and sandals. But it was her footwear that made the rare medical condition she deals with visible thanks to the fact that her foot could be seen — specifically Garner's little toe (aka pinkie toe or baby toe) on her right foot, which appears to have grown upward and folded over the toe beside it.
The way that Garner's little toe sits is due to a condition called brachymetatarsia, which is associated with the state of the bone and soft tissue in the foot, per The Journal of Foot and Ankle Surgery (via ScienceDirect). The Dominion Foot and Ankle Consultants explains that brachymetatarsia involves one bone that is not as long as the others, and can be rather uncomfortable for those who have it. The condition can also mean that the person's foot or toes won't fit well in shoes.
Granted, that hasn't prevented Garner from wearing the shoes that she loves. Along with showing up on the red carpet in high heels and having a range of favorite sneakers, this actor was also the famous face — or rather, feet — behind a shoe brand.
Jennifer Garner's toe condition didn't stop her from releasing shoes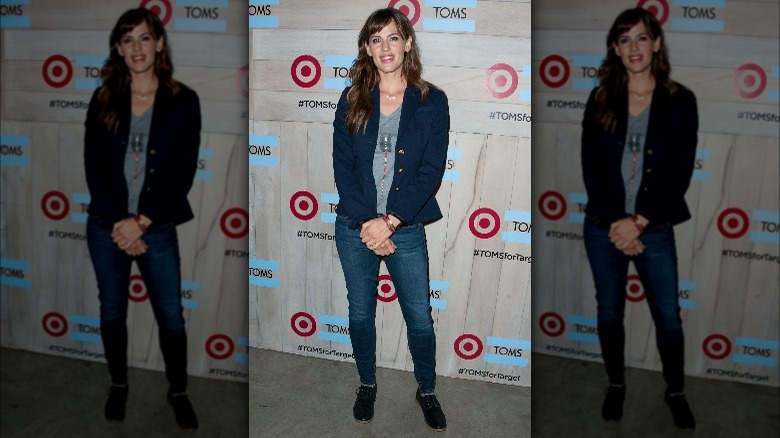 Valerie Macon/Getty Images
A few months before Jennifer Garner was seen wearing sandals in Brentwood in January 2013, she was in the same area in October 2012, according to PopSugar. However, during the 2012 day out, she was wearing a different kind of shoe. While the actor was spending time with her son, Samuel, she was again wearing a shirt with long sleeves that she had paired with jeans. She also had a black bag and matching sunglasses, along with gray Toms that went perfectly with her laidback yet perfectly put-together outfit.
Garner seemed to still be fond of Toms in August 2020, which is when it was announced that the star was teaming up with the popular shoe brand to release her own capsule collection. Featuring styles and sizes for both adults and kids, while being made from organic material and boasting a fruity embellishment, Garner posted about the collaboration on Instagram (via W24), and hinted at the fruit, saying, "We've got something new for the apple of your eye. Check back tomorrow for an exciting announcement with goods at its core."
Rose Jones, Toms' design director, talked about the collection in a statement that also mentioned Garner's organic baby food and snack company, saying (via W24), "We're so proud of this collaboration because it celebrates the value both Toms and Once Upon a Farm share of creating a healthier, happier tomorrow."