What's The Real Meaning Of Thique By Beyoncé? Here's What We Think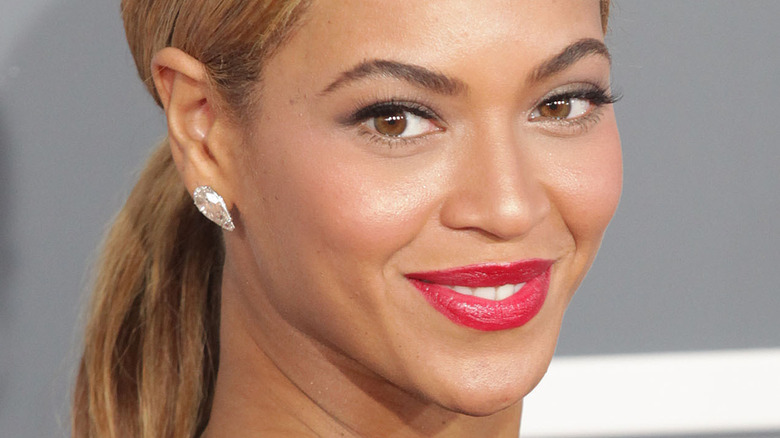 DFree/Shutterstock
Beyoncé really knows how to get the Beyhive buzzing. She's been teasing her fans with the promise of a new solo studio album since 2021. Beyoncé's last offering, "Lemonade," was released way back in 2016, and it's been all quiet since, aside from collaborating with her hubby Jay-Z and taking on the movie world. Per Entertainment Weekly, Beyoncé lent her vocal talents to the character of Nala in the 2019 remake of Disney's "The Lion King."
USA Today reports that the flick was met with mixed reviews, with some critics praising Beyoncé's performance to the skies. In contrast, others were just kind of... whatever. However, it's safe to say the reaction to Beyoncé's "Renaissance" has been unified in praise from fans and critics alike. According to The Guardian, the album has received a "blockbuster response."
Details about Beyoncé's album were laid bare after the entire album was leaked days before it was scheduled to drop on July 29. But the Beyhive remained loyal to their queen, which didn't go unnoticed. "You all actually waited until the proper release time so you all can enjoy it together," Beyoncé shared in a handwritten note on Instagram Stories (via Bloomberg). "I've never seen anything like it. I can't thank y'all enough for your love and protection." Everybody's been analyzing the lyrics of "Renaissance," including us. So, what's the real meaning of "Thique" by Beyoncé? Here's what we think.
Thique wants listeners to drop it like it's hot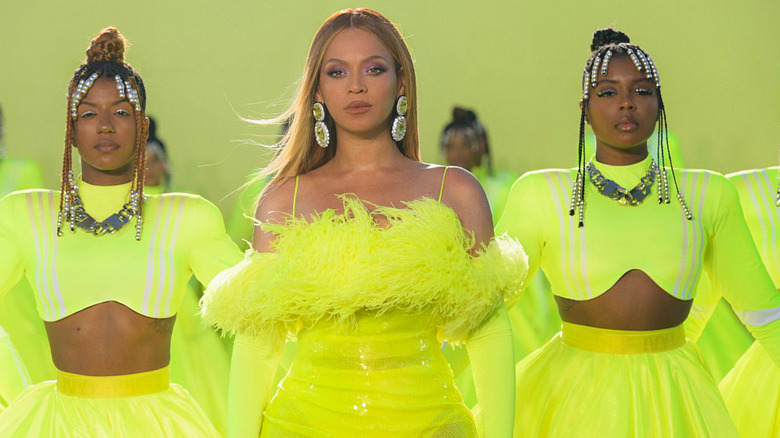 Handout/Getty Images
Beyoncé's a pro at sharing her narrative, throwing shade, and keeping everyone guessing with her lyrics. She does so in subtle and not-so-subtle ways. (Becky with the good hair, anyone?) It's no different with her seventh studio release, "Renaissance." The album is an ode to living life to the max, making the most of every moment, and shakin' your thang on the dance floor. It carries a body-positive message, encouraging self-confidence and unleashing your inner freak, regardless of size and shape.
So, what's the real meaning of "Thique" by Beyoncé? In fairness, the title kind of gives it away before you even delve into the lyrics. The track is an homage to all the single (and taken) ladies with the curves. The extra padding doesn't mean less sex appeal; far from it, in fact. Own what you got, work it, and drop it like it's hot. "A** getting bigger. Racks getting bigger. Cash getting larger," Beyoncé sings in the song's intro (via Way to Lyrics).
"That's that thick, that's that na-na, that oochie coochie, la-la. Yeah, this that Fiji agua, candy girl, piñata," she continues. "She say she on a diet, girl, you better not lose that a** though," she continues. The Beyhive was buzzing in the official lyric video's comments. "This woman has literally graduated to the level that she can be creative, innovative, and not give a damn what anybody thinks," raved one fan.
Beyoncé created a safe place amid the pandemic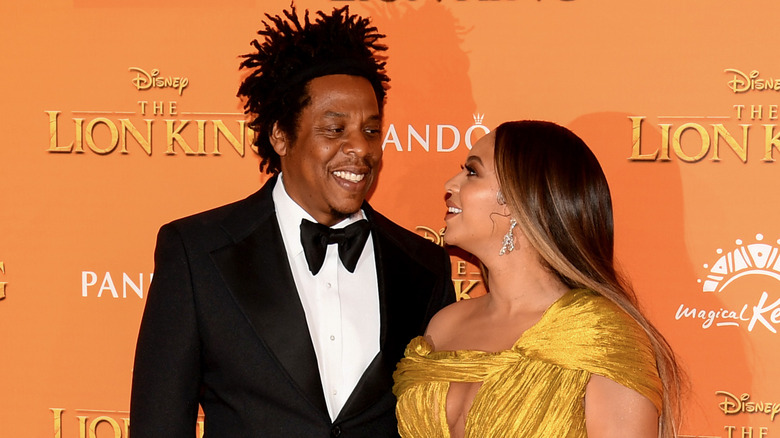 Gareth Cattermole/Getty Images
Beyoncé wrote "Renaissance" during the COVID-19 pandemic when pretty much the rest of the world was binge-watching "Tiger King." She shared that the strange period we all lived through offered her the opportunity for reflection and stimulated her creative side. "[This album] allowed me to feel free and adventurous in a time when little else was moving," Beyoncé admits in the liner notes. "My intention was to create a safe place. A place without judgment. A place to be free of perfectionism and overthinking."
Beyoncé's childhood was filled with overthinking. "The first decade of my life was dedicated to dreaming. Because I was an introvert, I didn't speak very much as a child," she told Harper's Bazaar. "I spent a lot of time in my head building my imagination." Beyoncé admitted her upbringing helped build levels of empathy and an understanding of others' struggles. She said that if she hadn't been that kind of kid, she would never have been able to "dream as big as I dream today."
There's no doubting the size of Beyoncé's dreams and her ability to achieve them, seemingly without effort. The singer-mother-businesswoman has amassed an absolute fortune over the years. According to Celebrity Net Worth, Beyoncé has $500 million in the bank. She earns around $80 million in just one year while on tour. Beyoncé's other half has done pretty well for himself, too. Jay-Z is worth a staggering $1.3 billion.