Craziest Celebrity Chef Outbursts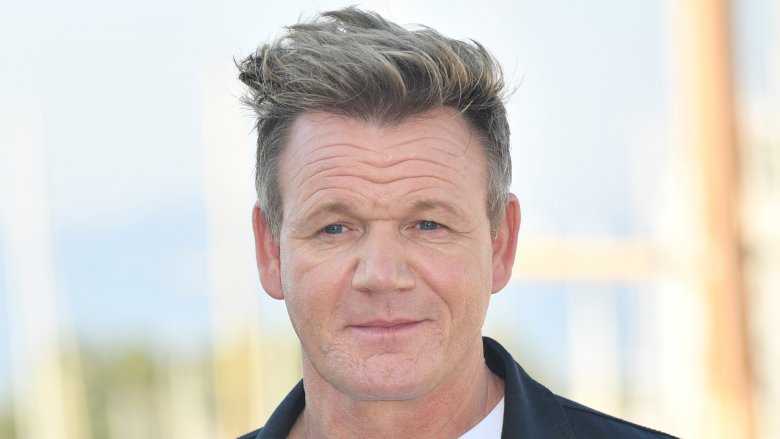 Getty Images
While some folks will never understand how certain food service professionals became rock stars just by knowing what goes in a Hollandaise sauce, the fact remains that celebrity chefs are a thing that isn't going away anytime soon. Generally unflappable in their TV appearances — thanks to a small army of behind-the-scenes prep cooks and assistants — these culinary pros seem to keep their cool in even the most stressful cooking situations. 
But sometimes, the lid on the pressure cooker blows, and we get a glimpse of how the chaos of a restaurant kitchen can bring even the most decorated chef to their breaking point. We've got vulgar tirades, a meltdown over produce use, and even a physical confrontation between one of these hot-head hash-slingers and his hairdresser — go ahead and take a wild guess who that was. *cough* Guy Fieri *cough*
Strap in for some of the craziest celebrity chef outbursts, but please be warned: some of the language in these clips may be too spicy for work or younger appetites.  
Where do you even begin with Gordon Ramsay?
As the undisputed champion of culinary conniptions, let's start with Gordon Ramsay, the multiple-Michelin-star chef and hot-tempered Brit become a reality TV sensation with his shows Kitchen Nightmares, Hell's Kitchen, and Masterchef. While each program offers a glimpse into a different aspect of the restaurant biz, they all have a single through line: Ramsay absolutely losing his mind.
Honestly, we could make this entire list about times Ramsay's rage boiled over — He's literally gotten to the point where he just repeatedly screams "F**k off!" over and over again — but we're choosing to focus on one particularly cringe-worthy episode of Kitchen Nightmares during which Ramsay was said to face "the most pretentious owner he's ever met."
That man was Joe Nagy, owner of Mill Street Bistro in Norwalk, Ohio, and he did not disappoint. The fireworks between Ramsay and Nagy began after Ramsay tasted and subsequently eviscerated Nagy's entire menu. Nagy didn't back down, which resulted in the escalation of a confrontation that ended with Ramsay storming out of the bistro after shouting: "When you have the arrogance to stand in front of me and charge your locals $35 f**king dollars for entrees that are inedible, have a look at yourself, man!"
You wouldn't like Robert Irvine when he's angry
Chef Robert Irvine's show, Restaurant: Impossible, is like a mashup of Ramsay's Kitchen Nightmares and basically any HGTV makeover show. One of the key elements borrowed from Ramsay's show is the prickly confrontation with an embattled restaurant owner. Irvine generally takes a gentler approach, but in the above clip, he's sent over the edge when his beleaguered restaurant owner, Tommy, says, "I'll whip his a**!"
Irvine, already annoyed by Tommy's inability to recognize that his "squash casserole" was sub-par, comes storming back into the kitchen, roaring, "What do you want to do to me?" After a nose-to-nose showdown, Irvine says, "You want to hit me, right?" 
Tommy replies, "Yeah, I do." 
Irvine, who it should be noted is a strikingly large man, shuts the tiff down with, "It would be the biggest mistake of your life."  
Guy Fieri takes those frosted tips seriously
This confrontation didn't take place in a kitchen. It didn't even happen in a restaurant. But it did involve human chimichanga and Diners, Drive-ins, and Dives host Guy Fieri, so it counts. In October 2013, Fieri was caught by the paparazzi kicking and shoving his long-time hairdresser, Ariel Ramirez, out of an SUV at San Francisco International Airport.
The video begins mid-fight, with Fieri, clad in a black tracksuit with yellow stripes (because, of course) getting attacked in the front passenger seat of the vehicle by Ramirez, who repeatedly lunges at the inventor of Donkey Sauce and yells "F**k you, you f***in' a**hole!" Eventually, Fieri kicks Ramirez away and slams the door.
A rep for Fieri shrugged the whole incident off to TMZ as "A bunch of guys were messing around. Things got a little out of hand, but they're all good now." Other sources said Fieri and his crew had just departed a flight on which they'd been drinking, and that the whole thing was just "dudes being dudes." Which makes total sense when you think about it, because what guy doesn't travel around with and get into drunken brawls with his hair dresser?
You served Joe Bastianich's mom what?
Restaurateur Joe Bastianich may not be as much of a household name as the others on this list, but to Masterchef audiences, his steely attitude and infamous trash can certainly are. In a particularly memorable scene, Bastianich goes in hard on contestant Howard after he presents a pasta dish seasoned with cumin to Bastianich's mother, Lidia, who was a guest judge for the episode, and who also happens to be a best-selling cookbook author and authentic Italian cuisine connoisseur.
Needless to say, Lidia wasn't feeling the cumin. Neither was Joe, who apparently took the opportunity to air several other grievances he had with Howard. "The only thing worse than a cook who can't boil," Joe says while forking the tiniest possible sampling of Howard's dish into his mouth, "is a narcissist in full denial. Thank you for nothing."
In a subsequent blog for People, Joe hadn't cooled off even slightly. He said Howard's dish "reeked of arrogance," adding, "At this point in the competition [Howard] has exhausted my patience. I knew it was over for him just by his conceptualization of the dish. To misconstrue so badly a beloved Italian classic for a chef considered to be the matriarch of Italian food in America was totally unnecessary."
Scott Conant v. Red Onions
Chopped judge Scott Conant's infamous red onion tizzy wasn't so much of an outburst as it was an uncomfortable seething of ice cold anger aimed at an aspiring young chef who simply could not let go of the tangy veg. 
While judging contestant Joshua Whigham's appetizer, Conant politely warned that he has "a real aversion to raw onions" and to not "go too far." So naturally, Whigham made an arugala salad featuring — you guessed it — raw red onions for his entree round.
Cut to Conant's furrowed brow and arched eyebrows as he asks Whigham why he would do such a thing: "I don't understand why the onions are there after we told you, especially myself I don't like raw onions, and you used them in the first course already. And yet they're here. And I taste them. And it kinda makes me angry," Conant says with that flat intonation of a cinematic contract killer. Conant then adds, "If you're not going to listen to me, I'll just stop talking." Anyone want to take a guess as to whether or not Whigham eventually got chopped? (Hint: He did.)  
The original bad boy chef
Described by Salon as "the original bad boy chef" and "the man who made Gordon Ramsay cry," Marco Pierre White essentially ruled the London restaurant scene after becoming the youngest chef to ever earn three Michelin stars. White's culinary passion was matched only by his reputation for being "very hard" to work for, which he put on full display when he starred on the UK version of Hell's Kitchen from 2007-2009.
The running joke of the show became White's penchant for calmly ordering his maitre'd to clear the tables of unhappy customers, while politely informing them that they would not be served any more food. This generally occurred after a customer confronted White and/or his staff as they hurried around the open show kitchen preparing meals. 
However, on one such occasion, White lost his cool when his sous chef spoke to a female customer who made a comment about White's ex-wife. While the maitre'd sent the would-be diners away hungry, White took his staffer to task in the back of the kitchen, yelling, "I don't want you engaging women like that, especially when they make comments about me and my family...had you ignored them, they would not have said it and I would not have had to say what I said. We're here to do a job, thank you."  
Yep, even Cake Boss loses his cool sometimes
If you're honest with yourself, you can admit that there's always a moment while watching Cake Boss when you just want them to drop one of those gigantic mountains of sugar madness right on the floor. And in the above clip, that not only happens, but the cake also falls down an entire flight of stairs. It's really pretty great, especially when the Cake Boss himself, Buddy Valastro, gets called in to survey the damage and he just yells, "What did you do? This is for today!"
After rallying the entire crew to immediately start on a replacement, Valastro angrily throws the remains of the stairway cake into the trash. (Why is it so funny when people get mad?)
Bonus Cake Boss disaster: Here is a giant chandelier cake getting demolished when Valastro fumbles with the pulley system while trying to lower it to cut it up. There's no outburst from him, but the horrified screams of the party-goers as the cake hits the ground, as well as Valastro's face at the 6:35 mark make it worthy of the honorable mention.
Mario Batali + wine + a microphone = disaster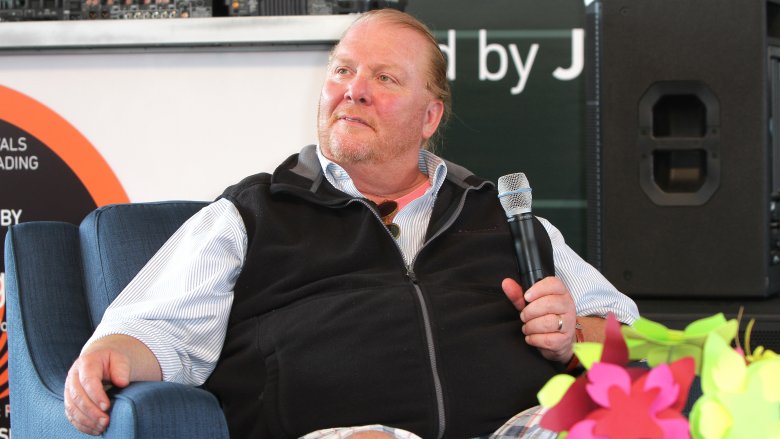 Getty Images
Although we don't have a clip for this one, we felt it deserved a mention, because how do you not laugh at a grown man wearing orange Crocs and having a drunken outburst? 
According to The Telegraph, famed celebrity chef Mario Batali did exactly that (The Telegraph doesn't mention the Crocs, but come on, we all know he was rocking them) at a $1,000/plate dinner at South Beach Wine & Food Festival in February 2009. "All you weasel f**kwads in the back corners, can I have ten seconds of your time?" Batali allegedly said, addressing a crowd that included King Juan Carlos and Queen Sofia of Spain.
Then, while introducing another chef, José Andrés, Batali allegedly "grabbed Andrés' bottom" and described him as having received "The most mother-f**king stars of any Spanish restaurant in the US." Yeesh. That is an embarrassing scene. Fortunately for Batali, Andrés supposedly laughed it off and said, "This is what food and wine from Spain will do to you."
Bobby Flay's Iron Chef flameout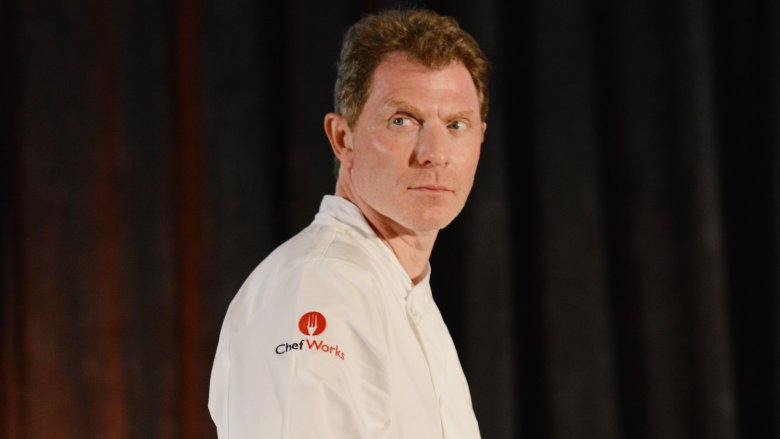 Getty Images
It's impossible to watch five minutes of Food Network programming without bumping into celebrity chef Bobby Flay. The ginger BBQ king has had so many shows on the culinary channel — Boy Meets Grill with Bobby Flay, Grill It! with Bobby Flay, Bobby Flay Fit, Beat Bobby Flay, etc. — that they could rename the channel Bobby TV and no one would bat an eye. Except maybe Guy Fieri.
Anyway, Bobby Flay is also an Iron Chef— er, he was an Iron Chef, until he dramatically quit that gig during a taping in the summer of 2017. According to People, Flay decided to keep his exit a secret from everyone until he whipped off his chef coat in the middle of the competition to reveal a t-shirt underneath that read, "THIS IS MY LAST IRON CHEF BATTLE EVER."
The network wasn't impressed and temporarily shelved the episode, according to The Wisconsin State Journal. Flay initially tried to walk it back as a joke, but he eventually admitted he really was done with Iron Chef and wanted "to go out on a high note." Speaking with fellow chef Michael Symon (via People), Flay said that the high-pressure cooking competitions are "exhausting physically" and "emotionally," and that it was time for a younger generation to compete. Of his t-shirt stunt, he said, "I thought it would be good TV. [The network] didn't think of it that way, and that's obviously their prerogative."
Guess you could say it got too hot in Iron Chef Stadium for Flay, huh?
Quiet down, Kathie Lee!
Sam "the Cooking Guy" Zien may not have achieved Gordon Ramsay-level culinary fame just yet, but he certainly made a name for himself during a memorable appearance on Today when he snapped at co-hosts Hoda Kotb and Kathie Lee to be quiet during his segment. In this 2008 clip from the morning show that subsequently went viral, Zien barks, "Please, can I talk?" at the gabby hosts. "I watch the show everyday — everybody has issues with a lot of chatter back here. Pay attention one minute," he says. 
An awkward silence ensues, followed by an eruption of off-camera laughter. Zien senses the faux pas immediately, saying, "Ooh, that seemed forward." Kathie Lee doubles down on the cringe by joking, "The crew's been around a long time, because they don't talk to us like that."  
Uncomfortable as the segment seemed, Zien later revealed to Howard Stern that the show took it in stride and invited him back several times, including another equally awkward segment with Kotb, Lee, and an an etiquette expert who apparently agreed that he was out of line. Asked by Stern if he felt Lee was secretly mad about the whole thing, Zein said that she "understands how the business works," and that he didn't hold anything against her.
Jen Carroll's hot mic moment
No one expected fan favorite Jen Carroll to exit the 2010 season of Top Chef All Stars on the second episode, but that's exactly what happened after a particularly tense round of judging for her poorly executed eggs and pork belly dish. After being told to pack her knives and go, Carroll went backstage where her fellow competitors' jaws dropped upon learning of her elimination.
Carroll, while clearly embarrassed, seemed to take the ouster well, doling out hugs and well wishes to the remaining chefs, but then she walked through the exit door and apparently forgot that microphones don't stop recording when the camera can't see you. "It's f***ing bull***t," she immediately yells. "Not even f***ing close to being clipped at the f***ing bottom, not even f***ing close!"
"The Philadelphia came out in me," Carroll later told The Inquirer of the outburst. "Sometimes that attitude and aggression shows through." she added. "But I went down swinging. I was upset and I got emotional. I didn't want to go home." Yep, that part was 100 percent clear.
Never ask Marco Pierre White to sell his heart
We've already established Marco Pierre White's proclivity for flying off the handle when things don't go his way, but it's not always a roiling boil when the volatile chef flips out. Sometimes his rage is more subtle, or as one of his food suppliers once described, "He's so bloody unpredictable."
This more quiet, yet still frightful flip-out mode was on display during an interview — well, an attempted interview would be a better description — on his very first TV show during which he famously said, "Don't expect me to sell my heart ... Never expect that." White's curious admonishment came after some pretty routine questions from an interviewer that he tersely answered with one word replies before claiming that he was unable to cook and conduct the interview at the same time.
"All I've got to do is make the sauce," White tells the frustrated interviewer after inviting her to leave. "That is what I'm being paid for — Not being paid for anything else ... to make the f***ing sauce."
We're guessing a paycheck came along with that whole TV show contract, but you know what? A good sauce is a key element to any dish and should not be trifled with. We're with White on this one.
Below Deck's Chef Ben and Kate pump up the volume
For those unfamiliar with the Bravo show Below Deck, it's a reality series set aboard mega yachts that follows the daily routine of the crew as it serves wealthy charter guests in fabulous locales. As you can imagine, the food for this five-star experience has to be top notch, so each season features a highly skilled chef in the yacht galley, where much of the drama goes down.
Chef Ben Robinson is a series regular. A fan favorite not only for his delectable dishes, but also his quirky, cocky personality, Robinson is not at all uncomfortable with confrontation, particularly with Chief Steward Kate Chastain. Chastain has an equally strong personality, and though her love/hate relationship with Robinson is a longstanding staple of the series, their type-A tumult crossed the line when it was witnessed by a few guests.
The trouble started when Robinson chastised Chastain for not giving him what he felt was an adequate schedule of meals for the guests. Robinson was at it again the next day, slamming things around in the galley while arguing with Chastain about whether or not to call "the first meal of the day" breakfast or brunch. Yeah...
Unfortunately, two charter guests were seated steps away from the galley, and Robinson and Chastain's bickering got so loud the captain even radioed them to keep it down. "Mommy and daddy need to stop fighting," one guest quipped to the other. "Awkward," he replied.
Below Deck's Chef Leon has no time criticism
Where there is a clear subtext of affection between Kate Chastain and Ben Robinson on Below Deck, there was not a shred of such feeling between her and Chef Leon Walker of Season 3. The two butted heads from the start on everything from each other's attitudes to their professionalism to even each other's personal appearances. Walker was eventually fired after repeated run-ins with Chastain, the last of which culminated in a fire in the galley which was ultimately determined to be his fault. But before his dramatic exit from super yacht, Walker and Chastain had the blowout argument of reality TV producers' dreams.
During a squabble over the last-minute notice given for a multi-course meal, Chastain tries to remain calm and asks Walker for better communication next time. His response? "Do you want to cook? Would you like to cook? Are you any good at cooking? Then don't come out with that bulls**t to me, yeah?" Alrighty. He follows that with, "You're not that good, girlfriend. Trust me. You're far from it." Several moments later, Walker twists the knife by flat out telling Chastain, "I just want to say something — I don't like you one bit." Wow.
Perhaps unsurprisingly, Chastain has been back on every subsequent season of Below Deck. Walker has never returned.