How Many Grandchildren Does Van Morrison Have?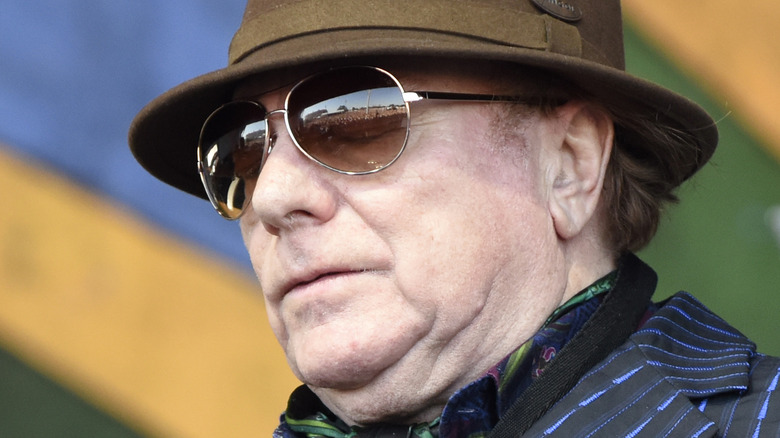 Tim Mosenfelder/Getty Images
Northern Irish singer Sir George Ivan Morrison — better known as Van Morrison — is undoubtedly one of the most successful musical artists of the U.K. to come from his generation. Although he first rose prominence around 1964 after founding his signature band, Them — which quickly became influential in the musical world — he quit only two years later to start his prominent career as a solo artist, which has lasted nearly six decades. His music, which has been described as "genius" and having "a kind of violent transcendence," has led him to receiving two Grammy Awards from seven nominations between 1982 and 2004. 
Morrison's second and third albums, "Astral Weeks" and "Moondance," have often been hailed as among the greatest albums of all time. "Gloria," a song by Them which was written by Morrison, was inducted into the Grammy Hall of Fame in 1999. It was followed by "Brown Eyed Girl," widely considered to be Morrison's signature song, in 2007. He was also nominated for his first Oscar just earlier this year for "Down to Joy," a song which he wrote and performed for the 2021 film, "Belfast." 
But what of the popular rock artist's personal life? How many children, and grandchildren, does he have? Well, it turns out the reality behind Morrison's personal life is rather complicated. 
Van Morrison currently has no grandchildren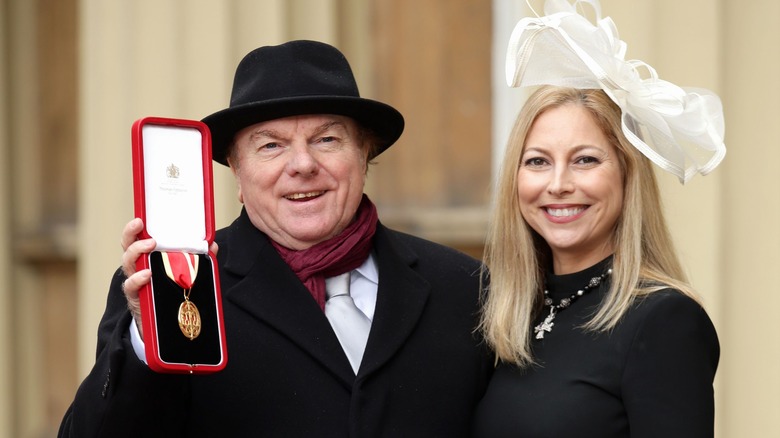 Wpa Pool/Getty Images
Van Morrison has been married twice — first to Janet Rigsbee, from 1968 to 1973, and then to Michelle Rocca, from the mid-90s to 2018. Through his two marriages, Morrison has had three children. According to the New Zealand Herald, Morrison married Rigsbee, his American girlfriend, while living in the U.S. near the beginning of his career in part because he was afraid he would get deported. Together, they had a daughter, Shana Morrison, who has since become a successful singer in her own right, and was also Morrison's only child until his 60s. Shana, now 52, has never been married and has no children of her own.
Morrison and Rigsbee got divorced in 1973, when Shana was only 3 years old. Then, per the Belfast Telegraph, Morrison met Rocca nearly two decades later at a dinner party in Ireland in 1992. Rocca, an Irish celebrity herself, was a presenter of RTÉ, Ireland's public broadcasting corporation, and made headlines as the winner of Miss Ireland in 1980. Although the exact date of their marriage is unclear, they did get married at some point that decade. 
Rocca already had three children from two separate relationships, meaning that Morrison gained three stepchildren. Several years later, the two had their own children together — daughter Aibhe in 2006, and son Fionn in 2007. Given how, apart from Shana, Morrison's oldest biological child is only 16 as of 2022, it makes sense that he doesn't yet have any grandchildren. 
Van Morrison may have had a secret lovechild as a result of an affair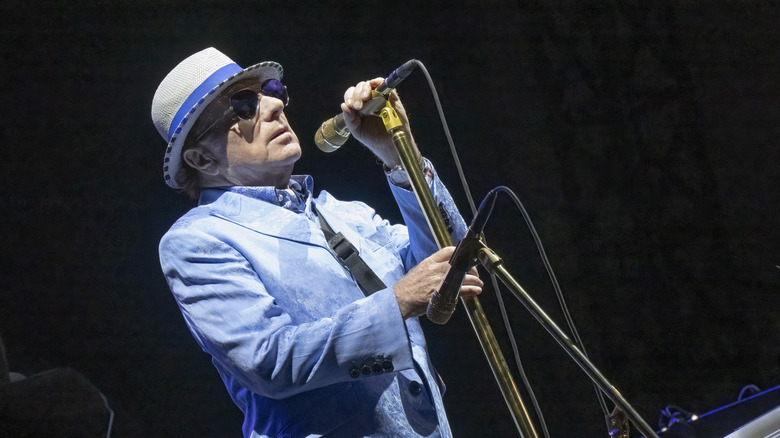 Astrida Valigorsky/Getty Images
In 2009, during his marriage to Michelle Rocca, Van Morrison's tour manager Gigi Lee made a scandalous revelation: she and Morrison had an affair which resulted in the birth of Morrison's son. According to the Belfast Telegraph, Lee made this statement on Morrison's website in which she called "their first-born son," who she named after him, "the spitting image of his daddy." However, Morrison vehemently denied that he was the father of "Little Van."
In fact, Morrison was involved in a court case to prevent details about Lee and her son's life being leaked to the media when her 13-month-old son died in 2011. The cause of death was hyperglycemia — complications from diabetes. Lee died only nine months later from throat cancer, all but ending the dramatic scandal.
Perhaps unsurprisingly, given the alleged affair and the resulting fallout, Morrison and Rocca became legally separated less than two years later, in 2013 (though this was not publicly revealed until 2015). In 2018, Morrison finally announced that his divorce had been finalized in a statement he posted to his website. Though not many details were released publicly, Morrison did write, "At my age, I have found it to be a hugely wearying, protracted experience and I'm relieved that it has finally reached a conclusion. I'd like to thank my family and close friends for providing respite from the storm over the past eight years."