Everything We Know About The Church Kris Jenner Founded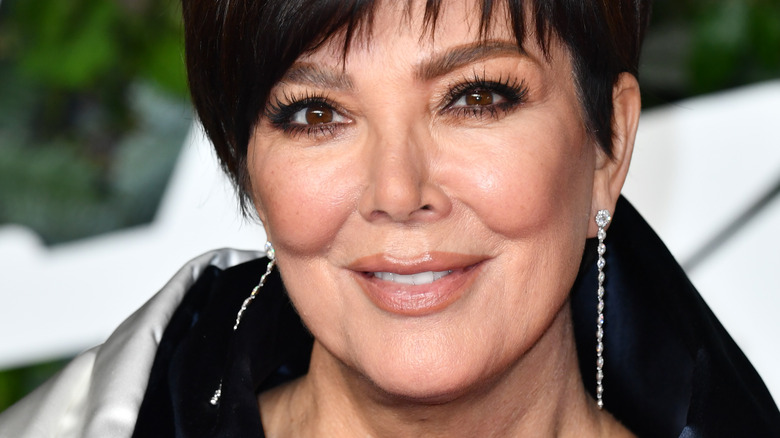 Gareth Cattermole/bfc/Getty Images
Reality TV shows like Hule's "The Kardashians" and the classic "Keeping Up with the Kardashians" have taken us behind the scenes with the world's most famous family, including the family's faith. In "The Kardashians," viewers saw Khloé Kardashian praying over Kim Kardashian before her "SNL" debut, and, per Insider, they frequently attended Kanye West's Sunday Service when he and Kim were still married. And while it hasn't yet been documented on the show, Kourtney Kardashian wed Travis Barker in May, in a lavish Italian ceremony that was packed with traditional Catholic imagery.
In an interview with Vogue in 2018, Kim spoke about the importance of faith to the Kardashians. "We don't share it much, but we're really religious," she explained. "We start our day with a group chat with a Bible verse from my mom, and everyone chimes in on the meaning of it. We are very Christian — and our work ethic and our discipline comes from so many years at Catholic school."
Momager Kris Jenner's Twitter bio describes her as a "lover of Christ," and Kendall and Kylie Jenner have both attended Hillsong Church in LA, per 9Honey. People reported that Kim was baptized in a 2019 Orthodox ceremony in Armenia, alongside her children. Faith is important to the family, but even longtime fans might not know that Kris has founded her own church.
What is California Community Church like?
According to The Guardian, Kris Jenner co-founded California Community Church in 2009. It was previously known as the Life Change Church, a name that may have something to do with its lead pastor, Brad Johnson. The family is reportedly close to Johnson, who officiated Khloé Kardashian's wedding to Lamar Odom. But due to an adultery scandal that forced him to step down from his last job, per Radar Online, Johnson may or may not be the most qualified spiritual leader.
Either way, California Community Church leans into this idea of missteps and redemption. "Bring your mess. (We're messy, too)," reads a statement on the church's website. "Lots of people think they need to have their stuff together before they can be part of a church. If that's you, we'd love to be the place where you can finally let go of that idea. The truth is, we're all a bit of a mess, even Christians." CCC is located close to Calabasas in Agoura Hills, CA — though the Kardashian-Jenners typically attend Hillsong or Kanye West's Sunday Service. Congregants also engage in local mission outreach and collaborate with international ministries. However, the church's finances have begun to raise alarm bells.
Critics think CCC is just an excuse for a tax write-off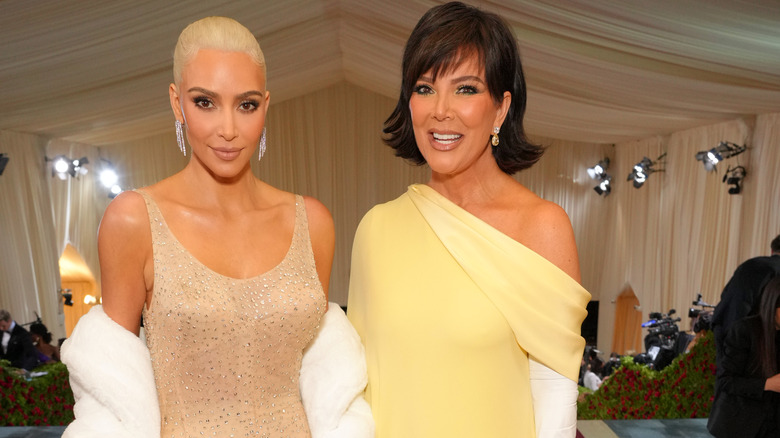 Kevin Mazur/mg22/Getty Images
Biblically, it's customary to give 10% of earnings back to the church, a practice known as "tithing." Is it a coincidence that 10% is also the cut that momager Kris Jenner takes of her children's earnings? Now Kris Jenner and her church, CCC, have been accused of being simply a tax write-off for the Kardashian-Jenners, per YourTango. In 2011, Kim Kardashian told Piers Morgan (via Yahoo) that she faithfully gives 10% to the church every year, which is "what [she] was taught." Therefore, Kardashian might be reducing her own taxable income and giving money to Jenner — as the co-founder of the church — in the process.
Churches themselves are exempt from having to pay federal, state, and local taxes, according to IRS guidelines. That said, certain religious organization income may still be subject to tax for things like payroll expenses, which makes it especially sketchy that CCC was embroiled in a tax scandal in its early years, according to Radar Online. Additionally, Kardashian previously "made [the church] the beneficiary of her successful eBay charity auctions." As Paypal Charitable Giving Fund tax documents state, CCC received $44,917 from Kardashian's eBay sales in 2013, and $19,975 in 2012. Per The Guardian, CCC also has a monthly $1000 membership fee, which may mean more money into the KarJenners' pockets.