The Truth About Kyle Richards' Acting Career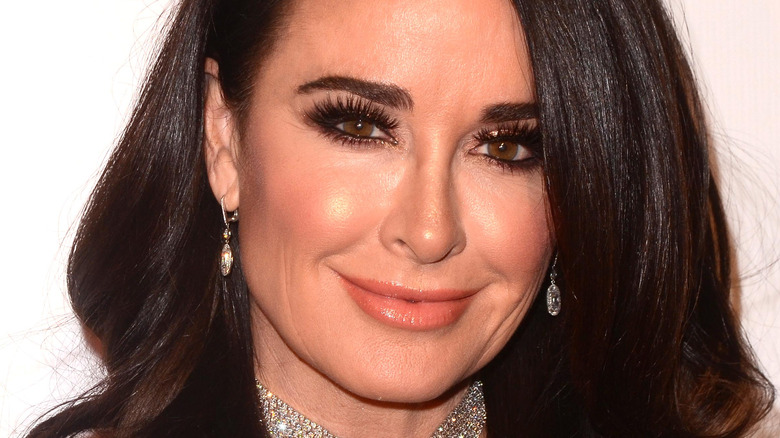 Kathy Hutchins/Shutterstock
If you're a fan of Bravo and "The Real Housewives of Beverly Hills", then chances are you've heard of Kyle Richards. For more than 10 seasons, the reality TV star has delivered an array of iconic moments as one of the leading cast members of the beloved series. From the dramatic Amsterdam dinner in Season 5, to her feuds with former housewives Lisa Vanderpump and Brandi Glanville, Richards is no stranger to drama.
However, before becoming a prominent fixture in the "Real Housewives" franchise, Richards started her career in the industry as a renowned child actor. Throughout the early '70s and '80s, the now-businesswoman starred in numerous TV shows and movies. "I started acting at like three years old actually, my first TV series I was five," she revealed during a July 2018 interview with "Talk Stoop." While Richards continues to make her mark on the reality TV world, the "Ultimate Girls Trip" star has also restarted her once-fruitful acting career.
Kyle Richards thrived as child actor in the 70s and 80s
Before delivering dramatic and jaw-dropping moments on "The Real Housewives of Beverly Hills," Kyle Richards made waves as a successful child actor during her formative years. Starting out at a young age, Richards made her debut in the procedural series "Police Woman" in 1974 (via IMDb). Her early acting days also featured roles in an array of projects, including the film "Escape to Witch Mountain" alongside older sister Kim Richards, who was also a child star. However, it wasn't until her 18-episode recurring role as Alicia Sanderson Edwards in "Little House on the Prairie" that Kyle's career truly took off.
In an interview with NBC Philadelphia, Kyle described her time on the series as an "incredible experience." "It was a very fun and loving atmosphere," she said. During her stint on the series, the TV star also made another landmark appearance as Lindsey in the hit slasher film "Halloween" alongside the original scream queen, Jamie Lee Curtis. In a 2021 interview with Entertainment Weekly, Kyle revealed that she never thought it would become such an iconic horror film. "I was just a kid. I had no idea it was going to be such a pop culture phenomenon," she said.
As she got older, Kyle began to feature in more mature roles in shows like "7th Heaven" and "Beverly Hills, 90210." However, after her 2006 stint on the popular medical drama "ER," Kyle took a break from acting, which led to her Beverly Hills Housewives debut.
Kyle Richards was pushed into acting
While Kyle Richards has had a successful career as a child actor, the "Real Housewives Of Beverly Hills" star revealed to Los Angeles Times that she was forced into the industry. "They kind of pushed me into it, but I was very shy," she told the publication. "I thought every audition was a doctor's appointment... I'm terrified of doctors, so I would freak out." Although her auditions were traumatic, Richards told the publication that she was grateful for the push. "I'm grateful that she pushed me to do that because I ended up loving it. I had such a positive experience as a child actor," she said.
Due to her love for acting, Richards' began her comeback into the film industry. In 2021, Richards reprised her role as Lindsey Wallace in the sequel to 2018's "Halloween." When discussing the filming process, the reality TV star told People: "I felt so comfortable the entire time and working with [director] David Gordon Green... he really made it easy for me and I loved it." Richards also starred in Peacock's holiday film "The Real Housewives of the North Pole." With her next film, "Halloween Ends", set for release in October 2022, it's safe to say that the acting renaissance of Kyle Richards is among us.