The Truth About Jax Taylor And Tom Sandoval's Feud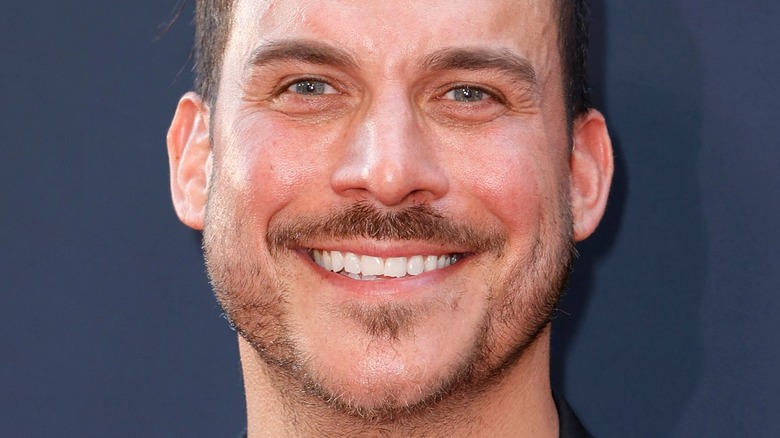 Frazer Harrison/Getty Images
Illicit affairs, steamy blowups, and drunken choices are synonymous with the cast of "Vanderpump Rules." And while we all love the drama, there's something that hits different when years-long relationships are discarded. Over the years, Tom Sandoval and Jax Taylor's relationship evolved from friends to frenemies, to down-and-dirty enemies. Who could ever forget the time Taylor tried to remind Sandoval of the social pecking order when he snarked (via Bravo), "Stop acting like you're the number one guy in this group, man. I'm the number one guy in this group." While Sandoval and Taylor's friendship was earmarked by explosive spats over the years, their feud in Taylor's final season of "Vanderpump Rules" culminated in the demise of their relationship.
Page Six reports that Taylor and Sandoval were friends for more than two decades. But, it seems they drifted apart and pursued different interests. In 2020, Sandoval told Andy Cohen that he didn't really trust Taylor, saying, "I think Jax just looks for dirt in order to throw it around ... I don't really tell him things anyways cause he's never really been a safe place. I mean it's always leverage against you." And it seems they haven't patched things up. In an interview with Access Hollywood, Taylor reflected, "It's nothing against him personally. I'm just going a different way in my life. He's going a different way in his. Nothing wrong with that. It's just growing." But what led to the breakup of the bros was epic. 
Jax Taylor slept with Tom Sandoval's girflriend, Kristen Doute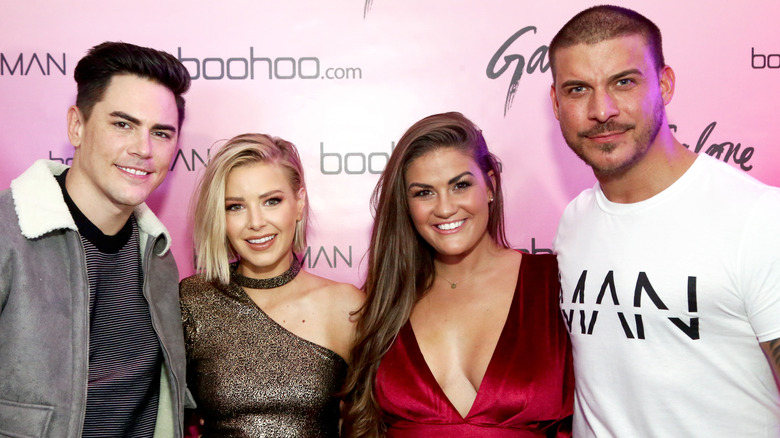 Tommaso Boddi/Getty Images
The "Vanderpump Rules" Season 2 finale ended with a bang (quite literally, in a sense). Jax Taylor broke the cardinal friendship rule when he slept with his friend's girlfriend, per HollywoodLife. In 2014, Tom Sandoval was dating Kristen Doute, although their relationship was rocky. Taylor and Stassi Schroeder were newly broken up, and Taylor was enjoying his single status. Some would even argue that he may have enjoyed it a little too much, especially at the expense of his friend.
The drama came to a head when Doute confessed that she and Taylor had hooked up while Sandoval was sleeping in the next room, per Insider. Doute also dropped the most salacious details about their rendezvous. Apparently, the movie "Drive" had been playing while they were intimate, and she and Taylor did the deed without even kissing, per E! News. Schroeder delivered the slap of all slaps, as fans may remember, and left Doute crying. According to HollywoodLife, Sandoval was furious when he found out about his friend and girlfriend's betrayal and punched Taylor. 
At the reunion show, per Bravo, Sandoval and Ariana Madix finally confessed that they shared a kiss while he was still seeing Doute. Sandoval was definitely not as innocent in the drama as many initially thought he was. On the plus side, he and Madix are still an item today. However, Sandoval and Taylor's friendship was never really the same.
Jax Taylor blasted Tom Sandoval during the wedding episode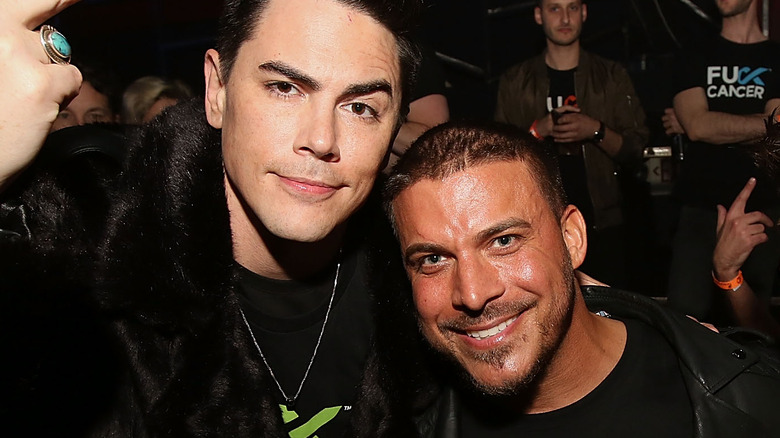 Jesse Grant/Getty Images
The final nail in Jax Taylor and Tom Sandoval's friendship came during "Vanderpump Rules" Season 8. Taylor and Brittany Cartwright were planning their wedding in 2019 when Tom Sandoval approached Taylor about the pastor he and Cartwright wanted to officiate at their wedding, per Bravo. Apparently, the pastor had previously made some homophobic comments that Sandoval was uncomfortable with. Taylor then axed Sandoval from his wedding party, but later asked him to be a groomsman again. He told Entertainment Tonight, "I wish he was at the wedding, I just wish he wasn't in the wedding." He continued, "[T]he things that I was going through with Tom, it just ... it didn't make sense for him to be standing next to me."
Sandoval appeared to be blindsided by Taylor's social media outbursts. He appeared on "The Daily Dish" podcast and revealed he had spent some time with Taylor and Cartwright after the wedding, and everything had seemed fine. However, Taylor reportedly changed after "Vanderpump Rules" Season 8 started to air, and he began lashing out on social media. Sandoval said (via Bravo), "I think it's sad, and I think it's gross ... Jax's wedding episode airing, which should be like, the happiest moment of his life, and instead, there's like, six tweets about me." Taylor confirmed that he and Sandoval were no longer friends when he told Access Hollywood, "No, since the show I think I saw him maybe twice ... But I mean, we're cordial."