How Sadie Sink Really Feels About Brendan Fraser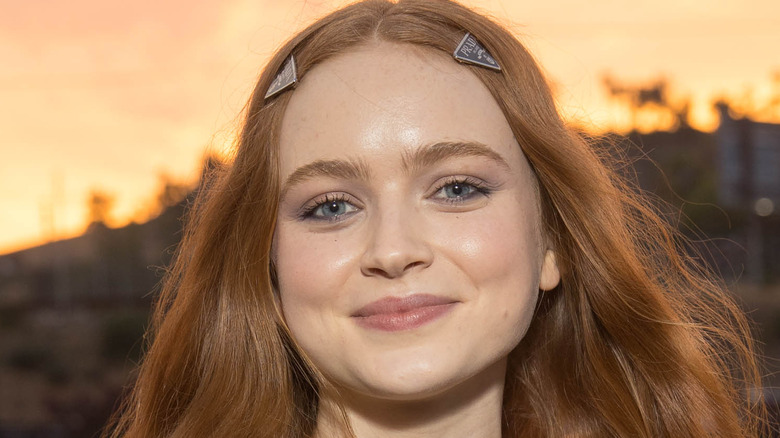 Emma Mcintyre/Getty Images
"Stranger Things" star Sadie Sink is fast becoming one of Hollywood's top young talents. The 20-year-old actor caught up with Collider about her next big project: "It's called 'The Whale' and Darren Aronofsky directed it, Brendan Fraser's in it. It was a really small cast and a small set, and we had a whole three weeks of rehearsal and Darren kind of wanted to treat it as if it were a play, because 'The Whale' originally was a play." Sink will star alongside 90s big-screen heartthrob Brendan Fraser, a veteran actor who might understand the highs and lows of making it big almost overnight. Fraser was just 22 when "Encino Man" skyrocketed his career, per Paste.
The actor became known for action and comedy roles like "The Mummy" during the 90s and early 2000s, but the intense stunts left his body in terrible shape. By 2008, Fraser told GQ he had to build "an exoskeleton" for himself daily out of tape, ice, and "downhill-mountain-biking pads." This physical trauma, combined with his 2009 divorce, and his own painful #MeToo incident (via Vogue) sidelined him for almost a decade. But Fraser's career has returned with a vengeance, with fans cheering for the "Brenaissance." There's even talk of an "Encino Man" sequel at Disney+, according to MovieWeb.
As Fraser's star rises again, his "The Whale" co-star Sink revealed how she really feels about him.
Sadie Sink called Brendan Fraser 'her favorite human'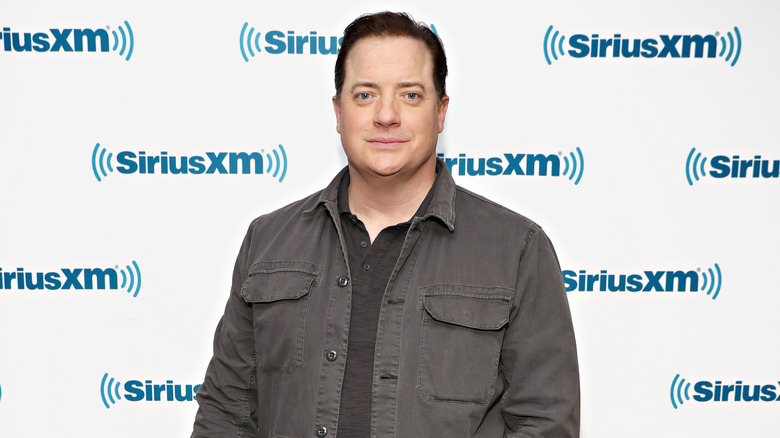 Cindy Ord/Getty Images
"Stranger Things" star Sadie Sink adores her costar in their upcoming film, "The Whale," Brendan Fraser.  In a June Vanity Fair interview, Sink said, "Brendan is so incredible in it, and also just probably my favorite human on the planet. It was so amazing having that experience with him. I learned a lot about myself as an actress, and tapped into a side of things that I hadn't really explored before." According to the A24 website, The Whale is about a "reclusive English teacher suffering from severe obesity attempts to reconnect with his estranged teenage daughter for one last chance at redemption." Fans of Sink and Fraser are excited about the pairing, and one tweeted, "Whoever decided to cast brendan fraser and sadie sink as father and daughter in the whale, thank you."
But the "Stranger Things" star isn't the only young actor to praise the "Encino Man" star. Leslie Grace starred in HBO Max's "Batgirl" with Fraser and raved about the 53-year-old actor. In a Variety interview, Grace said, "It was an incredible learning experience to be on set with also action veterans like Brendan Fraser ... It was so hard because he's our villain and I'm not supposed to like him but he's such a huge teddy bear. He is one of the nicest people that I've ever met. In our fight sequences the way he would just hit marks, it came from all of his experience."
Could Brendan Fraser help Sadie Sink navigate Hollywood?
After years in the acting desert, Brendan Fraser's star is rising again. GQ reported in 2021, he starred in Steven Soderbergh's "No Sudden Move," and Martin Scorcese cast him in the upcoming "Killers of the Flower Moon" alongside Robert De Niro, Leonardo DeCaprio, and Jesse Plemons. Could Fraser help his "Whale" co-star Sadie Sink navigate the rough waters of Hollywood? The fame of the "Stranger Things" star is growing even faster after her famous scene from Season 4 with Max set to "Running Up That Hill" by Kate Bush. 
Sink talked to Vanity Fair about the final season of "Stranger Things." Sink said, "It's definitely going to be weird not having this character to come back to. I think I speak for everyone when I say the show has become a home base ... Saying goodbye to that is going to throw everyone for a loop." In addition to "The Whale," Sink is starring in another film that's coming out in late 2022, "Dear Zoe." The "Stranger Things" star had a revealing interview with Glamour UK, "Growing up in this industry, you always kind of compare yourself to others," Sink explained. "That's when you start doubting your abilities, and those were my biggest insecurities, particularly in terms of coming into my own as an actor."
We look forward to seeing what Sink and Fraser do next, and we're crossing our fingers that Fraser can offer advice to the "Stranger Things" star.