The Lie Sadie Sink Told To Get Her Role On Stranger Things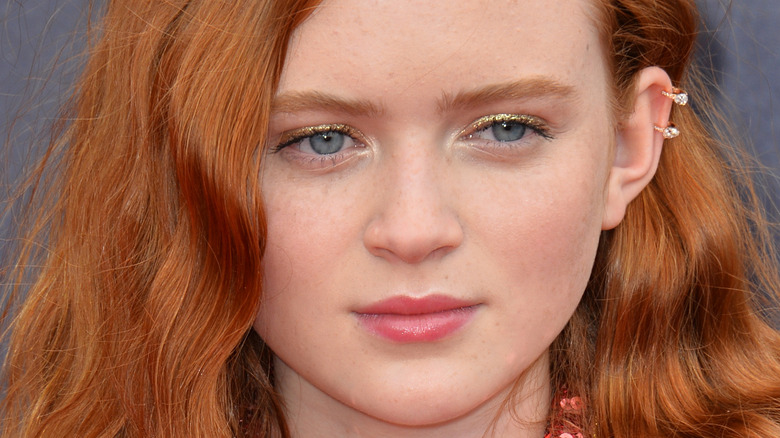 Featureflash Photo Agency/Shutterstock
Sometimes, young actors who are desperate to make their Hollywood dreams come true will resort to fibbing to get the roles that they want. "Stranger Things" star Sadie Sink is one example of this truth-twisting trend, but at least she can say she's in good company.
Mila Kunis similarly got her start in a series set in the past, but unlike Sink, per Insider, she actually played a character that was the same age as Sink on "That '70s Show." However, at 14 years old, Kunis was much younger than the age the sitcom's casting directors were looking for, so she tacked on a few years to keep herself in the running for the role of teenager Jackie Burkhart. "You gotta hustle in this industry," Kunis said on "Lopez Tonight."
In 2020, The Daily Mail unearthed an old clip of "Suits" star Meghan Markle confessing that she lied about being a member of a union while trying to land a non-starring role in a 2004 pilot for a CBS series. "I was such a fraud," the future Duchess of Sussex reportedly said. Then there's Phoebe Dynevor, who pretended to be an equestrian to score her breakout role on the popular Netflix series "Bridgerton." She later admitted to Glamour that she was actually terrified of horses before being forced to learn how to ride them for her new job. 
To get her own Netflix gig, Sink also told a mistruth about having a certain ability related to different mode of transportation. 
Sadie Sink wasn't as comfortable on wheels as she looked
Sadie Sink's "Stranger Things" character, Max Mayfield, is tough, intimidating, and effortlessly cool. She's an arcade game wizard who stands out from the OG Hawkins crew by cruising around on a skateboard instead of a bike. However, while she made skateboarding look like second nature, Sink admitted that she lied about her ability to stay on her feet with wheels directly beneath them. "They asked me, 'Oh, do you have any rollerblading experience?'" she recalled to Coveteur. "I was like, 'Uhh sure I do,' which was technically not a lie because I have rollerbladed before. In reality, I probably haven't skated for a year."
Sink revealed that there was actually a pair of rollerblades in the room during her audition, which made her nervous. She breathed a big sigh of relief when she wasn't asked to put them on and show off her skills, but she later had to master Max's favorite wheeled apparatus in just two months. "It was really hard in the beginning," she told The Hollywood Reporter of her three-hour skateboarding lessons. "It's a scary feeling when you have no control over the board." 
Sink admitted that falls were a frequent occurrence at first, but she didn't despise Max's favorite method of transportation after losing so many battles with the board (sans a jealous Eleven's interference). "Now, skateboarding is a hobby of mine," she shared. "I'll skateboard now and then from time to time."
Sadie Sink got to live out a theater fantasy on Stranger Things
While she was working on another project with a retro setting, the movie "Fear Street," Sadie Sink got to perform some of her own stunts, per Collider, and it looks like she put that experience to use when she went back to work on Season 4 of "Stranger Things." During an appearance on "The Tonight Show," she spoke to host Jimmy Fallon about shooting a scene that made it look like she was floating high above the ground in a cemetery.
"I was living my Cathy Rigby, Peter Pan fantasy for a bit," Sink recalled, referencing the Broadway actor who famously played the boy who wouldn't grow up. "I'm a theater kid!"
Years before she got cast on "Stranger Things," Sink got her start on the stage, eventually playing the title role in "Annie" on Broadway. Around the same time she was belting out "Tomorrow," two of her future "Stranger Things" co-stars were also appearing in Broadway productions: Caleb McLaughlin in "The Lion King" and Gaten Matarazzo in "Les Misérables." Speaking to Flaunt, Sink stated, "Now the idea of getting on a stage and performing live in front of so many people is very, very scary to me, but I would love to one day go back." And how fun would it be to see Sink face her fears in "The Upside Down: The Musical," featuring her aforementioned castmates and songs by her former director Taylor Swift?