Who Is Jared Padalecki's Wife, Genevieve?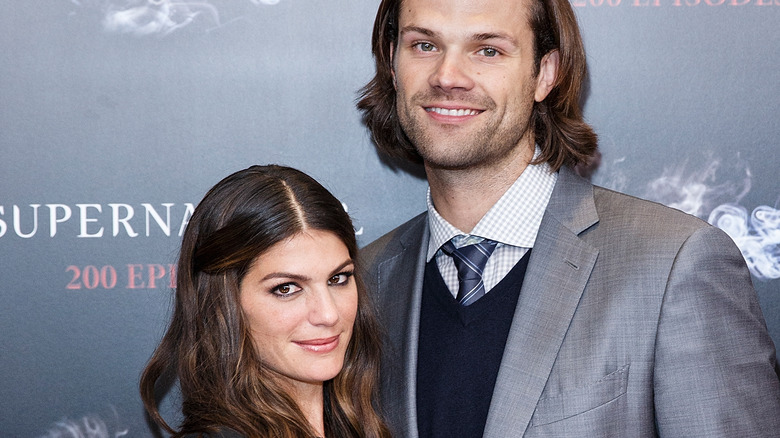 Andrew Chin/Getty Images
The second Jared Padalecki laid eyes on his wife Genevieve Padalecki (née Cortese) on the set of "Supernatural" in 2008, he knew it was love. "I was a single dude, and she was a pretty girl in her underwear on her first day on set," Jared, who played Sam Winchester in the hit supernatural drama, recalled on a 2012 panel (via PopSugar). "I was very excited to meet her. Meanwhile, I think she was like, 'Who is this long-haired A-hole who thinks he can come talk to me while I'm reading a book?' ... I interrupted her while she was reading a book and I think she got kind of fussy about it."
At the time, Genevieve had just joined the cast of "Supernaturals" as the attractive demon Ruby, replacing Katie Cassidy in Season 4, per Entertainment Weekly. "I was very attracted to her," Jared said of his new co-star. "And as I got to know her, I was very excited to take her out to lunch." 
It took four months before he and Genevieve finally went on a date. By October 2009, the couple was engaged; Jared asked for Genevieve's hand in front of the Metropolitan Museum of Art in New York City, according to Us Weekly. They then tied the knot in a private ceremony in Genevieve's hometown of Sun Valley, Idaho, in February 2010. So what else do we know about Genevieve?
Genevieve played Jared's onscreen wife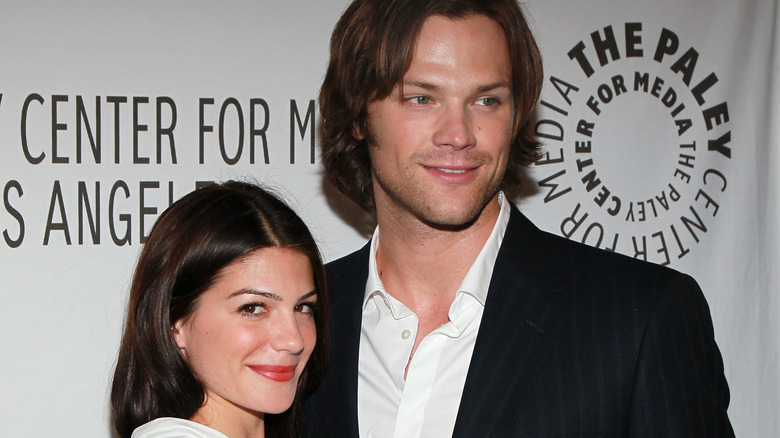 David Livingston/Getty Images
Jared Padalecki briefly starred alongside his wife Genevieve Padalecki in The CW's hit action-crime drama "Walker", where he plays the titular character. The series — a remake of CBS' "Walker, Texas Ranger" starring Chuck Norris — features Genevieve as Jared's onscreen wife Emily. "She's an altruistic, for the better of humanity kind of person. [A] fun, care-free, spirited human," Genevieve told CBS News of her character. According to Genevieve, she and Jared were on a ski trip celebrating their 10th wedding anniversary when she received the offer to play Emily. "It was a really surreal moment," the actor recalled. "10 years later, I was able to say yes to a whole new adventure. It was really cool and exciting to learn I was going to be a part of it."
Jared also gushed about working with his wife in an exclusive interview with People. Just as he enjoyed showing her off to the cast and crew, Jared said it delighted him to see Genevieve back on the scene years after his wife stepped back from acting to focus on their family. "She sacrificed so much while I was in Vancouver [shooting 'Supernatural']," said Jared. "So getting her back out with people with similar passions and interests was awesome to see. It's good to flex those muscles again!"
Genevieve's appearance in "Walker" was rather brief, as her character had been murdered. According to IMDb, she appeared in nine episodes.
Jared and Genevieve Padalecki are proud, doting parents
Since tying the knot in 2010, Jared Padalecki and his wife Genevieve have welcomed three kids: Thomas Colton, Austin Shepherd, and Odette Elliott, per People.
Reflecting on her journey as a mother of three, Genevieve admitted that it was not all an easy one. "So lucky to call them mine, but this motherhood journey hasn't always been as magical as my pre-kid self imagined," she tweeted on 2019. "It's a roller coaster of highs and lows. And when moms are expected to do it all, it's not easy to admit when I can't."
Thankfully, she has her doting husband to help her get through tough times and to remind her that she is doing a fantastic job being a mother. "To the most amazing partner and MOTHER. You impress and inspire me every day. I can't believe how lucky I am to live with, and love, and learn from you," Padalecki told his wife last Mother's Day, May 9. "You, and the children you nurtured for weeks and months before I ever met them, are my life." Aww! How romantic!