Prison Break Star Robert Knepper Accused Of Sexual Assault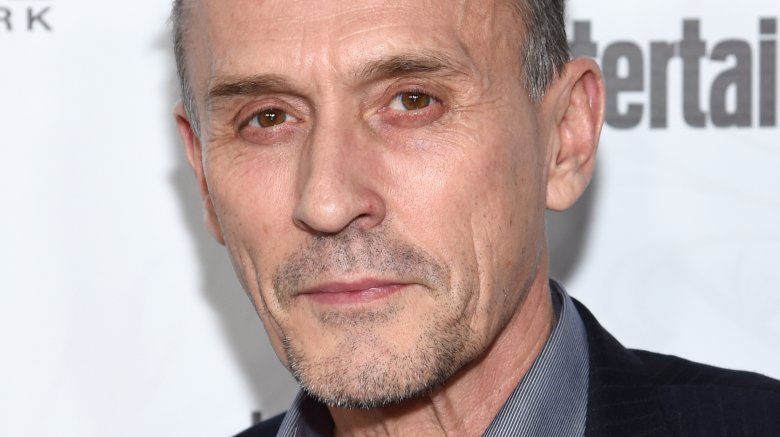 Getty Images
The actor is facing a disturbing allegation.
Speaking with The Hollywood Reporter, costume designer Susan Bertram accused Prison Break star Robert Knepper of sexually assaulting her while they worked on the 1992 film Gas Food Lodging. She claimed that she'd visited Knepper's trailer on set to drop off his clothes. Her hands full, she'd leaned over to reach a rack. Upon doing so, Bertram alleged that Knepper "jumped up," placed his hand underneath her dress, and grabbed her crotch "as hard as he could."
Bertram said that Knepper, who's starred in movies like The Hunger Games: Mockingjay and TV shows like iZombie and Twin Peaks, then pushed her against a wall and said, "I'm going to f*** your brains out." Bertram explained that she'd managed to get free of Knepper's hold and run out of the trailer, yelling, "I'm working, I'm working!"
She said that she'd then gone to a bathroom and locked herself inside. Looking underneath her dress, she claimed she'd noticed that the crotch area of her tights had been torn and that she was bleeding. THR noted that Bertram said that Knepper had "gouged at her vulva during the assault and a piece of her flesh and some pubic hair had been torn out."
Bertram's former assistant Dominique DuBois corroborated her story, recalling seeing Bertram shortly after the alleged assault. "I remember Susan came in and she was visibly shaking," she told THR. "She told me [Robert Knepper] had forced himself on her. She was very upset, very shaken. I do remember that."
Regarding why she did not speak up sooner, Bertram said, "Even if I had said something, what were they going to do? Fire their lead actor?" She continued, "It would have been a f***ing joke. That would have been true until really recently. A lot has changed in the last few weeks."
Bertram, of course, is referring to the onslaught of sexual misconduct allegations that have rocked Hollywood. As Nicki Swift previously reported, Miramax co-founder Harvey Weinstein's alleged history of sexual harassment, sexual assault, and rape was outed by The New York Times and The New Yorker in early October. Since then, numerous men and women have come forward, accusing other Hollywood bigwigs, such as Kevin Spacey and James Toback, of inappropriate sexual behavior.
However, Bertram said that her decision to open up about her assault was not sparked by the accusations facing Weinstein and the like. Rather, she said, it was influenced by President Donald Trump's infamous Access Hollywood tape, in which he bragged about grabbing women by their genitalia.
"I kind of buried it for a long time until Trump came out with his 'Grab 'em by the p***y' thing. When that happened, I started reeling," she told THR. "People think that's a joke, but that really happened to me."
Knepper, 58, has yet to comment on Bertram's accusations.