Jennifer Garner Has An Unexpected History With Stephen Colbert
Kathy Hutchins/Shutterstock
It's been a long road to the top for Jennifer Garner, who made a name for herself starring as a death-defying CIA agent working to unravel complicated government conspiracies in "Alias." Garner's critical acclaim on the hit ABC spy drama helped mitigate her leap from television star to Hollywood filmdom. The big screen came with paychecks and prestige that the small screen couldn't match. But long before she achieved global fame for her starring roles in films like "13 Going on 30," "Daredevil," and "Juno," Garner was just a young thespian working a side hustle as a server, according to Us Weekly, while chasing her big Hollywood dream.
Garner is just like us — that is to say — the cash-strapped actor had to work a normal job back in the '90s just to make ends meet. As a struggling actor living in New York City, her wages as a server just weren't enough to cut it — until one day when she met Stephen Colbert on the set of "Spin City," according to Today.
Stephen Colbert offered Jennifer Garner a job
It was 1996 — David Letterman was still going strong as the host of "The Late Show," and the nation was awash in choker-clad Gen-Xers, who collectively took a break from grunge to learn the Macarena. As per Biography, Jennifer Garner had just nabbed a small guest role on "Spin City," a sitcom starring Michael J. Fox and Heather Locklear. As it turned out, Stephen Colbert had landed a guest role on the same episode of the show — although, it looks like Garner was the bigger star at the time, as she recounted having a total of 10 lines, while Colbert had only two.
The two relative unknowns struck up a conversation during the episode's wrap party, something they would reminisce about two decades later when Garner appeared on an episode of "The Late Show With Stephen Colbert" to discuss an upcoming project. "You said, 'Well, I'm out of a job,' and I said, 'I'm out of a job too, and I have a baby," Colbert recalled, to which Garner interjected: "I babysit!". And just like that, the young actor had landed one of her first jobs: babysitting Colbert's young daughter, Madeline, in between her shifts waiting tables at a restaurant.
The actress quit babysitting to pursue acting in Los Angeles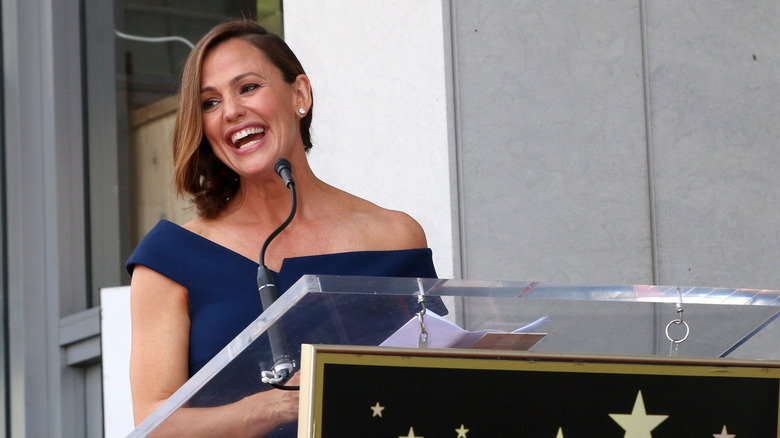 Kathy Hutchins/Shutterstock
While discussing her time working for Stephen Colbert, Jennifer Garner recalled caring for his young daughter, Madeline, while Colbert's wife, Evie, took Italian lessons. (Although, Colbert suggested Evie only remembers the phrase "mio marito" meaning "my husband.") Before long, Garner decided to take the next step in her acting career. "One day you came, and you said, 'I got a new agent!'" Colbert recalled, explaining that Garner informed him and his wife that she was moving to Los Angeles. "And we said, 'That poor thing' because you were so nice, you are so nice ... We thought, 'Los Angeles will devour her.'"
"And it did," Garner responded with a laugh. "It did, yes it devoured me, but I'm okay. I'm all right." Although her time as a babysitter for the late-night host was cut short, the actor gushed over Colbert's "gorgeous little girl" and praised her as "precocious and adorable."
After things picked up for Garner in Los Angeles, including her breakout role as Sydney Bristow on "Alias," Colbert took notice. The late-night host recalled being shocked the first time he saw his former babysitter on a billboard, and then later on a copy of TV Guide, which he took home to show his wife.