What Really Happened Between Shanna Moakler And Dennis Quaid?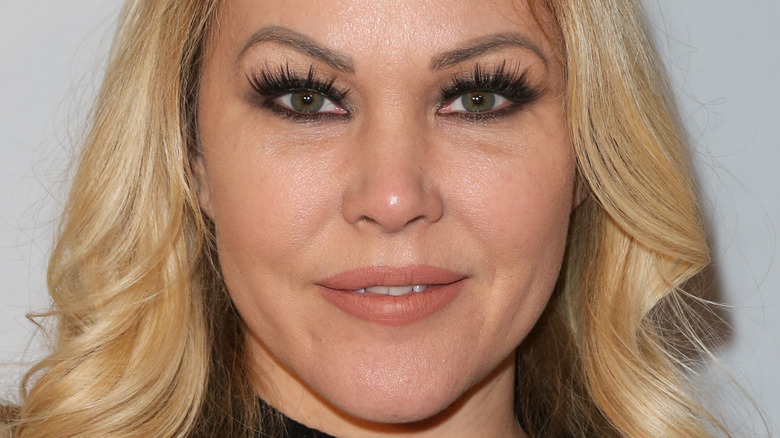 Paul Archuleta/Getty Images
Public interest in Shanna Moakler's love life rose alongside her own rise to prominence. After becoming Miss USA in 1995, Moakler was soon landing small parts on the big and small screens, appearing in the Adam Sandler-Drew Barrymore classic "The Wedding Singer" and in the USA Network cop drama "Pacific Blue" in 1998. While shooting the hit film in 1997, Moakler met Billy Idol, whom she briefly dated. The media couldn't get enough and Moakler indulged its interest, offering juicy personal details on the reg. "Billy has a very sexy presence, but he's not very good in bed," she told Maxim in 1999. "For one thing, women constantly throw themselves at him, so he doesn't have to be any good. For another, he's English."
The romance was short-lived, with Moakler moving onto boxer Oscar De La Hoya the same year. By 1998, Moakler and De La Hoya were engaged, Page Six noted. Moakler's more permanent relationship status with the boxer didn't mean she wasn't willing to quench the press' curious flames. "They say that sex makes boxers weak in their legs," she told Maxim. "So for two or three weeks before a fight, Oscar won't have sex. I don't think highly of that policy, but I understand that we have to sacrifice."
Moakler continued to make headlines for her romantic endeavors, particularly after marrying Travis Barker in 2004, according to the Daily Mail. But in between athlete and drummer, Moakler found time to squeeze in another famous face.
Shanna Moakler and Dennis Quaid dated in 2001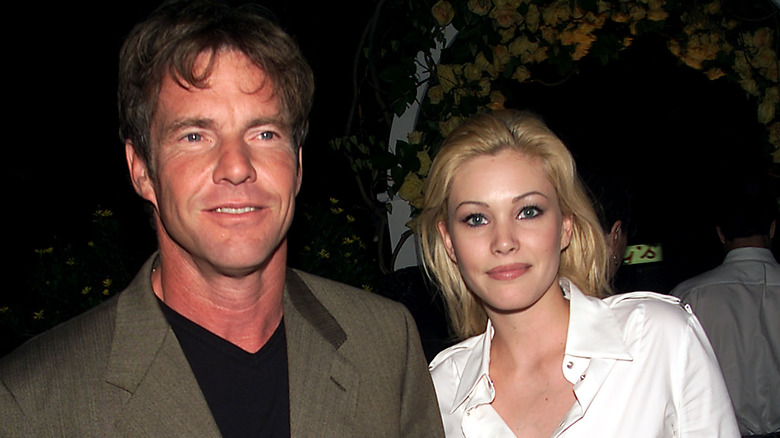 Evan Agostini/Getty Images
Shanna Moakler was a lot less public about her relationship with Dennis Quaid. Moakler dated "The Parent Trap" star in 2001 between February and October, though they mainly kept the romance out of the press, Us Weekly noted. But Moakler and Quaid didn't exactly keep it a secret. In July 2001, Quaid took Moakler to a private screening of "Dinner With Friends" that July — and there are photos to prove it (like the one above). Quaid attended subsequent events with Moakler to promote his film, with neither making much of an effort to hide their smiles and affection.
Even though Moakler shared less about Quaid than she did her other lovers, she still compared his performance in the bedroom to that of her ex-fiancé, Oscar De La Hoya. "Dennis [is better], by a landslide! And he's got a better body. You'd think Oscar would, being a boxer and training and everything, but ..." Moakler told ESPN in 2001. At the time, Moakler was still dating Quaid and just months into her $62.5 million palimony suit against De La hoya, facts that could've influenced her response. But still. 
The year she dated Quaid was also marked by Moakler's December 2001 Playboy cover, with which he reportedly had no issues. "Dennis is supportive," she told WENN in September 2001, via Cinema.com. "He looks at it like, 'I'm not sure it's going to help your career, but I don't think it's going to hurt your career.'"
Shanna Moakler and Dennis Quaid found spouses shortly after their fling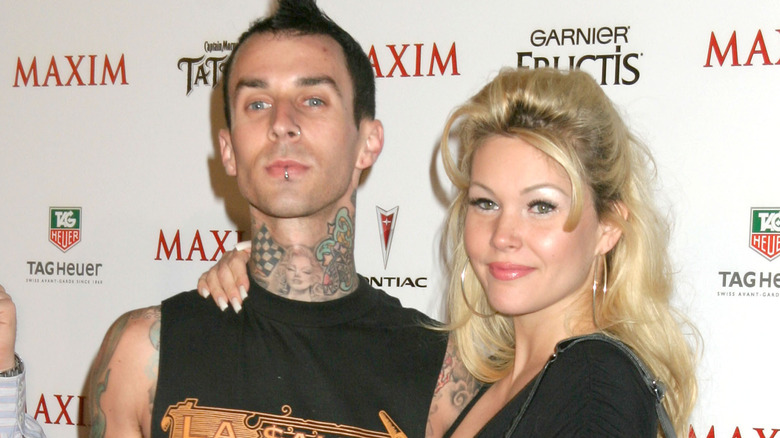 carrie-nelson/Shutterstock
Shanna Moakler took no time at all to move past her fling with Dennis Quaid. After ending things with the actor in late 2001, Moakler had found love again by the following summer, according to Life & Style. In October 2003, Moakler and Travis Barker welcomed their first son, Landon, just a year before they tied the knot in a Halloween-inspired ceremony, The Mirror noted. According to Us Weekly, the couple expanded their brood a year later, welcoming Alabama just months after the couple's reality show "Meet the Barkers" premiered on MTV.
Quaid went on to marry his girlfriend the same year Moakler and Barker sealed the deal. Quaid met Kimberly Buffington in 2003 after attending the same dinner party hosted by mutual friends in Austin, Texas, the Plainview Herald reported. They married in July 2004, a union that once again drew public attention to his tendency to get involved with much younger women. The age difference between Quaid and Buffington was 17 years, according to Distractify, while he and Moakler shared a 21-year age gap, Today noted.
Quaid continued to display that preference after he divorced from Buffington in 2018. The following year, Quaid proposed to Laura Savoie, who is nearly 40 years his junior. "It really just doesn't come up," he told People. "There's just something timeless about us. We're partners in our relationship and in life. It's love. And love just has a way of surprising you."