Marilyn Monroe's Estate Has Something To Say About Ana De Armas' Biopic Casting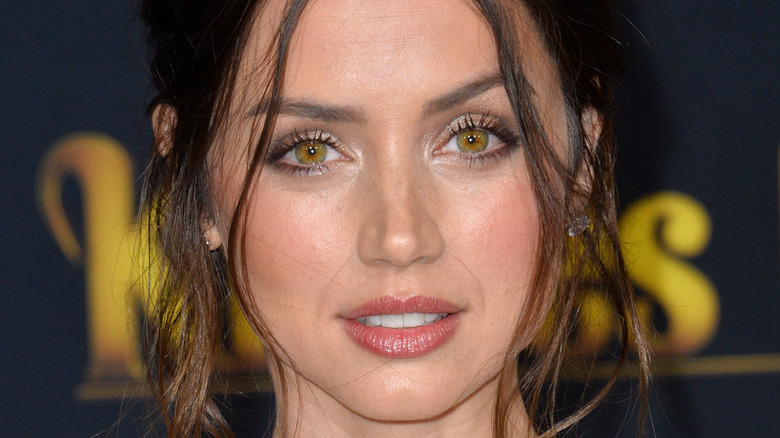 Featureflash Photo Agency/Shutterstock
Netflix's Marilyn Monroe biopic, "Blonde," is one of this fall's most anticipated releases, with Cuban-Spanish actor Ana de Armas tackling the Monroe role. Nominated for a Golden Globe for 2019's "Knives Out," de Armas' Hollywood star has been on a rocket-like trajectory since she crossed over into English-speaking roles with 2015's "Knock Knock." Portraying a diverse cast of characters on the big screen since — from a hypersexual housewife in "Deep Water" to a buttkicking spy in "The Gray Man" – de Armas has proven herself a tour de force in a short period of time. 
When the first trailer for "Blonde" premiered in July, however, the actor found herself on the receiving end of criticism, something her Hollywood career hasn't been met with until now. Many on the internet noted the strong trace of de Armas' Cuban accent in her Monroe. One Twitter user mused that they were "not surprised" the accent appeared in de Armas' character as "her accent is very heavy." Another, using Jennifer Lopez's portrayal of Selena and Daniel Kaluuya's of Fred Hampton as comparison, wondered, "If other people of color who are actors can work and execute an accent why would Ana get a pass?"
The backlash got intense enough that even the Marilyn Monroe Estate stepped into the discourse. 
The Marilyn Monroe Estate brushes off criticism of Ana de Armas' accent
The Marilyn Monroe Estate loved the "Blonde" trailer — and its star Ana de Armas in it. Marc Rosen, president of entertainment at Authentic Brands Group, which owns the Marilyn Monroe Estate, said in a statement to Variety, "Marilyn Monroe is a singular Hollywood and pop culture icon that transcends generations and history. Any actor that steps into that role knows they have big shoes to fill. Based on the trailer alone, it looks like Ana was a great casting choice as she captures Marilyn's glamour, humanity and vulnerability." 
Monroe's estate owners aren't the only one defending de Armas. Many on Twitter embraced the presence of the Cuban native's natural accent in "Blonde," with one noting that most "don't blink twice" at the "long history of american actors botching accents of other nationalities in film." 
Speaking with Entertainment Weekly in 2019, de Armas called the experience of prepping for and shooting "Blonde" — including research and accent work — "the most intense work I've ever done," recalling that it took a whole year just to get ready. However, it sounds like de Armas wouldn't trade the experience for the world. She told EW at the time, "It was the most beautiful thing I've ever done."