The Scary Incident Naomi Campbell Once Had With Her Housekeeper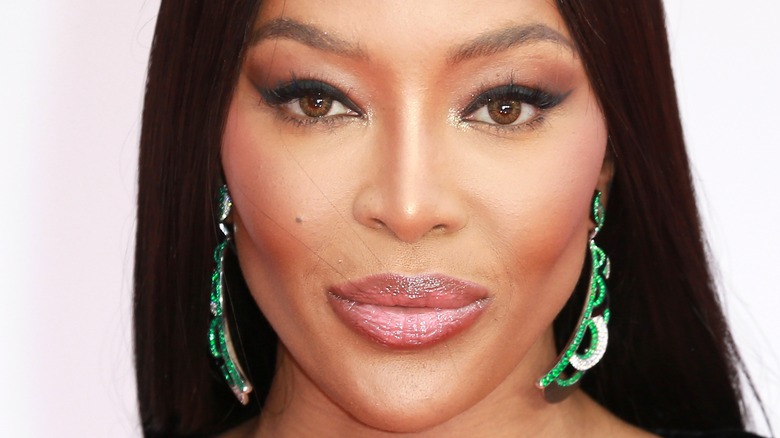 Cubankite/Shutterstock
Supermodel Naomi Campbell changed the face of modeling forever by refusing to shrink in the face of the industry's racism in the '80s. In 1988, Campbell became the first Black model to appear on the cover of French Vogue, per USA Today. The following year, she appeared on the cover of American Vogue, which marked the first time a Black model had graced the September cover, which is considered the most important issue of the year, per Glamour.
But with her trailblazing career has come some personal lows. In 2000, while shooting a movie in Toronto, Campbell beat one of her assistants with a telephone, and later plead guilty to assault in a Canadian court, per Associated Press. She was also accused a further four separate times by four different employees, ranging from assistants to housekeepers, of assaults, attacks, and battery, per Fox News, with one such assault involving Campbell allegedly throwing her Blackberry at her assistant in 2005. While her representative denied any wrongdoing, it was a further incident in 2006 that forced the supermodel to finally own up to some toxic behavior in a very public way.
Naomi Campbell says she takes responsibility for assaulting her housekeeper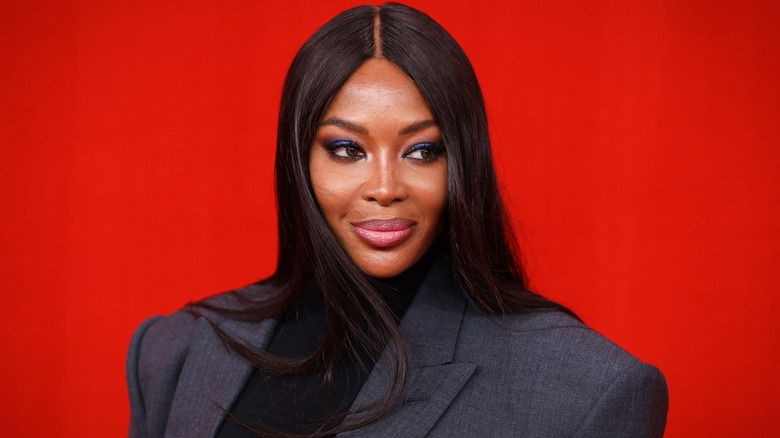 Richard Bord/Getty Images
In 2006, supermodel Naomi Campbell was once again charged with assaulting an employee with a telephone, this time her housekeeper, Ana Scolavino, who required four stitches, per The New Zealand Herald. At the time, Campbell denied any wrongdoing, with her spokesman J.R. Johnson telling People, "We believe this is a case of retaliation, because Naomi had fired her housekeeper earlier this morning. We are confident the courts will see it the same way."
But she changed her tune the following year, agreeing to a plea deal and admitting culpability, receiving a sentence of five days community service and covering her housekeeper's medical bills, per Digital Spy. In 2010, she sat down with Oprah Winfrey and expressed her regret at her behavior. "I take responsibility for the things that I have done and I do feel a great sense of shame," she explained. "I feel remorseful. I feel ashamed. I feel for them ... [I think,] 'What have I done to them?' If I've hurt them. It's not the right thing to do, I just see red." She then took a more lighthearted approach to the whole scenario by admitting with a smile that she wore her Christian Louboutin boots each day of her community service sentence, because of course she did. 
Naomi Campbell does her own cleaning these days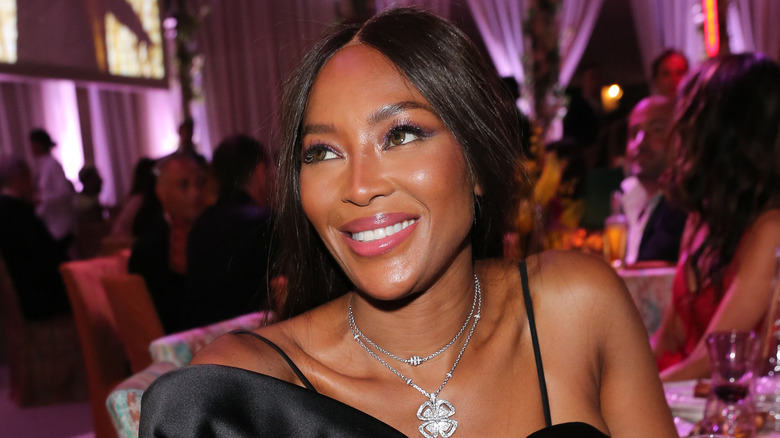 Gisela Schober/Getty Images
Nowadays, with the COVID-19 global pandemic, Naomi Campbell probably doesn't need a housekeeper anymore. In March 2020, James Corden checked in with Campbell during his "Checking In"  bit on "The Late Late Show" where we learned just how much she loves cleaning with her own two hands.  Porting two bags of garbage, and wearing stiletto's, purple disposable gloves, and a fitted surgical face mask, she strutted her stuff as if it were a catwalk. 
That wasn't the first time she enjoyed all things germ-less either. In 2019, she posted a video to her YouTube channel of her disinfecting her first-class airplane seat — slipping on surgical gloves, using antibacterial wipes on her chair, and then fitting it with a cover. "I do not care what people think of me," she said mid-clean. "It's my health, and it makes me feel better." Campbell displayed a sense of humor about her penchant for cleaning, likening herself to a clip from "Mommie Dearest," where Faye Dunaway scrubs the bathroom floor, on her Instagram. She's even posted clips of herself in a full hazmat suit at the airport. So if anyone wants to fill the position of Campbell's housekeeper, sorry but the position has been filled.