How Jane Fonda Inspired RuPaul's Career
Serge Rocco/Shutterstock
Jane Fonda has had a whirlwind of a career. Some may know Fonda for her acclaimed film performances; others may be more attuned to the actor's extensive activism. And you can't forget the star's iconic '80s workout videos. Aside from all of her achievements, Fonda is no stranger to the pressures of aging in Hollywood. Most recently, Fonda revealed her feelings about plastic surgery, telling Vogue, "I had a facelift and I stopped because I don't want to look distorted. I'm not proud of the fact that I had [one]."
But the candid Fonda also had some wisdom in store. She told the outlet, "Well, for one thing, I want young people to stop being afraid about getting older. What matters isn't age, isn't that chronological number. What matters is your health." With all of Fonda's successes, why should she dwell on her age?
In a testament to her rich career, the renowned actor has received tons of accolades, including an Academy Award for her role in the '70s thriller "Klute," where she played a call girl suddenly faced with a perplexing missing persons case. But another one of Fonda's performances affected a certain celebrity, and gave him the push to move forward in his own career. That celebrity is none other than "RuPaul's Drag Race" host RuPaul.
Jane Fonda's film 'Barbarella' inspired RuPaul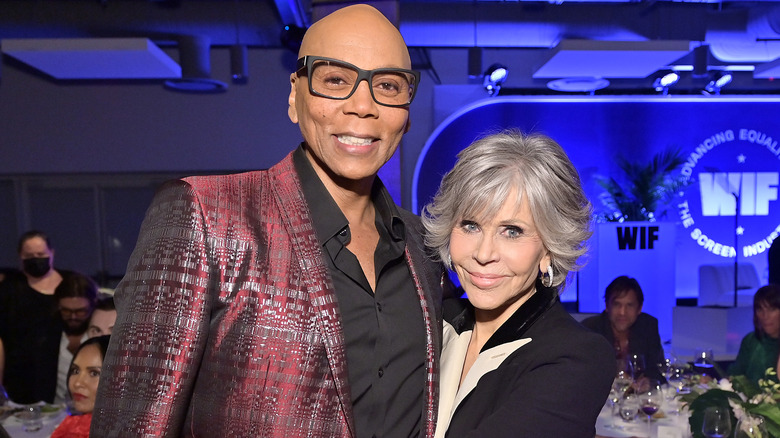 Stefanie Keenan/Getty Images
In 2018, RuPaul was honored with a star on the Hollywood Walk of Fame, per People. In an appearance on "The Ellen Show," RuPaul told Ellen DeGeneres, "I feel like I'm being knighted. It is the most exciting thing that's ever happened to me." Then, he excitedly revealed that Jane Fonda would be the presenter. Coincidentally or not, Fonda had a major impact on the drag queen's life. He continued, "About 50 years ago this week, 'Barbarella' showed up at my house in the mailbox on the cover of Life Magazine and my career path was decided in that moment. I was going to become Barbarella."
Fonda starred as the title role in the '60s sci-fi film "Barbarella," a galactic adventure featuring the actor dolled-up in metallic, lush outfits. The film's elaborate set and costume design carries a legacy, with plenty of young women cosplaying as Barbarella. So, it's unsurprising that the fabulous RuPaul would be drawn into Fonda's glamorous theatrics and unparalleled confidence on-screen. In fact, a clip from "RuPaul's Drag Race," threw a reference at the film. A GIF through the show's Twitter account showed two drag queens dressed up in Barbarella-like ensembles. The caption said, "Bodacious Barbarella babes!" Inspiration, much?
Jane Fonda got to know RuPaul on the set of 'Grace and Frankie'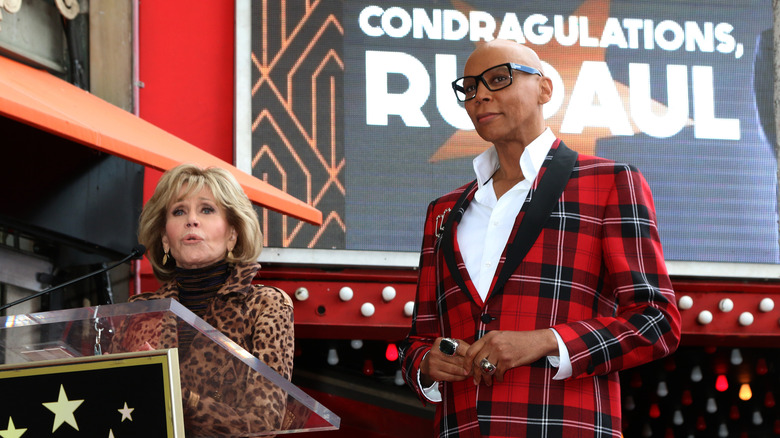 Kathy Hutchins/Shutterstock
For Jane Fonda and RuPaul, the admiration is mutual. When Fonda presented RuPaul with his Hollywood star in a video for Variety, she said the star "should be at least three sizes bigger." Fonda proudly declared, "Because I don't think anyone else on the walk of fame has ever launched an industry like RuPaul has. He created an industry that has given hundreds and hundreds of jobs and dreams to so many." Then, she talked about getting to know him on the set of the Netflix TV show "Grace and Frankie," which RuPaul made a cameo in. He also casually interviewed the show's stars Fonda and Lily Tomlin for Netflix. Fonda gushed, "What I found is that behind the glamour, behind the drag queen, is a man of great depth, incredible intelligence, compassion."
In a 2019 appearance on "Watch What Happens Live," a viewer phoned in and asked RuPaul about his experience working on "Grace and Frankie." RuPaul explained that he was absolutely starstruck working with Tomlin and Fonda. He continued, "There was no diva stuff. They hold their own. These are ladies — 50 plus years in the business — I don't know how long they've been stars and still show up to work every day. I should be so lucky." Speaking of luck, it sounds like Fonda played a big part in helping make RuPaul's dreams of stardom and Barbarella fierceness come true.