Christina Ricci Details The Eye-Opening Conversation She Had With Johnny Depp As A Child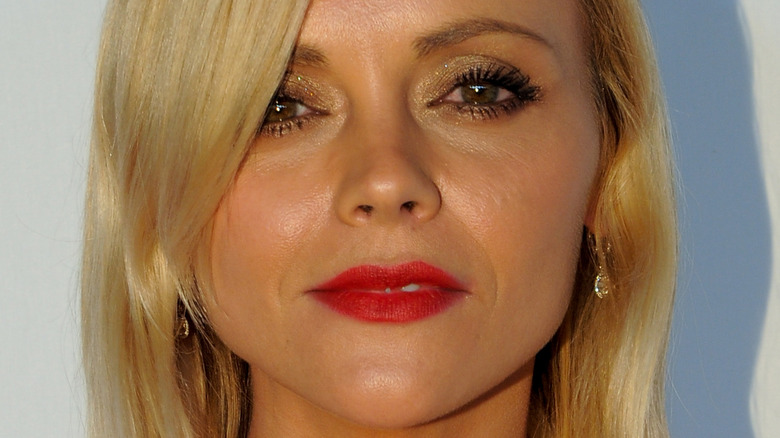 Ron Adar/Shutterstock
Christina Ricci and Johnny Depp have been in each other's lives for more than three decades now. As actors, Ricci and Depp collaborated on several occasions, with the first hailing all the way back to 1998 when they worked together on Terry Gilliam's "Fear and Loathing in Las Vegas." Shot in 1997, then-17-year-old Ricci had only a small part, but reconnected with Depp just a year later to film Tim Burton's gothic horror "Sleepy Hollow."
This time around, Ricci shared the lead with Depp, allowing the actors to deepen their bond. Shortly after, Ricci landed her third feature with Depp. Sally Potter's "The Man Who Cried" also marked the first time the old friends had to engage in love scenes, an experienced she described as "weird" during a 2012 appearance at "The Jonathan Ross Show" (via Metro).
Actors are trained to put their personal lives aside when it comes to developing chemistry on-screen. But Ricci had a pretty good reason to feel awkward about getting intimate with Depp. Ricci was just 9 years old when she first met the star, who was then in his mid-20s, Depp told The Guardian. While the two first worked together in 1997, they'd met on the set of Ricci's very first project "Mermaids," the 1990 comedy-drama featuring Cher and Winona Ryder. As Ryder was Depp's girlfriend at the time, he would pop up often to visit her on location. During that time, Ricci learned a meaningful lesson from Depp. 
Johnny Depp explained homosexuality to Christina Ricci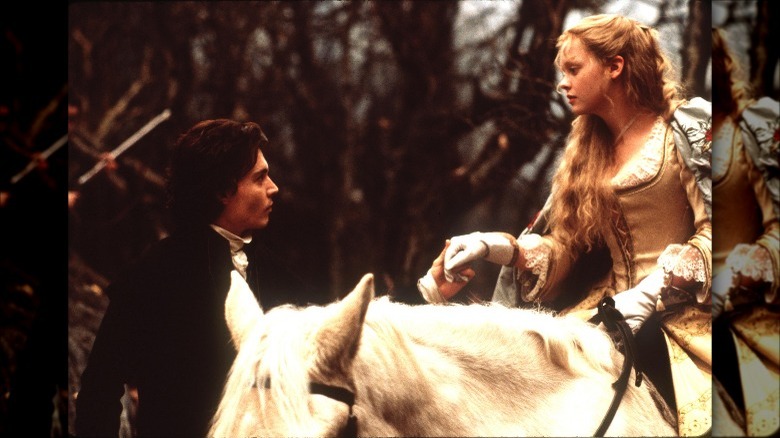 Getty Images/Getty Images
Child stars are surrounded mainly by adults. As such, they're often exposed to adult issues they may not fully understand. That happened to Christina Ricci when she was filming "Mermaids" in 1989. "There was something going on on set and someone was not being nice to someone else," she said on SiriusXM's "Radio Andy" on August 4. The problem appeared to involve discrimination against someone's sexual identity, something Ricci couldn't possibly begin to comprehend. "They were like, 'Oh, he might be homophobic,'" she detailed.
But she wanted to understand what was going on. So Ricci, who was in Winona Ryder's trailer, asked her co-star to explain what homophobia and homosexuality meant. Ryder became immediately flustered. "She was like, 'I don't know how...' So she put me on the phone with Johnny [Depp]," Ricci said. Depp faced his mission head-on. Using small words, Depp explained what it means to be gay to young Ricci. "He was like, 'It's when a man wants to have sex with a man. And when a woman wants to have sex with a woman' and I was like, 'Ah, okay,'" Ricci said.
Given their history, it is unsurprising Ricci and Depp felt uncomfortable establishing a relationship outside of their fraternal bond. "When you have to regard that person you met at the age of nine as a love interest it's a little unsettling," he told The Guardian in 2000, addressing criticisms that they'd lacked chemistry in "Sleepy Hollow."