Inside Olivia Jade's Friendship With Natasha Bure
Stefanie Keenan/Getty Images
While Lori Loughlin and Candace Cameron Bure shared the screen on "Full House," they also formed a lifelong friendship. As a result, their daughters, Olivia Jade Giannulli and Natasha Bure, grew up side by side in the spotlight. Bure followed in her mother's footsteps as an actress, appearing in a variety of shows including a cameo in "Fuller House." Giannulli, on the other hand, became a beauty YouTuber, and she temporarily partnered with Sephora for a makeup palette, per Page Six.
Neither Bure or Giannulli made massive media waves until 2019, when Laughlin and her husband, Mossimo Giannulli, found themselves in a scandal directly involving the YouTuber. The couple paid $500,000 to insure that both Giannulli and her sister would be admitted into the University of Southern California, according to Us Weekly. Ultimately, Loughlin went to jail for fraud, and for a while, the entire family were considered personae non gratae.
Despite the drama, Giannulli and Bure are still close friends. Not only do they show support for each other at events, such as Bure's book signing, but the friends commonly hype each other up in the press.
Natasha Bure and Olivia Jade grew up together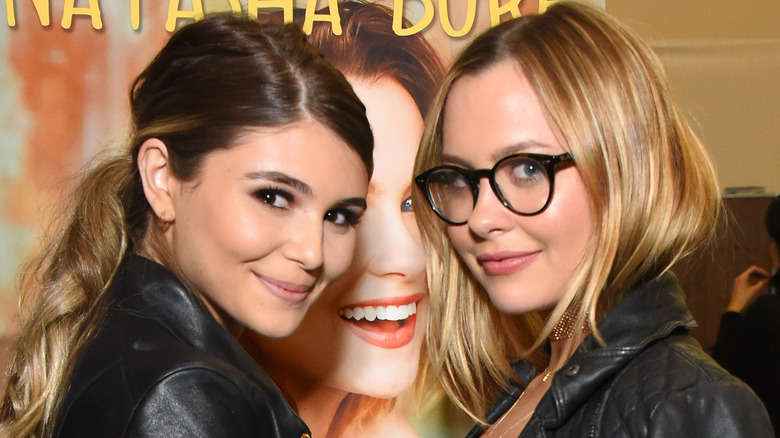 Araya Doheny/Getty Images
Unsurprisingly, Natasha Bure and Olivia Jade Giannulli met at a very young age. On her podcast, "Conversations with Olivia Jade", Giannulli revealed they likely first met at "Full House" creator Jeff Franklin's house for a cast reunion. Though they didn't remember much, the girls described it as "the coolest house in the entire world."
But no matter what, time is no match for these BFFs. "You know those types of friends you have for so long in your life you don't need to see or talk to them everyday for the entire time of your friendship but right when you're back together nothing's changed?" Giannulli further added. However, that kind of connection has its downsides. Both Giannulli and Bure expressed dissatisfaction with being so closely associated with "Full House" and their mothers' careers. Giannulli explained that she never "wanted to be in the public eye," and the success of her YouTube channel was incidental, not a product of associating with her mother. 
Bure had similar frustrations with being known as "Candace's daughter," as she "had to start separating myself at a certain age and really try to form my own identity" — which "can be really hard if you get boxed into that" (via People). These shared struggles united the friends because only they fully got what the other was up against.
Natasha Bure gushes over Olivia Jade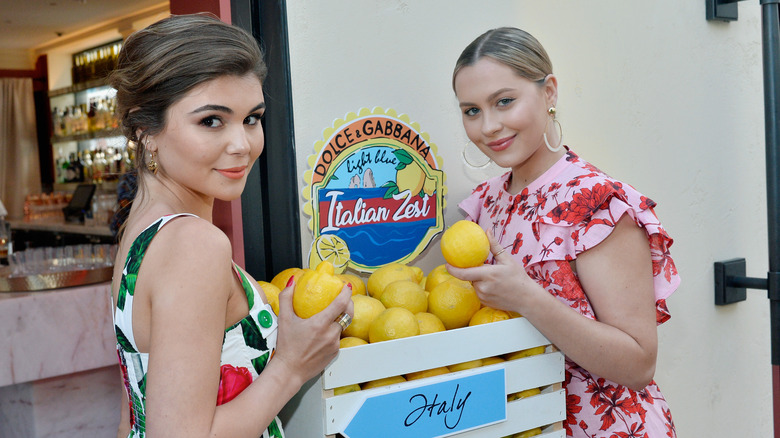 Stefanie Keenan/Getty Images
While some childhood friends grow apart once they hit adulthood, that's not the case for Olivia Jade and Natasha Bure. The two remained close, supporting each other through major successes and pitfalls.
"We've been friends and sisters since forever," Bure told Us Weekly. "We have so many fun memories together of just, like, hanging out. It's just, like, a fun, interesting dynamic too. When you both [have] one of your parents on a show together and then you're the same age and you are friends."
"I love her and I'm so proud of her, like, she's killing it," Bure continued. The actor then addressed Jade's controversial past, stating that she will "always support her." Interestingly, Bure also found herself the subject of controversy by claiming she doesn't get roles because of her mother after co-starring in several productions. But, for better or worse, "Full House" cemented several generations of friendships — and quite a few careers.