Why Casey Affleck And Joaquin Phoenix Aren't Friends Anymore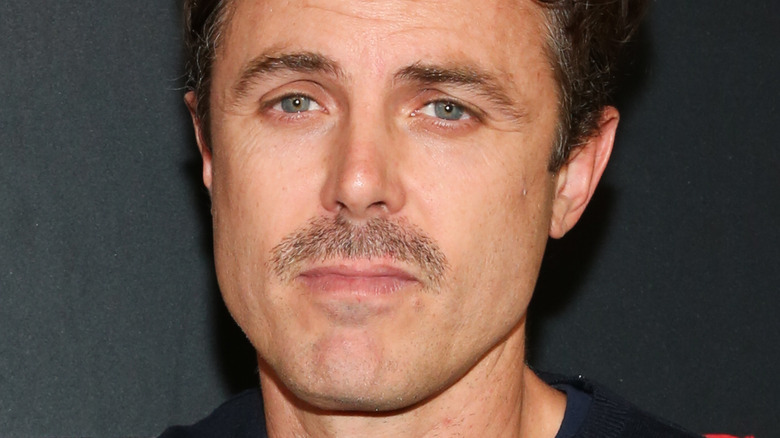 Paul Archuleta/Getty Images
Casey Affleck and Joaquin Phoenix's friendship dated back to the early days of their respective careers. The two met while working on 1995's "To Die For," and quickly became best friends. They shared an apartment while filming the movie in Toronto, and Phoenix even played matchmaker between Affleck and his sister, Summer. "She was going out with someone else and I said, 'Man, she's cute,' and [Joaquin] said, 'You should see if she'll go out with you,'" the "Manchester By the Sea" star told the Daily Beast in 2013. Their courtship ultimately proved fruitful, as Affleck went on to marry Phoenix's sister in 2006.
The bond between the two actors was forged during their formative years in Hollywood, but was only strengthened as they both rose to fame. After living together, Affleck and Phoenix both owned units in the same building in New York, and even sported matching tattoos, as revealed in a feature piece for Vanity Fair (via People).
Their friendship was the impetus for a joint project, the faux-documentary "I'm Still Here," which starred Phoenix and was directed by Affleck. "We've been close for a while. So there was already a lot of time spent together. And it evolved organically," Affleck told The Guardian in 2010 when speaking about the film. At the time, the duo seemed inseparable — but their friendship would not last.
Casey Affleck and Joaquin Phoenix lost touch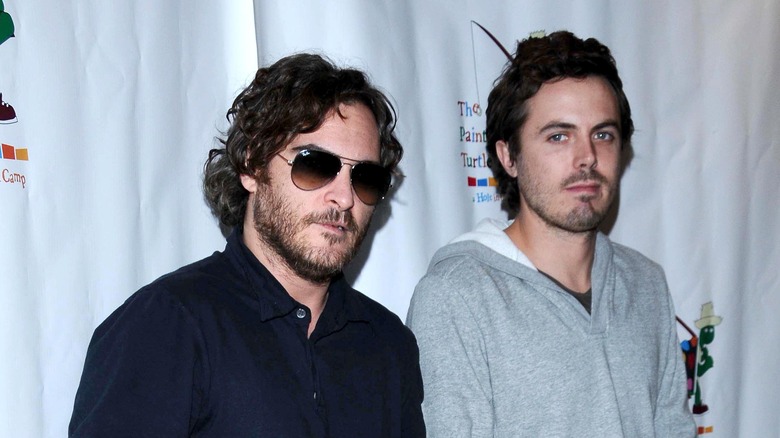 s_bukley/Shutterstock
In the late 2000s, Casey Affleck had his pick of the litter for movie projects after churning out star-turning performances in "The Assassination of Jesse James by the Coward Robert Ford" and "Gone Baby Gone," but he chose to collaborate with Joaquin Phoenix on their experimental "I'm Still Here." "[H]e pursued this vision he had of this movie with his best friend," Casey's older brother, Ben, told The New York Times in 2013.
However, choosing to forego working on traditional blockbusters in favor of the pet project with Phoenix took a toll on Affleck. "I went broke. I hadn't worked for more than a year, and I was pouring money into the movie," the "Triple 9" actor told The Telegraph in 2010. Regardless of financial impact, both Affleck and Phoenix appeared committed to working together on challenging projects, as the pair decided to re-team on for the neo-western "Far Bright Star" in 2015, per The Hollywood Reporter.
Years later, the dynamic changed as their friendship seemingly deteriorated. Reportedly, the pair lost touch not long after originally signing up for "Far Bright Star." In 2019, Phoenix briefly discussed the state of his friendship with Affleck. "My sister and him divorced," the "Joker" star told Vanity Fair. Apparently, the fractured relationship was not fresh. "And I haven't spoken directly to him or indirectly in a long time. Three or four years," Phoenix added. Notably, the end of their friendship coincided with the dissolution of Affleck's marriage to his friend's sister. 
Did Casey Affleck's divorce ruin his friendship with Joaquin Phoenix?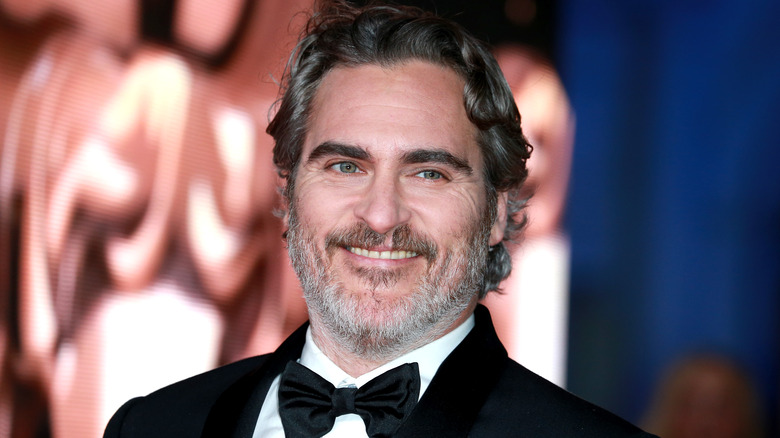 Cubankite/Shutterstock
After 11 years of marriage, Casey Affleck and his wife Summer officially divorced in 2017, although the couple had reportedly been separated since 2015, per The Hollywood Reporter. Their divorce agreement was somewhat confusing at first, as the "Ain't Them Bodies Saints" actor originally noted on the official paperwork that he would not provide spousal support, but the former pair reportedly came to a financial resolution, per TMZ.
A few years after the divorce papers were signed, Affleck and his former best friend and brother-in-law, Joaquin Phoenix, decided to sell an asset they held together. In 2020, Affleck and Phoenix reportedly sold the New York City loft they owned together, per People. The unit went for $3.13 million after being listed for $3.5 million.
After the divorce, and after the two friends had parted ways, the relationship between Phoenix and Affleck was further complicated when two "I'm Still Here" crew members levied sexual misconduct allegations against Affleck in 2018. The "Inherent Vice" actor was asked about the working environment with his former friend and production partner. "I can't talk about the details of those lawsuits, which is unfortunate because I think you know that I'm somebody who likes to talk freely," Phoenix told The Guardian in 2018. However, the allegations later lost steam and seemingly faded into the background, much like Affleck and Phoenix's relationship.