How Tall Is Lady Gaga?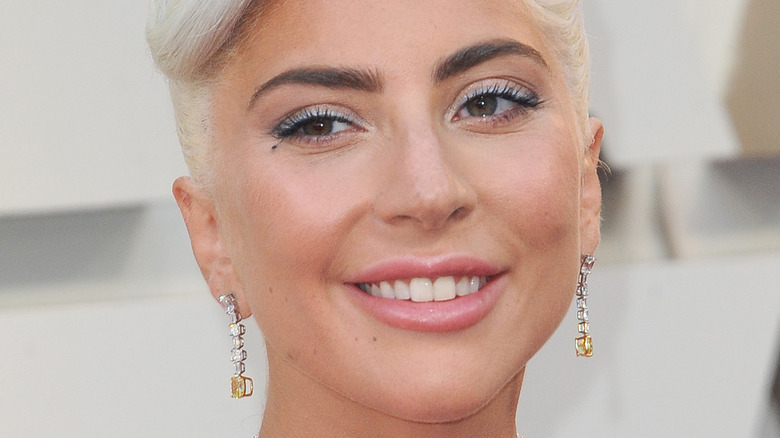 Tinseltown/Shutterstock
Lady Gaga wants her fans to embrace who they are and be proud of themselves, even if that's not always an easy thing to do. In the past, she used her website as a place where both she and others could display their bodies in a way that touched her fans. One person commented (via Forbes), "I have to say, coming on here and seeing all these Body Revolution pictures you Monsters are posting has honestly made me tear up. You guys DEFINE BRAVERY."
This project came from someone who's well aware of the fact that the public can sometimes be unkind about her body. In fact, Gaga addressed the situation in February 2017 following her performance at the Super Bowl Halftime Show. After her belly created a buzz, the star ended up being body shamed, so she posted a photo on Instagram that showed her performing and featured a caption that acknowledged what people were saying about her physique. She told her followers, "I'm proud of my body and you should be proud of yours too. No matter who you are or what you do. I could give you a million reasons why you don't need to cater to anyone or anything to succeed. Be you, and be relentlessly you."
Part of the singer being herself involves her embracing the fact that she happens to be a really short star. Although that doesn't mean that she's not willing to alter her height in a stylish (and scary?) way.
Lady Gaga's high heels make her seem taller than she is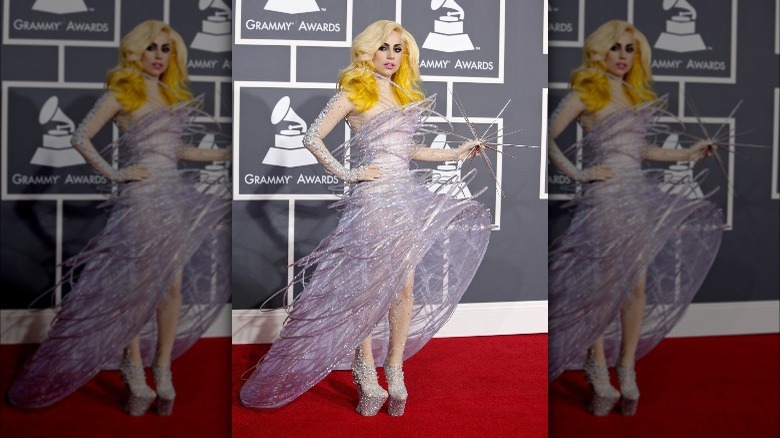 Joe Seer/Shutterstock
When Lady Gaga tells her fans that she's proud of her body, she's referring to a form that could definitely be described as small but mighty. Frankly, despite being an award-winning powerhouse superstar who has successfully taken on both music and acting, she's only 5-foot-1 (and a quarter inch) tall, according to Celeb Heights. That's a few inches under the average height for women in the United States, which is around 5-foot-4, according to the Cleveland Clinic.
Of course, the star might seem a lot taller at times thanks to the fact that she's willing and able to wear high heels that are beyond impressive. From sparkly lavender platforms, to boots that give the performer a major boost, per Vogue, Gaga's shoes are always stylish and surely make anyone who sees them scared that she might lose her balance and suffer a major fashion-related accident at any moment.
Gaga, on the other hand, seems undaunted by shoes in which many others would never be able to take a step. She proved that in July 2021 when she went for a stroll in New York City while wearing Pleaser Infinity 1020 boots that had 9-inch heels, according to Page Six. While the heels raised her to the same height as some of the taller stars in the entertainment industry, there are plenty of celebs who are the same height as Gaga when she's not wearing stilettos.
Lady Gaga isn't the only short celebrity in Hollywood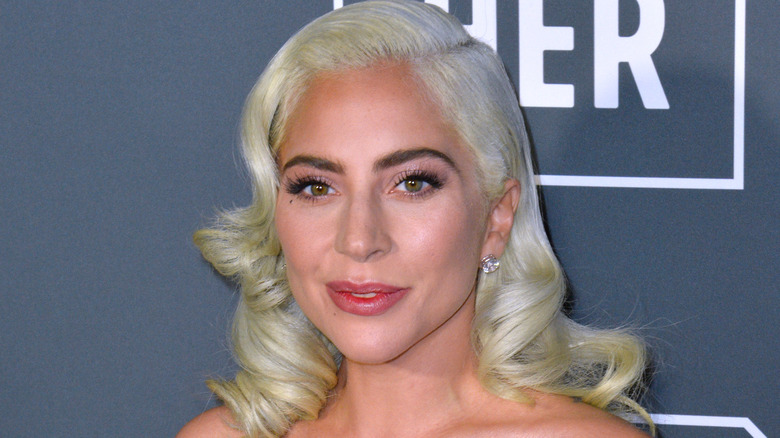 Featureflash Photo Agency/Shutterstock
When it comes to the proportions of Lady Gaga's body, she's pointed out that she happens to be delighted by her dimensions. She reportedly once explained (via Showbiz CheatSheet), "This is who I am. And I am proud of myself, whatever my size."
That kind of attitude surely affects the confidence of any fans who might be influenced by the star. In fact, one Twitter user made it clear that they were one of those fans in February when they wrote, "Sometimes I hate being short but then I remember I'm the same height as Lady Gaga and Avril Lavigne. Superior women."
That particular social media user might be thrilled to find out there are other impressive stars who are also 5-foot-1. "High School Musical" alum Vanessa Hudgens is also an inch above five feet tall, as is former "Game of Thrones" actor Maisie Williams, according to Insider. Funny lady Kristen Bell would apparently be able to look Gaga right in the eye, as would "Big Little Lies" star Reese Witherspoon thanks to the fact that they're also 5-foot-1. Granted, while all these ladies are the same height, you have to wonder if they would all be capable of wearing the kind of towering shoes that Gaga regularly steps out in.