What Kira Kosarin Has Been Up To Since The Thundermans Ended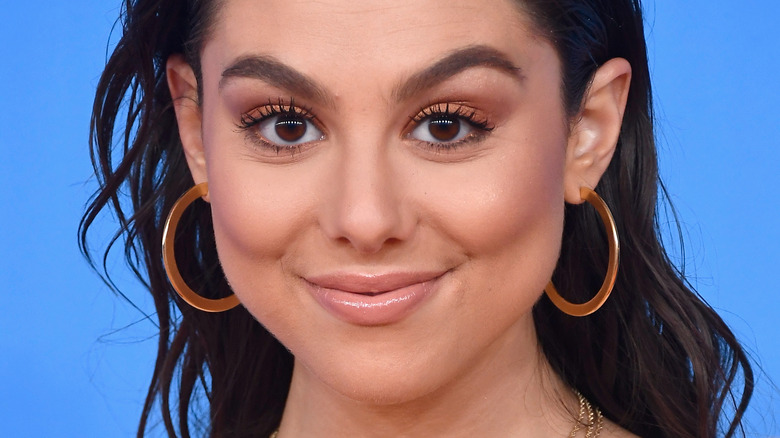 Frazer Harrison/Getty Images
Kira Kosarin joined Nickelodeon's roster of stars in 2013 and took advantage of the entertainment industry's superhero craze by playing telekinetic teen Phoebe Thunderman for five years. Her character on "The Thundermans" didn't just move objects with the power of her mind; she possessed breath that could go from hot to cold faster than an indecisive ne'er-do-well in a Katy Perry song.
Saying goodbye to the T-Force was emotional for Kosarin and her co-stars, who can be seen embracing and tearing up after filming their final scenes in a behind-the-scenes video on Nickelodeon's YouTube channel. But while the actor had a blast bringing Phoebe to life and following the superhero's journey along with her fans, she admitted to the Mirror, "It's definitely a crazy way to grow up, finishing high school while working on the show was tricky in the first couple of seasons."
Kosarin continued acting after the finale and landed a role in the spooky Hulu series "Light as a Feather" in 2019. She told The Sari Cohen that she was also thankful for that experience. "Every single person who works on that set is just wonderful. It's a great environment, and it shows in the work," she stated. But, Kosarin's true passion wasn't bringing other characters to life. By the time "The Thundermans" ended, she'd been preparing for years to introduce her fans to the real Kira using a different creative outlet.
Kira Kosarin gave her image an overhaul
In an interview for the "Talking Lion" podcast, Kira Kosarin revealed that she was as young as 5 when she first started writing songs. It was a practice that she would continue even as she began flourishing as a young actor. "I actually wrote a full album while I was on the show but I was so busy being Phoebe that I couldn't put it out," she told the Mirror. As she matured, so did her songwriting — so much so, that she created enough material for another record.
In 2019, Kosarin included some of those songs on her debut album, "Off Brand." She explained to The Sari Cohen that the title was a nod to her Nickelodeon days — the network's stars were encouraged to be "on brand" by behaving in a manner that the company found acceptable. "I write music about my life as a 20-something in Los Angeles, which isn't always going to line up with the image that [has] been created of me over the years," Kosarin pointed out.
She also began sharing posts on social media that were not targeted toward the Nickelodeon audience, and some of her followers were not pleased. But she gently let them know that she was not going to tone it down. "I have to let myself grow up, and I have to let myself grow in my career," she wrote on Instagram. Her continued growth would eventually pay off in a huge way.
Kira Kosarin landed a record deal
Kira Kosarin dropped her second EP, "Songbird," in 2020. At the time, she wasn't working with a record label. "You're just doing absolutely everything yourself and everything takes an inordinate amount of power and strength to push through," she told "Talking Lion" of the process of recording the album. Social media played an integral role in helping her extend her reach, as she worked as her own promoter. One song, "First Love Never Lasts," picked up steam on TikTok, and by March, she could finally say that she had signed with a label, Republic Records. "After these last several years navigating the industry as a completely independent artist, having this group of heavy-hitters on board trusting my creative vision and helping bring it to life is just magical," Kosarin told Billboard that month.
Kosarin dropped her first single with the label, titled "Mood Ring," and a month after she released the EP "Something New" in July, Kosarin took to Instagram to celebrate the album topping one million streams. Republic also demonstrated its confidence in the musician by paying for multiple billboards to promote her work.
The EP wasn't just special for the singer because it was her first as a signed artist. While she was working on it, Kosarin was dating a fellow musician named Max Chester, and he co-wrote and produced one of the songs on the album, "Parachute (Plan B)." He wrote on Instagram, "We made it with an awful lot of love."