The Stunning Number Of Bows JoJo Siwa Owned Before Giving Them Up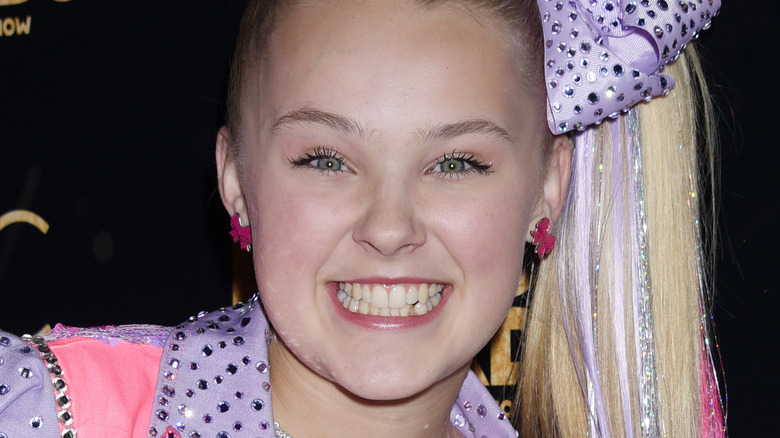 Ga Fullner/Shutterstock
She hasn't been rocking the bow much these days, but when you think of JoJo Siwa, chances are that you'll still picture her with her hair wrapped in a ponytail, styled with a huge, sparkly, over-the-top ribbon. That's because she's made the hair bow her signature look ever since she rose to fame in 2013 on the dance reality show "Abby's Ultimate Dance Competition." Siwa also launched her own hair accessory line so her young female fans could copy and rock her iconic hairstyle. It was a massive hit — so much so that primary schools in the U.K. ended up banning the accessory on account of it being too distracting, per The Sun.
Discussing her signature look with J-14 in 2018 (via Just Jared Jr), the Nickelodeon star said she feels a lot more confident with her hair up and wrapped with a bow. "I just don't feel right if my hair's not up with a bow," she said. "With it down, I look so much different and I don't feel like me." In fact, she'd wear the same hairstyle even when at home. "I wear bows and my hair up, no matter if I'm performing or not."
With her obsession for hair bows, it wouldn't come as a surprise to anyone that Siwa has built a large collection of them over the years. But how many bows does the pop star own exactly? Well, it's definitely a lot more than you think.
Jojo Siwa had an exorbitant amount of bows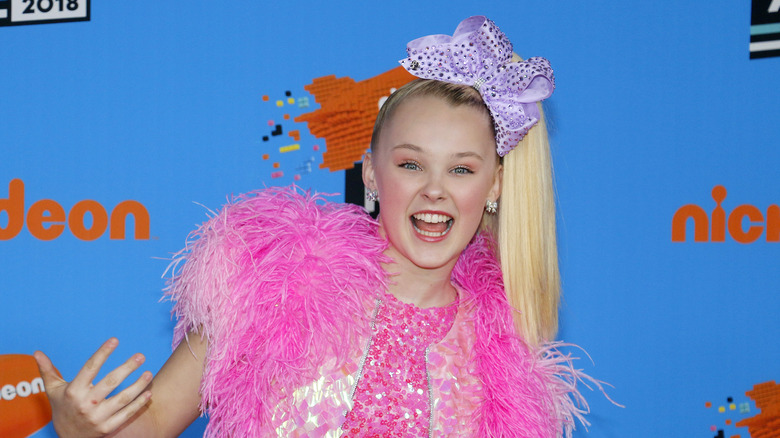 Tinseltown/Shutterstock
Back in 2019, a 16-year-old Jojo Siwa revealed on The Kyle and Jackie O Show (via the Daily Mail) that she owns a whopping 12,000 bows. "And my favorite, I like all the rainbow ones," she dished.
How?! Well, Siwa has been wearing bows ever since she was a young child, and growing up, her bows "just got bigger and better and sparklier," per BBC Newsround. Apparently, they also added up to more than 12,000! As she gave a glimpse of her mind-blowing collection on YouTube, the pop superstar revealed that she has at least 21 big tubs filled with her hair accessory line Jojo's Bows. And since she has such a large collection, she never got the chance to look through it all. 
"What happens is, like, when I was on tour, all the stuff would just keep getting shipped to my house, and then it would just all get put away in the merch room," she explained. "So I don't know about a lot of it." She added that she would probably need "like 500 hours" to dig into her bow collection and show each of them to her fans, "but right now, I don't have 500 hours."
Why Jojo Siwa ditched her signature bow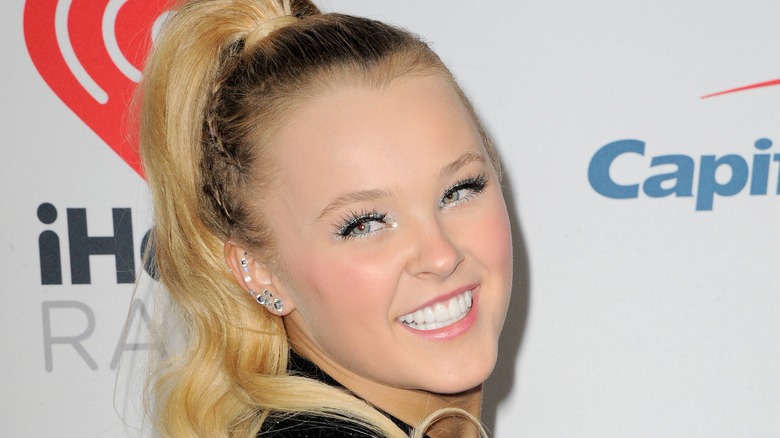 Tinseltown/Shutterstock
The young JoJo Siwa saw a lot of power in wearing her hair up and with a bow. In an interview with BBC Newsround in 2017, the popular YouTuber described her bows as more than just a hair accessory. "It is a symbol of power, confidence, believing-ness," she said. "Like, literally, it's just a good thing."
But, as the saying goes, all good things must come to an end. Last year, a few months after she turned 18, the Nickelodeon star announced that she's finally giving up her signature ponytail-and-hair-bow style, thus marking the end of an era. "I just had my 18th birthday and it was right around my birthday that I realized, 'I kinda wanna do my hair different today," said Siwa, per People. Siwa, who just months prior had come out as member of the LGBTQ+ community, said it felt like the perfect time for her do something different. "Something maybe a little bit more mature, or a little upgrade," she added. 
Nonetheless, the "Dance Moms" alum stressed that she still love her bows and that they very much remain a huge part of her life. "They're who I am," she said, "but maybe I won't wear it every day."