Terry Crews Recounts Alleged Sexual Assault: 'I Have Never Felt More Emasculated'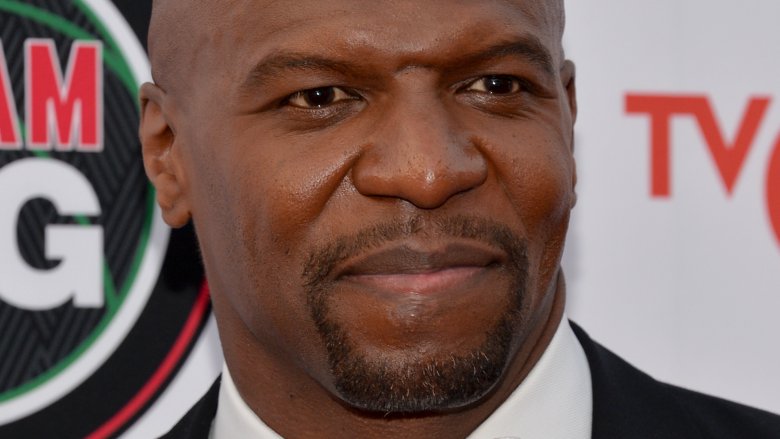 Getty Images
The Brooklyn Nine-Nine star just opened up about a painful experience.
Appearing on Good Morning America on Nov. 15, 2017, Terry Crews spoke with co-host Michael Strahan about his alleged sexual assault in February 2016. The violation reportedly came at the hands of Hollywood agent and William Morris Endeavor big shot Adam Venit, who represents the likes of Adam Sandler, Eddie Murphy, and Sylvester Stallone.
The alleged incident occurred during a high-profile event, which Crews attended with his wife, Rebecca. "I'm looking at him and he's basically staring at me and he's sticking his tongue. Just overtly sexual kind of tongue moves. It's a party, it's packed, the whole thing," Crews recalled. "And I'm looking like, 'Is this a joke? I don't understand.' It was actually so bizarre. And he keeps coming over to me. I stick my hand out and he literally takes his hand and puts it, squeezes my genitals. And I jump back like, 'Hey, hey!' ... I go, 'Dude, what are you doing?'"
But, according to Crews, Venit did not stop. The 49-year-old continued, "And then he comes back again and he just won't stop. And then I really got forceful, pushed him back, he bumps into all the other partygoers and he starts giggling and laughing."
Noting that he'd never met Venit before the alleged assault, Crews stated, "I have never felt more emasculated, more objectified. I was horrified."
Crews, who said he told Sandler to "come get your boy," noted that he'd placed himself between Venit and his wife, apparently afraid that Venit may turn his attention to Rebecca.
EXCLUSIVE: @TerryCrews shares his story of Hollywood harassment. "I have never felt more emasculated, more objectified." pic.twitter.com/yBzZea2V18

— Good Morning America (@GMA) November 15, 2017
While Crews initially did not say anything right after the alleged incident, due to Venit's connections in the entertainment industry, Crews said that he felt like he had to come forward in order to set an example for his children. He explained, "What kind of man would I be to tell my kids, 'If someone touches you where you don't want to be touched, tell someone, tell someone' and then I don't do it?"
As Nicki Swift previously reported, Crews first shared that he'd been sexually assaulted on Twitter in October, days after movie producer Harvey Weinstein's alleged decades of sexual misconduct were exposed by The New York Times. Though he didn't identify Venit at the time, Crews described how a man had "groped" him at a party. Recalling how he'd felt in the moment, Crews wrote "I was going to kick his a** right then — but I thought twice about how the whole thing would appear," adding, "'240 lbs. Black Man stomps out Hollywood Honcho' would be the headline the next day."
Venit was later identified as the man in Crews' tweets. According to The Hollywood Reporter, Venit was placed on leave at WME.
In early November, Crews filed a sexual assault report with the Los Angeles Police Department. When asked why he spoke with police, the actor said, "Because people have to be held accountable."
While we wait to see what comes of Crews' police report, read about all the men who've been called out since the Weinstein first broke.