Is Olivia Jade Still Close With Her Mom Lori Loughlin?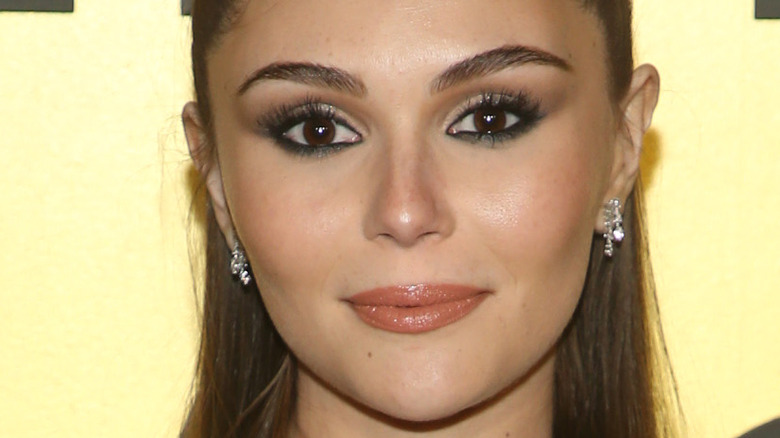 Phillip Faraone/Getty Images
Olivia Jade is a YouTube star who rose to fame after her parents Mossimo Giannulli and Lori Loughlin were involved in a university admissions scandal that shocked the internet. Loughlin is widely-known for her role as Aunt Becky in which she spent nearly a decade on the hit series "Full House," and the reboot "Fuller House," per IMDb. Her husband Giannulli is a fashion designer known in the industry for launching the highly successful, budget-friendly line Mossimo in 1986, according to The Hollywood Reporter. 
Although the pair was well established in their careers, in 2019 Loughlin and Giannulli became notoriously known for their connection to the admissions scandal that involved mail fraud and honest services mail fraud, per E! News. According to CNBC, the couple paid a whopping $500,000 as a bribe to secure their daughters enrollment to University of Southern California as part of the crew team although neither of the girls had any desire in the sport. "Bella and Olivia are suffering in their own ways from the fallout of their parents' decisions," told ET. According to the insider, Jade is "really angry with her parents" meanwhile her sister Rose is "so embarrassed she doesn't even want to go out."
Although it's now been three years since the family was embroiled in a scandal that made national headlines for weeks, many have often wondered where Jade stands with her mother today.
Olivia Jade and Lori Loughlin are doing just fine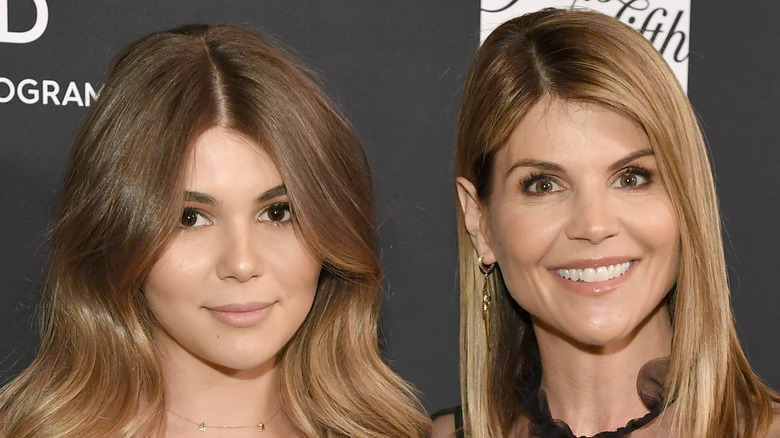 Neilson Barnard/Getty Images
Lori Loughlin and her husband Mossimo Giannulli not only bribed their daughters way into one of the top universities in the country, but their plan also backfired after the girls decided to drop out altogether. According to TMZ, Olivia Jade and Isabella Rose chose to withdraw from the University of Southern California because they were ultimately afraid of the backlash and bullying that would come from their peers on campus. As a result of what her parents did, Variety reported that Sephora and Unilever's TRESemmé cut ties with Jade along with other brands like Amazon, Dolce & Gabbana, Marc Jacobs Beauty, and Smashbox Beauty Cosmetics, to name a few. 
But, despite public scrutiny, the social media influencer is sticking beside her mom. In one of Jade's recent YouTube videos, her mother Loughlin made a quick cameo while on FaceTime and the vlogger couldn't stop gushing about her mom's appearance. "Say 'Hey,'" Jade said. A fresh-faced Loughlin appeared to be in good spirits and waved back to her daughter as she recorded the interaction for her video. "Cutie pie! She's a cutie pie. I want to eat her because she's so cute," Jade said in response to Loughlin.
Although the social media star lost several brand deals and withdrew from college due to the admissions scandal, Jade still has a lot of love for her parents. 
Olivia Jade empathizes with her mother's actions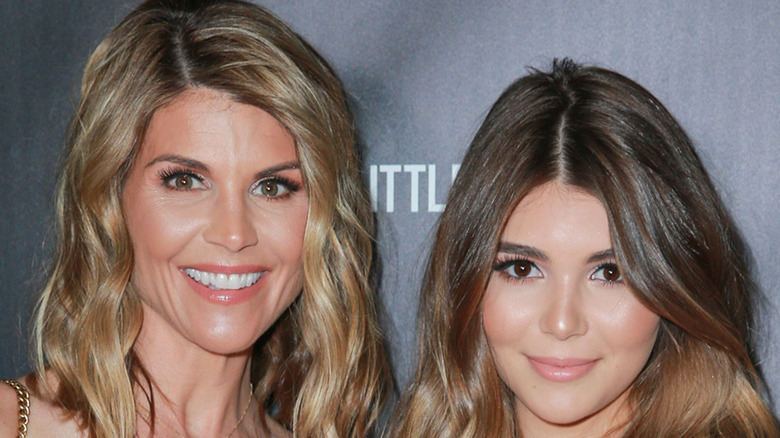 Rich Fury/Getty Images
Oliva Jade loves her mom and isn't afraid to show it. The beauty influencer shared a rare, black-and-white throwback photo of Lori Loughlin on Instagram in honor of Mother's Day. "You are the best. period," Jade wrote. During an interview on "Red Table Talk," the model made it clear she is now fully aware that what her parents did was fraudulent, however she empathizes with them. "My parents came from a place of just, 'I love my kids, I just want to help my kids — whatever is best for them — [and] I worked my whole life to provide for my family.' I think they thought it was normal," she said on the show (via Us Weekly). 
Jade went on to tell hosts Jada Pinkett Smith, Willow Smith, and Adrienne Banfield-Norris that her parents are "good people" who should be allotted a second chance. "I'm not gonna judge them for a mistake they made," she added. "Although it's a big one, they're gonna pay the price for it." According to NBC News, Loughlin completed a two month bid in prison, was forced to pay $150,000 in fines, and do 100 hours of community service. Meanwhile her husband Mossimo Giannulli served five months, had to cough up $250,000, and given 250 hours of community service to complete.
While Jade and Loughlin's relationship appears to have improved from when the scandal first came to light, the social media star is focused on moving on.