JC Chasez's New Look Has Everyone Saying The Same Thing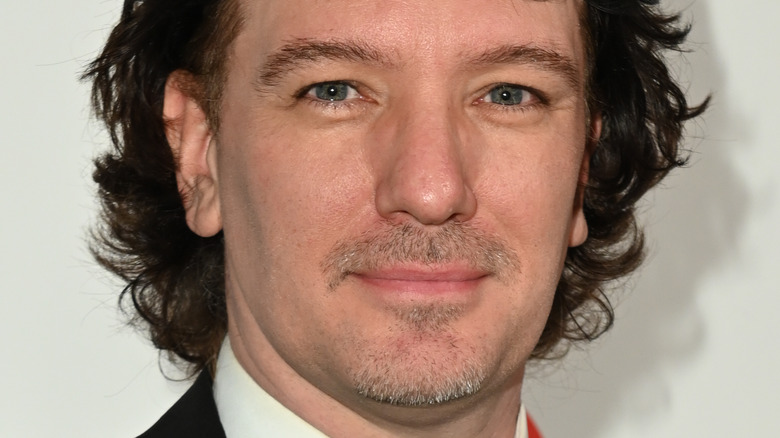 Silvia Elizabeth Pangaro/Shutterstock
Unlike bandmate Justin Timberlake, JC Chasez has lived a fairly low-profile lifestyle since his NSYNC days. However, he isn't shy about making a big appearance here and there.
In 2019, Chasez joined singer Ariana Grande and fellow NSYNC members Joey Fatone and Lance Bass to sing a surprise performance of "Break Up With Your Girlfriend" and "Tearin' Up My Heart" during her Coachella set. "I'm humble and grateful. Thank you @arianagrande for giving me a moment I will never forget. It was better than a dream because you are real," Chasez expressed on Instagram. After laying low, Chasez and his partner, Jennifer HuYoung, were snapped by the paparazzi in May 2021 while out and about. The Sun insisted the "It's Gonna Be Me" singer looked "unrecognizable" while sporting a bright pink beanie and a comfy ensemble that consisted of sweatpants, a t-shirt, and sneakers. A year later, Chasez documented his appearance at the White House Correspondents Garden Brunch in Washington D.C.
Moving with the times, it appears that Chasez has decided to launch his own TikTok account. Even though he has remained relatively active on social media recently, his first upload on the video-sharing platform has everyone saying one particular thing.
Fans are calling JC Chasez a silver fox
JC Chasez is officially on TikTok. As noted by HollywoodLife, he's the last member of NSYNC to join the video-sharing platform. In his first upload, the "I Want You Back" hitmaker uploaded a short clip of him on a night out with his friends and girlfriend, Jennifer HuYoung. At the end of the clip, fans can hear NSYNC'S iconic smash "Bye Bye Bye" in the background after Chasez said into the camera, "How does this s*** work?"
As seen in the video above, Chasez's appearance was on full display as he was recorded with a bright light on him. While sporting his signature hairstyle, many fans noticed the hair on his head and face was gray. As a result, his followers praised the singer's new look. "Well hello there silver fox!!!!!" one user wrote. "JC went from teen heartthrob to silver fox and I'm here for it," another person shared. "This man has aged like fine wine," a third fan remarked.
Now that all five members of NSYNC have joined TikTok, many people have speculated whether or not a reunion from the group could be possible. In a 2021 interview with The List, Joey Fatone insisted a comeback with everyone wasn't in the cards. However, he did say "never say never."