The Truth About Robert Redford And Barbra Streisand's Relationship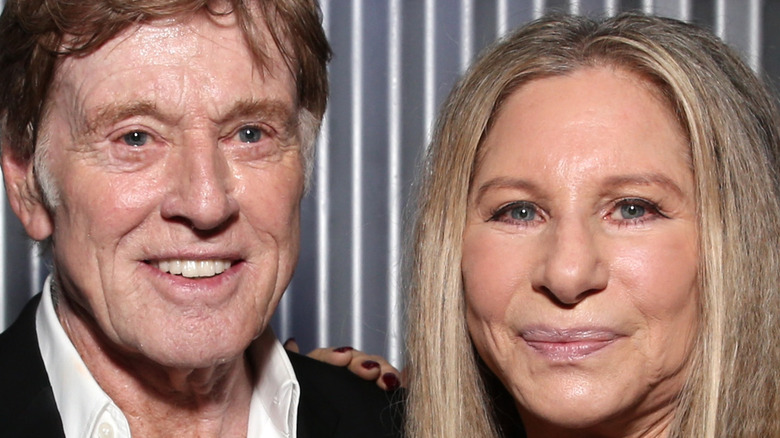 Todd Williamson/Getty Images
If you're like Carrie from "Sex and the City," then you are a huge fan of the romantic 1973 movie "The Way We Were" starring Barbra Streisand and Robert Redford. And you're not just a fan, you have to (as Carrie put it) "love, love, love that movie!" What's not to love? The story follows two college classmates from the '30s (played by Redford and Streisand) who are polar opposites. But when they run into each other after World War II, they fall in (and out) of love several times amidst the political background of McCarthyism, per Chicago Tribune. It's so good, you'll have "misty, water-colored memories" for hours after the credits roll. 
Sure, Streisand and Redford's on-screen romance and chemistry positively sizzled. But what was their relationship like off-screen? One might speculate that their relationship was rocky, considering they didn't do a single press interview together for 37 years (until Redford surprised her in 2010 during her interview on "The Oprah Winfrey Show"). On the other hand, one of Streisand's ex-boyfriends wrote a tell-all memoir alleging she had secret affairs with most of her leading men, including Redford, per Parade. In 2021, the "Funny Girl" star posted a sweet birthday tribute to her friend "Bob" via Instagram, and she ended her caption with a red heart emoji. So what's at the heart of their real relationship?
Barbra Streisand gushed about wanting to 'keep looking at' Robert Redford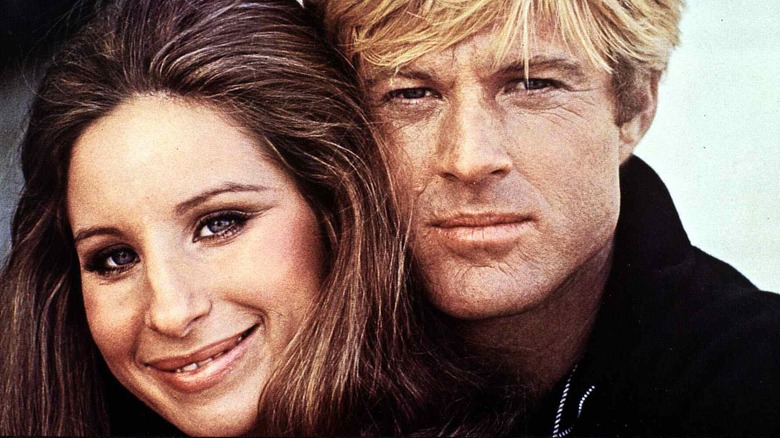 United Archives/Getty Images
In real life, iconic "The Way We Were" co-stars Robert Redford and Barbra Streisand think nothing but the best of each other, even after almost 50 years since they shot the enduring romantic drama that brought them together. In 2015, when the Film Society of Lincoln Center bestowed the Chaplin Award to Redford, "The Prince of Tides" star and director gave a moving tribute to her co-star. "You never quite know what he's really thinking, and that makes him fascinating to watch on screen," Streisand said, per Entertainment Weekly. "Bob understands the power of restraint. You're never going to get it all, and that's the secret, I think. That's the mystery. That's what makes you want to keep looking at him."
She then joked about their ill-fated on-screen romance that ended in heartbreak, quipping, "I'd like to say, 'Dear Bob, it was such fun being married to you for a while. Too bad it didn't work out,'" per People. "But we made something that will last much longer than many real marriages. I am so proud of the work we did together."
And Redford was even more forthcoming with his admiration of Streisand when he joined her for their first ever interview together.
Robert Redford admitted his attraction to Barbra Streisand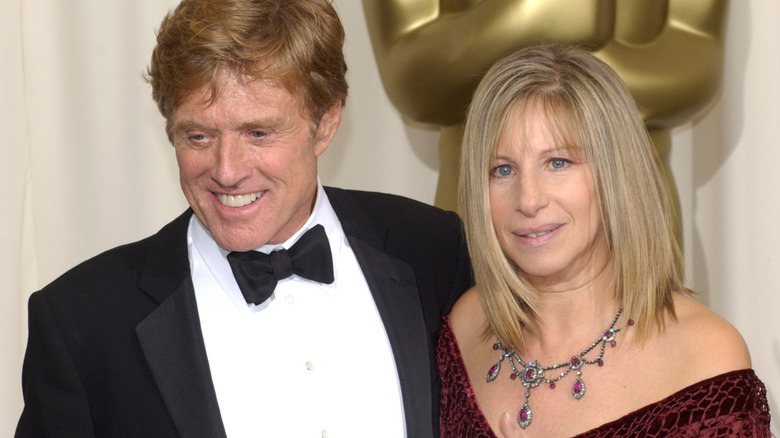 Featureflash Photo Agency/Shutterstock
In 2010, Robert Redford surprised Barbra Streisand during an interview on "The Oprah Winfrey Show." During that fun reunion — their first ever interview together — Redford revealed all the ways he found the "Yentl" star "attractive."
"I saw her [sing] way back in the '60s, and I thought she was really, really good," he recalled of the first time he encountered her. "Really talented. Unusual. I found her attractive in that way."
Telling Winfrey that he initially turned down the legendary role of Hubbell in "The Way We Were" because he wasn't satisfied with the character, and only took it on when substantial rewrites were undertaken, he had nothing but compliments for working opposite Streisand. "I remember the fun we had," he said. "I remember liking her energy and her spirit; it was wonderful to play off of. I also really enjoyed kidding her. She was fun to kid."
We love that's the way they were ... and the way they are today!