Inside Danielle Savre And Stefania Spampinato's Real-Life Friendship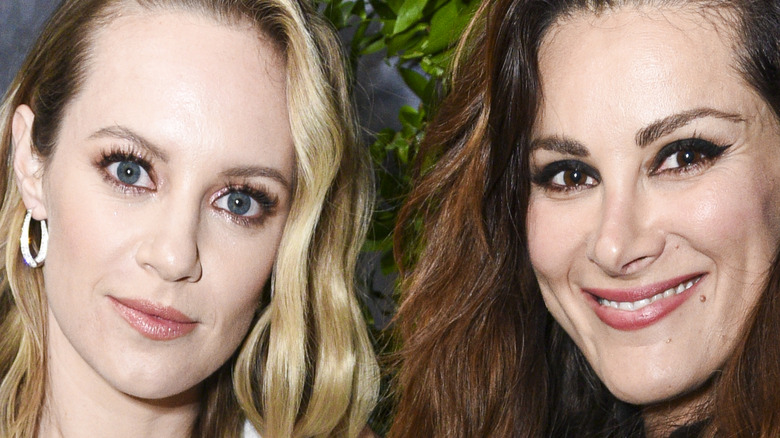 Vivien Killilea/Getty Images
Some talented fans of the "Grey's Anatomy" spinoff series "Station 19" adore the palpable chemistry between actors Danielle Savre (Seattle Fire Department firefighter Maya Bishop) and Stefania Spampinato (OB/GYN Carina DeLuca) so much that they've penned fan fictions about the pair, earning the stars their own "Stefanielle" section on Wattpad. Per SheKnows, fans have also bestowed their respective characters, Lt. Bishop and Dr. DeLuca, with their own endearing portmanteau of their names: "Marina." 
It was only matter of time before DeLuca and Bishop tied the knot on the show. After all, that electric connection has been there from Spampinato and Savre's very first table reading — even though the actors were not rehearsing romantic lines. "The chemistry was so strong in that scene, the whole room felt it. It was crazy," Spampinato told SheKnows. Her and Savre's characters both have high-stress jobs that bring the drama on "Station 19," but as noted by BuzzFeed, viewers also get to witness plenty of cute romantic moments and glimpses of their blissful home life, allowing Marina fans to microdose romance.
Spampinato told SheKnows that television portrayals of LGBTQ+ characters in a happy, healthy relationship are important because they might make homophobic viewers more accepting of non-hetero couples. As for Savre, she told "Let's Stay Together" host Tommy DiDario, "I can't put into words how much it means to me to play this role." Both Spampinato and Savre got something else out of their roles aside from being impactful fan favorites: a long-lasting, endearing friendship.
Stefania Spampinato believes her and Danielle Savre's attraction is real
Stefania Spampinato and Danielle Savre became fast friends when they were cast as a couple on "Station 19," and Spampinato spoke about how their instant connection made them a more believable onscreen couple in an interview for "Let's Stay Together." Said the actor, "I feel like we were attracted to each other. We had this chemistry, we like each other as people." In an appearance on "Valen y Sofi," Savre echoed these sentiments. "Stefania and I are very passionate people ... We have an admiration and respect for each other that I think resonates on camera. I love Stefania as a friend," she said. 
When the cameras aren't rolling, the two actors have a blast goofing off together on set. When she appeared on "Let's Stay Together," Savre revealed that she and Spampinato give themselves sugar highs by noshing on chocolate and Skittles. "We dance a lot, we laugh a lot," she said. "We just have so much fun." In a video for the "Station 19" Instagram account, fans learned that Savre and Spampinato call each other "bella" and that Spampinato has cooked some excellent meals for her co-star. 
According to Spampinato, the actors' close friendship has made it easier for them to improvise during intimate scenes. "A bunch of kisses were improvised. A lot of our body stuff isn't scripted," she said on "Let's Stay Together." 
Stefania Spampinato and Danielle Savre are both LGBTQ+ Allies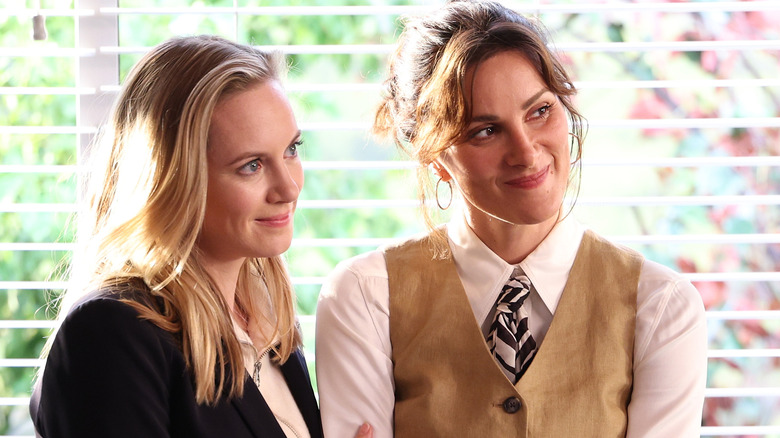 Raymond Liu/ABC
While some "Station 19" fans would love for Stefania Spampinato and Danielle Savre to date in real life, the actors are just good friends when the cameras aren't rolling. However, both women have been outspoken in their support for the LGBTQ+ community. Speaking to "Let's Stay Together," Spampinato recalled how she pushed back when her mother suggested that she shouldn't have accepted the role of Carina DeLuca because the character is bisexual. "I was like, 'Nope, I'm doing it, and I'm proud of it,'" Spampinato stated.
At an "A Day with" event in Milan, Savre opened up about her own experience as a member of the LGBTQ+ community. "There's a lot of shame that's associated with the LGBTQ community that's put on us. And it's wrong, and it sucks," she said, per Bingy News. "I have felt shame because I had feelings, romantic relationships with people of both [sexes]."
Savre also helped a gay couple start a family. Per ABC 7, the actor donated one of her eggs so that one of her closest friends from childhood, Chris Ogden-Harkins, could have a baby with his husband, Jake, via surrogacy. "It's amazing. It's beautiful. Not to sound corny, it's magical. It's been amazing. Thanks to Danielle," Jake said of the actor's generous act. The couple's daughter was born in November 2021, and it wasn't long before she was rocking a "Station 19" onesie.